My TOUKUSHIMA trip! – Kazura bridge & Udatsu no machinami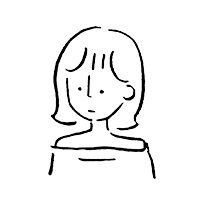 Written by aki
2023.07.18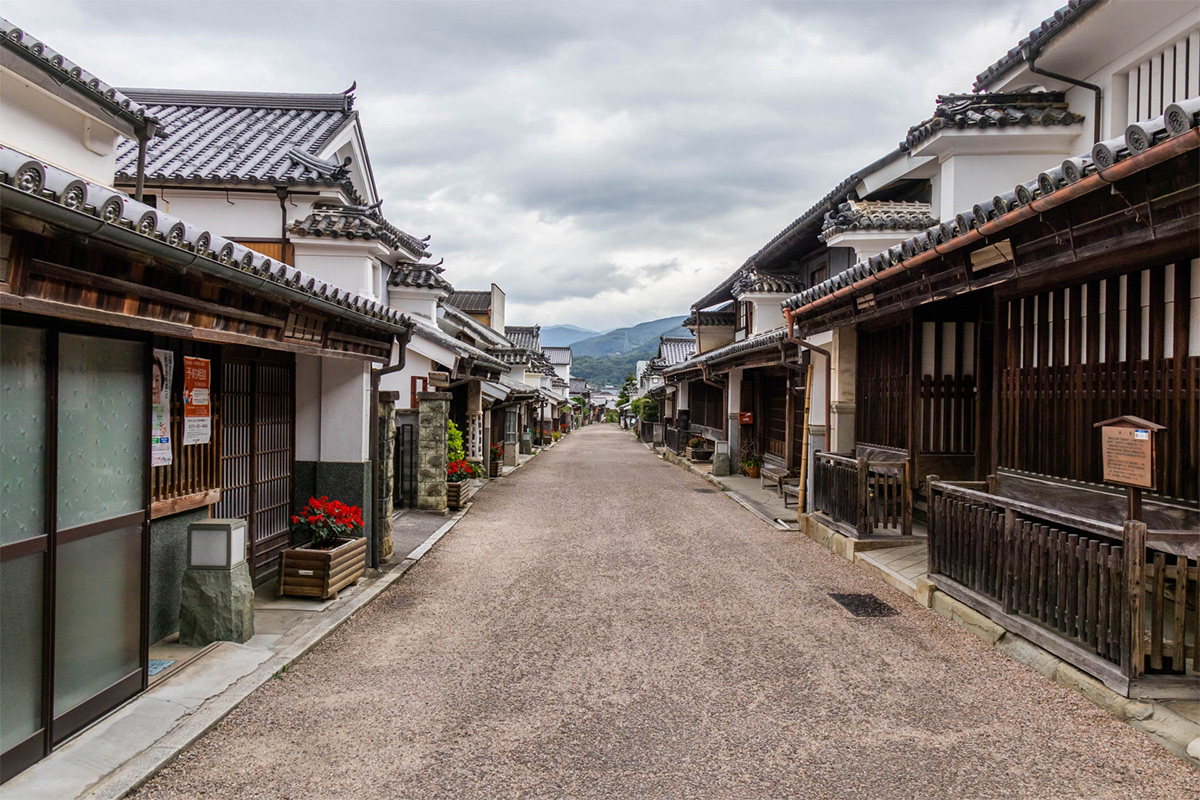 On the first day, I enjoyed a trip to Kagawa Prefecture.
Unexplored region with spectacular views! Iya Valley
The first destination of the day was a place called Iya in Tokushima Prefecture. It is located in the mountains.
This place called Iya is actually known as one of the "3 most mysterious places in Japan".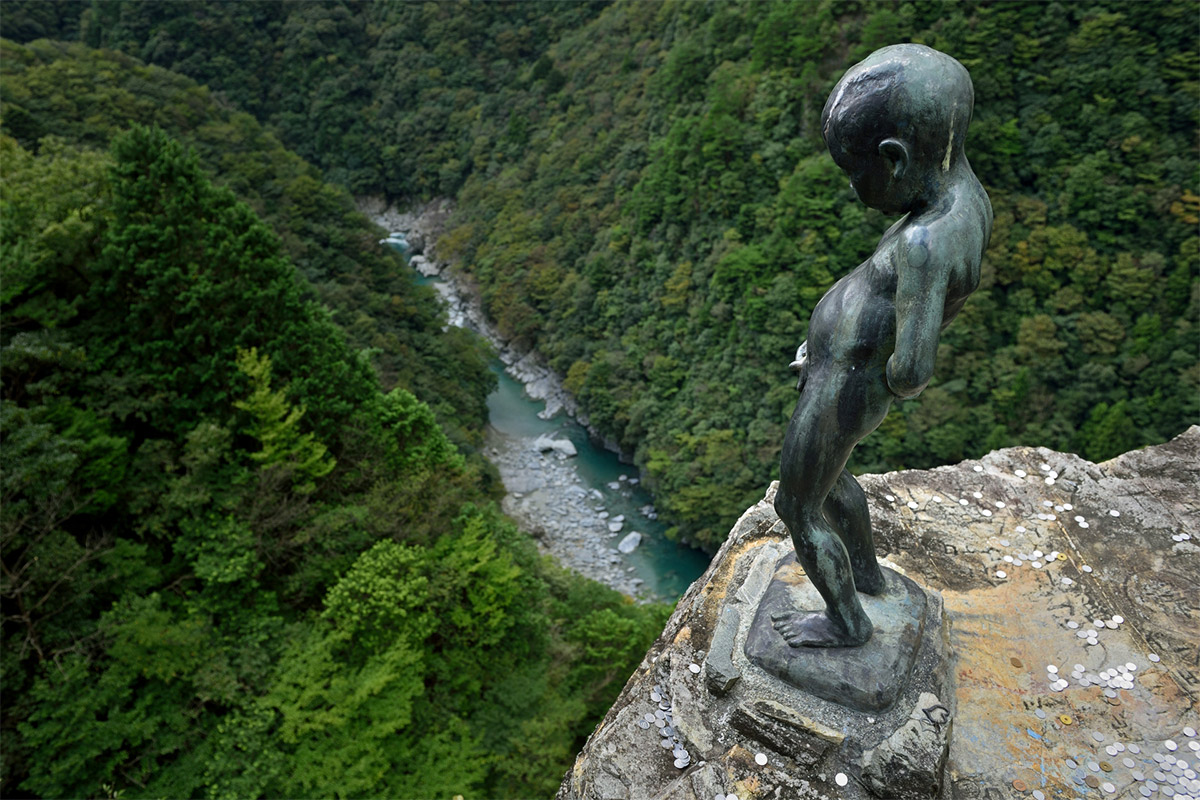 Unspoiled nature remains.
One must follow a winding road to reach the main tourist attractions in Iya.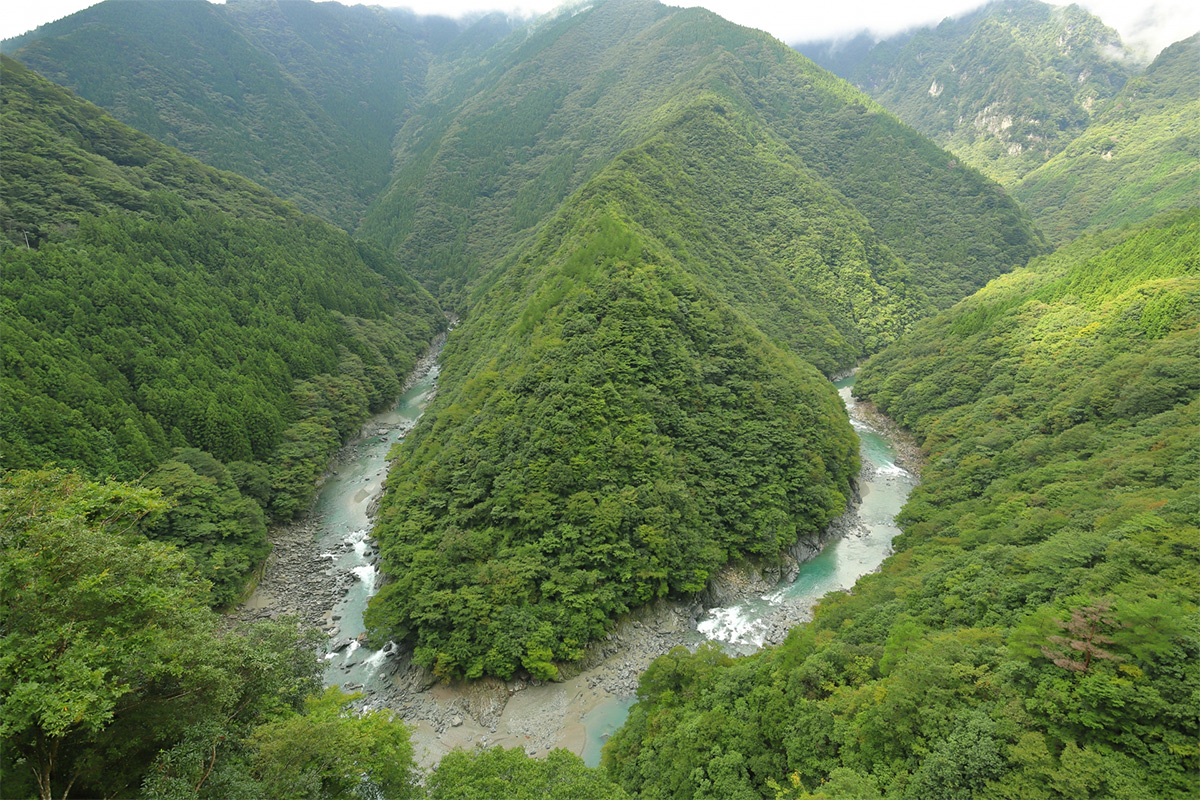 There are canyons like this one along the way.
This shape resembles the hiragana "ひ(hi)," so it is called "Hinoji Valley(shape of "ひ" valley)".
Now, this Iya is popular for its thrilling spots.
That's it!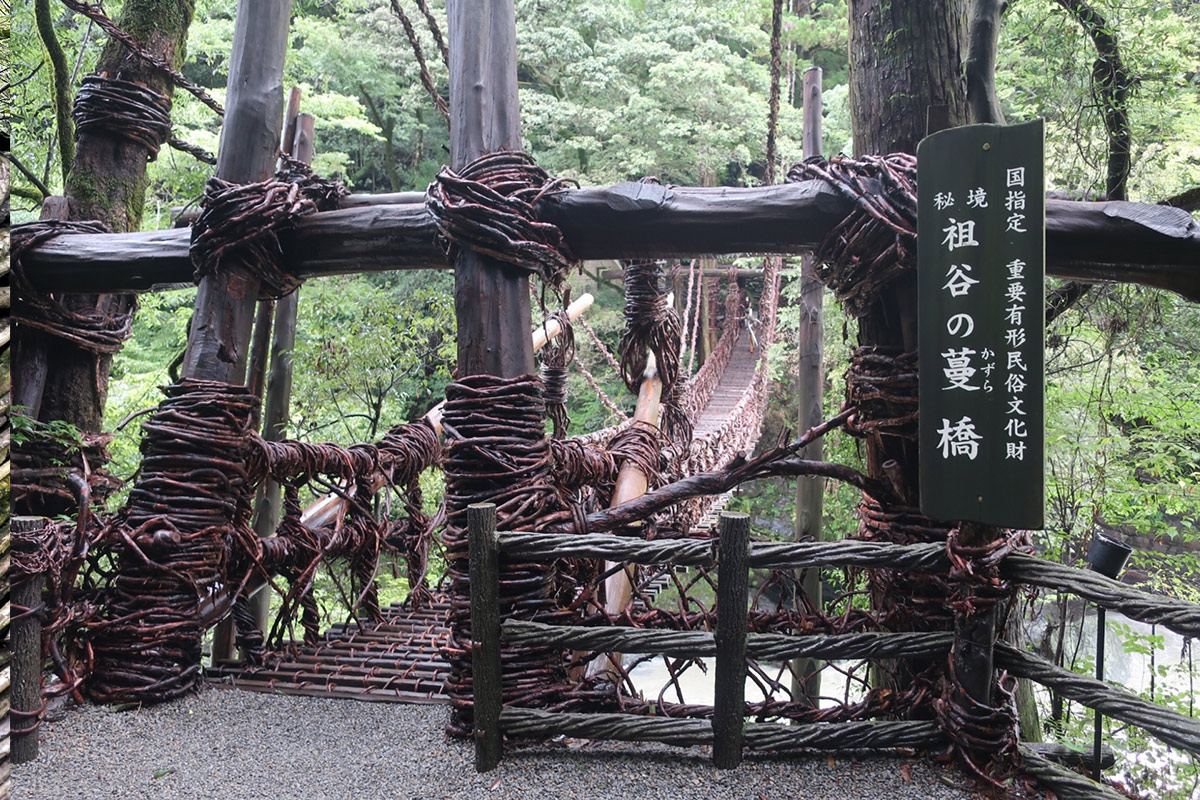 This is the Vine Bridge.Its Japanese name is Kazura-bashi(Kazura Bridge).
You may think it is just a suspension bridge, but it is very high.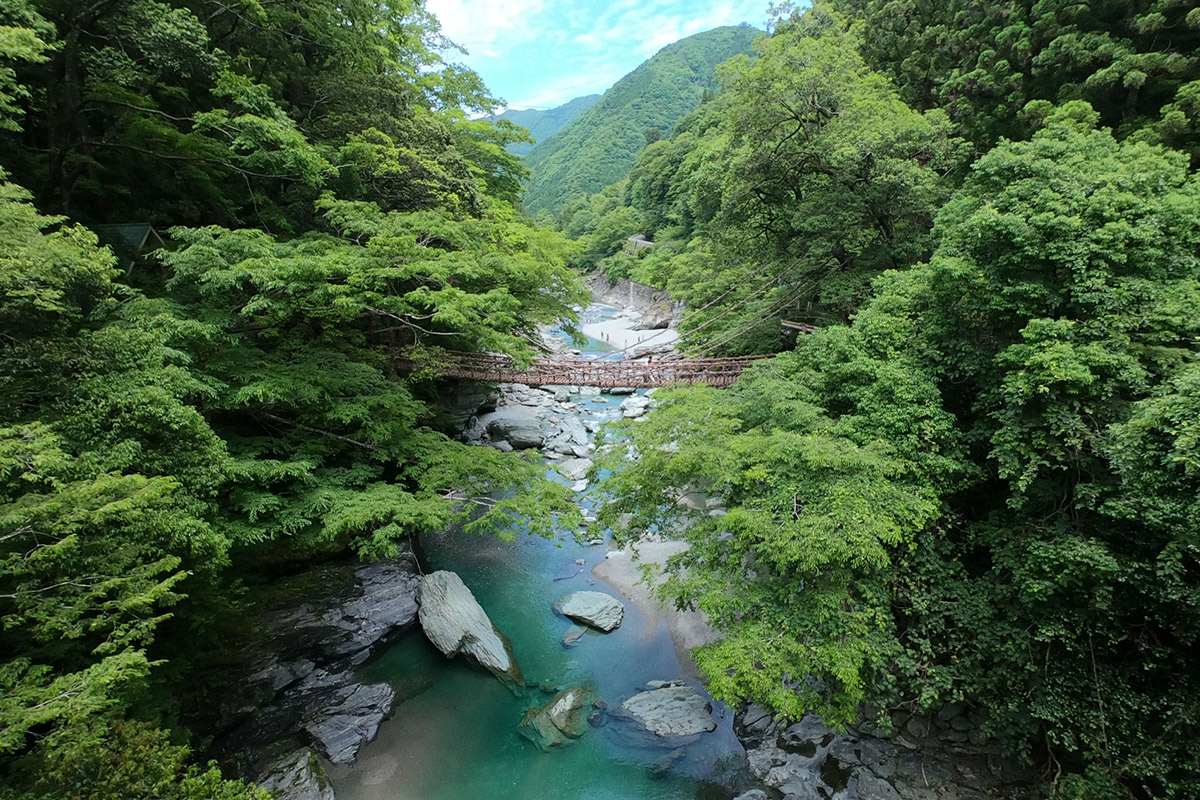 This Kazura bridge can be crossed by paying money.Many people have taken up the challenge and crossed this thrilling bridge.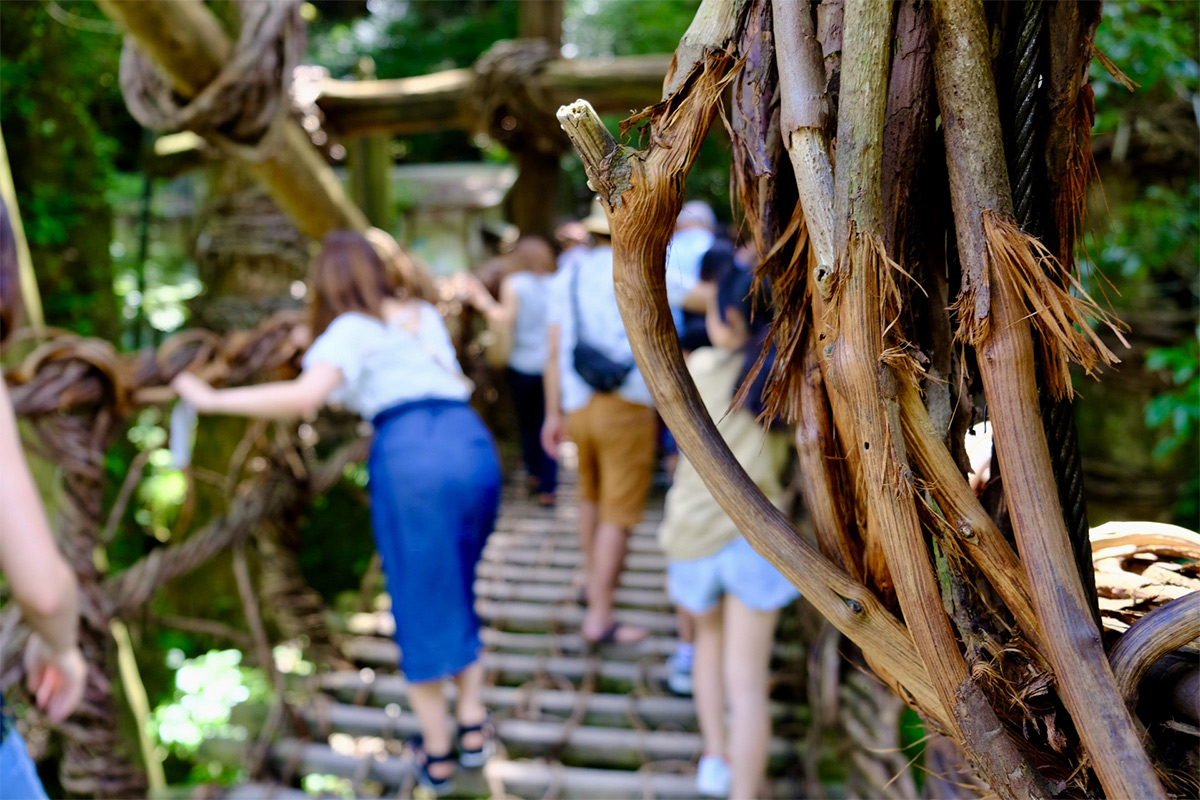 I have crossed it in the past and it is really scary. Because, look, there is quite a gap under my feet!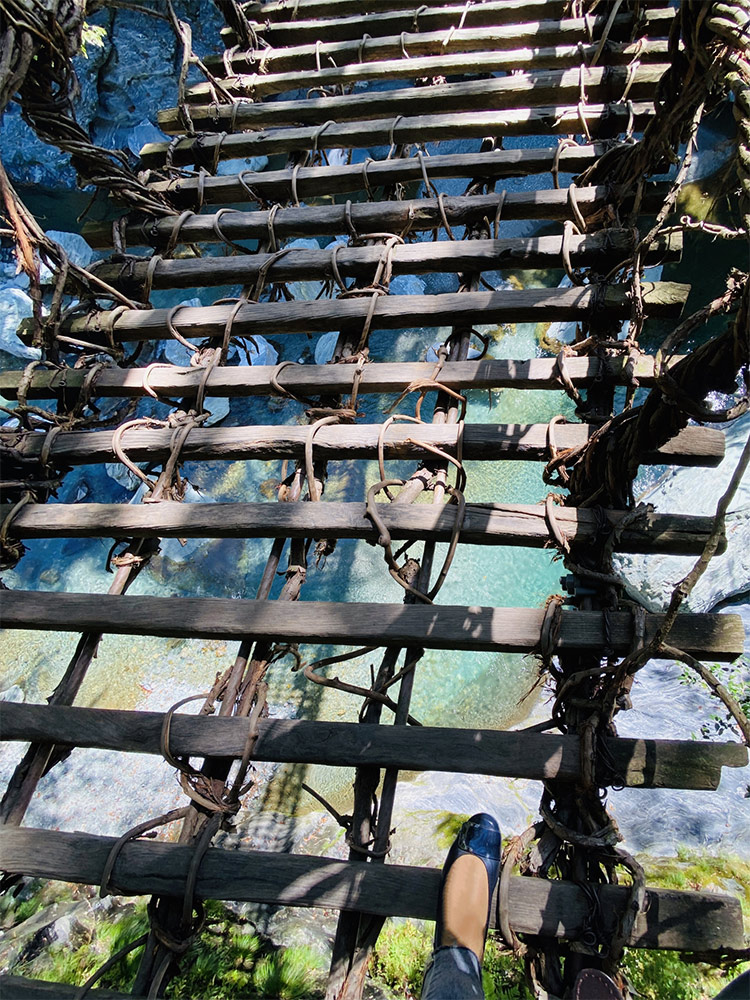 On this day I observed and watched as my friend crossed the bridge with trepidation.
I encourage anyone who has the courage to take on this challenge. I don't think I would challenge it again.
By the way, the clarity of the river water is very beautiful.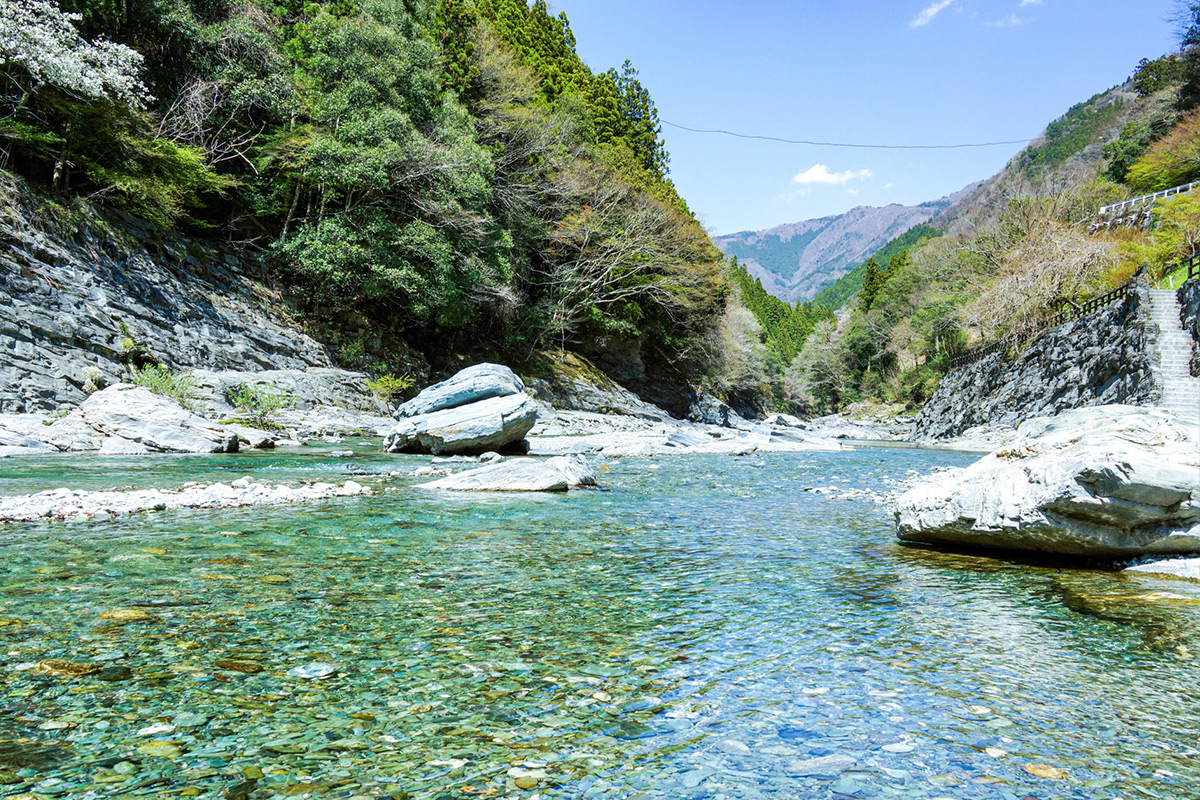 I went during the hot summer months, but it was really cool here. The sound of the flowing river was also very clear and pleasant.
Yes, there are small stores in Iya.
You can eat local gourmet food.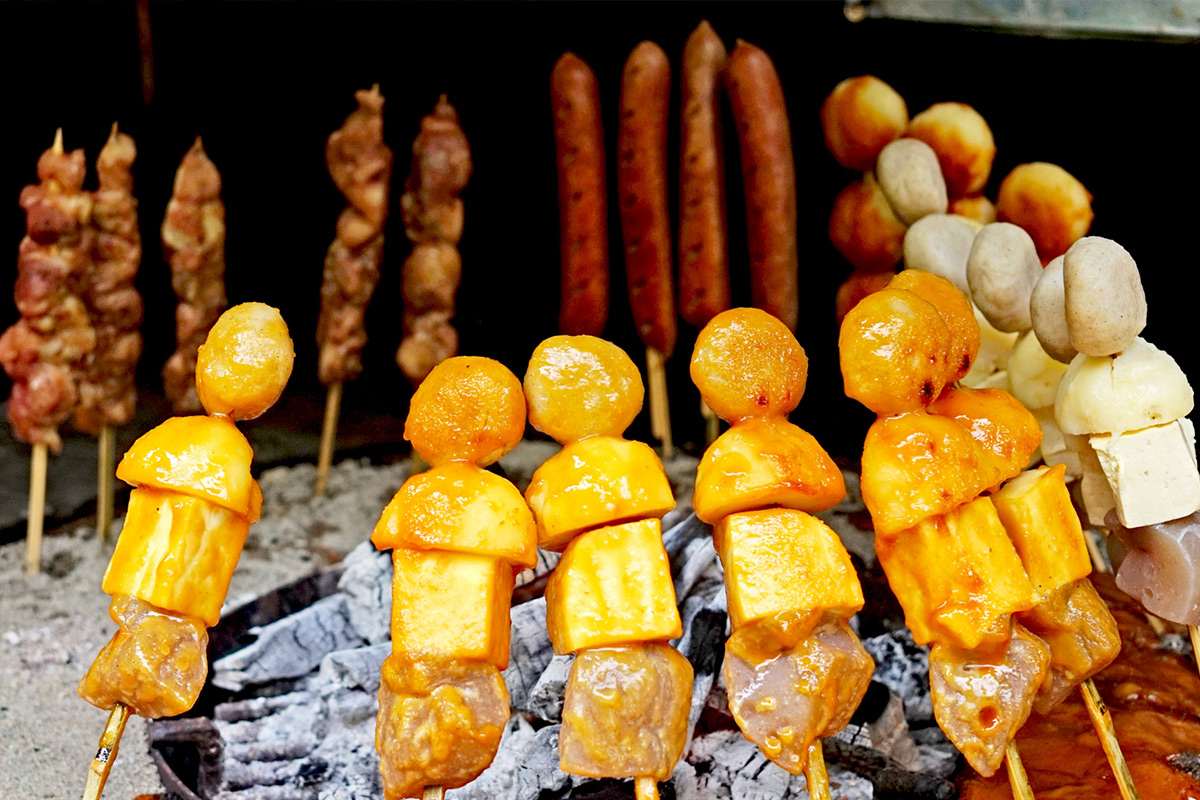 Here it is. It is called "Dekomawashi".Bite-sized potatoes, dumplings, konnyaku, and other ingredients are skewered, dipped in miso sauce, and grilled.
It is grilled around a charcoal fire, turning it.
Deko means "wooden doll" and mawashi means "to turn," and the name comes from the fact that Dekomawashi looks like a doll.
Traditional architecture! Udatsu town
Next, I went to visit a historic Japanese town.
Located in Mima City, Tokushima Prefecture, it is commonly known as "Udatsu no Machinami".
*Machinami means cityscape.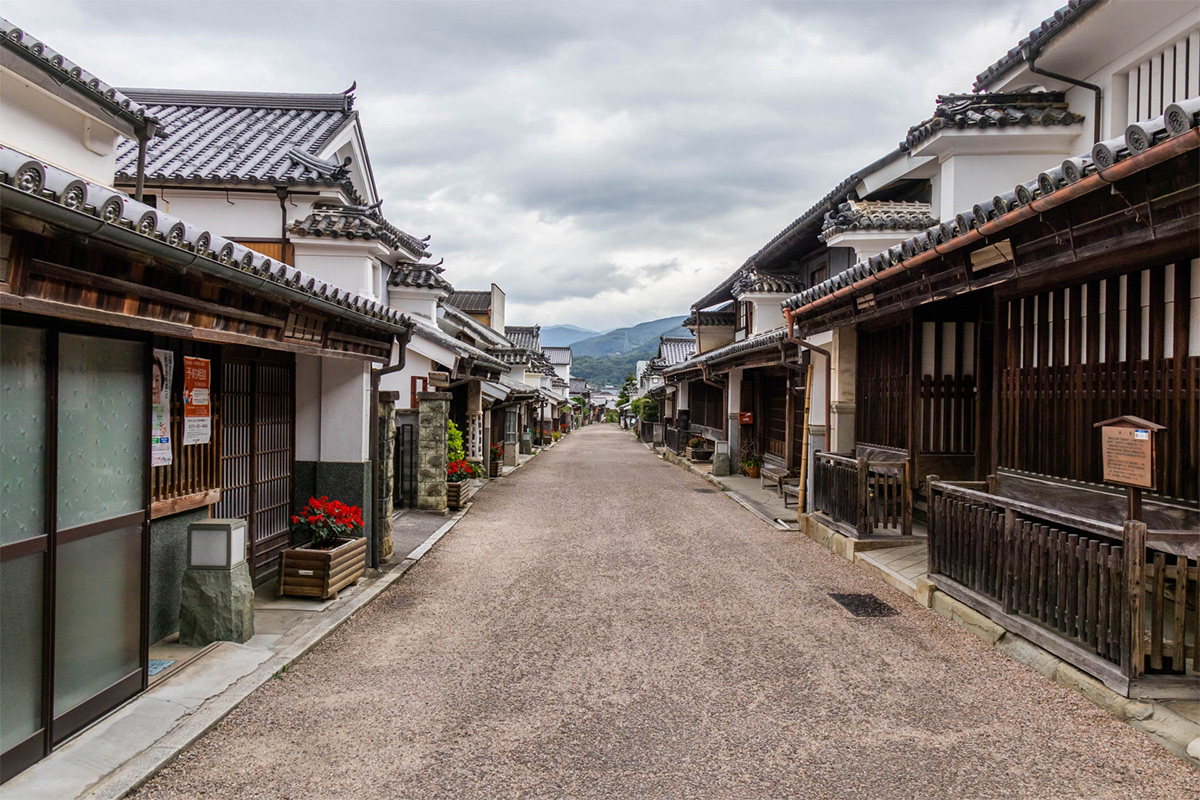 This area was once a castle town that prospered through the indigo and cocoon industries.
Now, what exactly is "Udatsu"?In Japanese, it is written うだつ.
Udatsu is the slightly raised portion of the roof.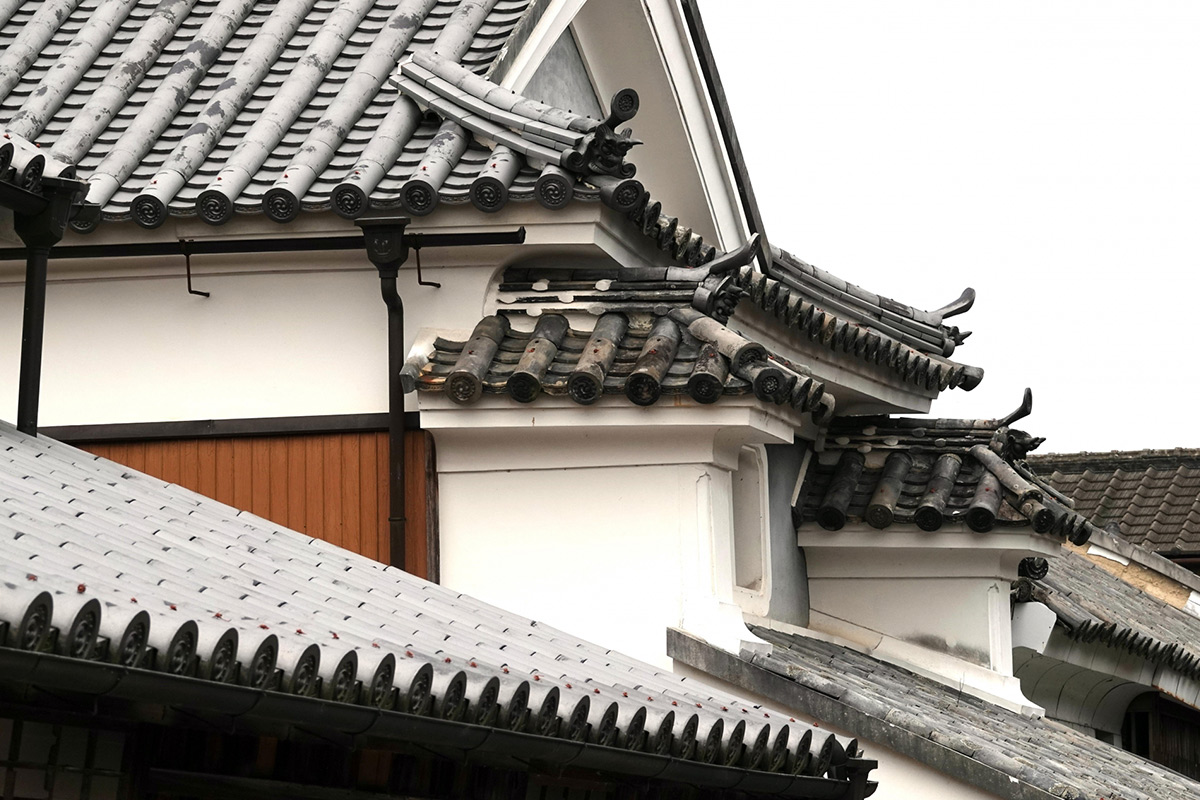 This part of the building was originally designed for storm and fire protection, but over time it took on a more "decorative" meaning.
Installation of these udatsu is costly. In other words, in the past, only wealthy families could afford to install these udatsu.
In Japan, there is a saying "Udatsu no agaranai".
The word "agaranai" here can be taken to mean that it cannot be installed.In turn, it means that cannot get ahead.
In fact, there are only two other places in Japan where this Udatsu can be seen: one is here in Mima City, Tokushima Prefecture, and the other is in Mino City, Gifu Prefecture.
However, the building's white walls and tiled roof are truly beautiful.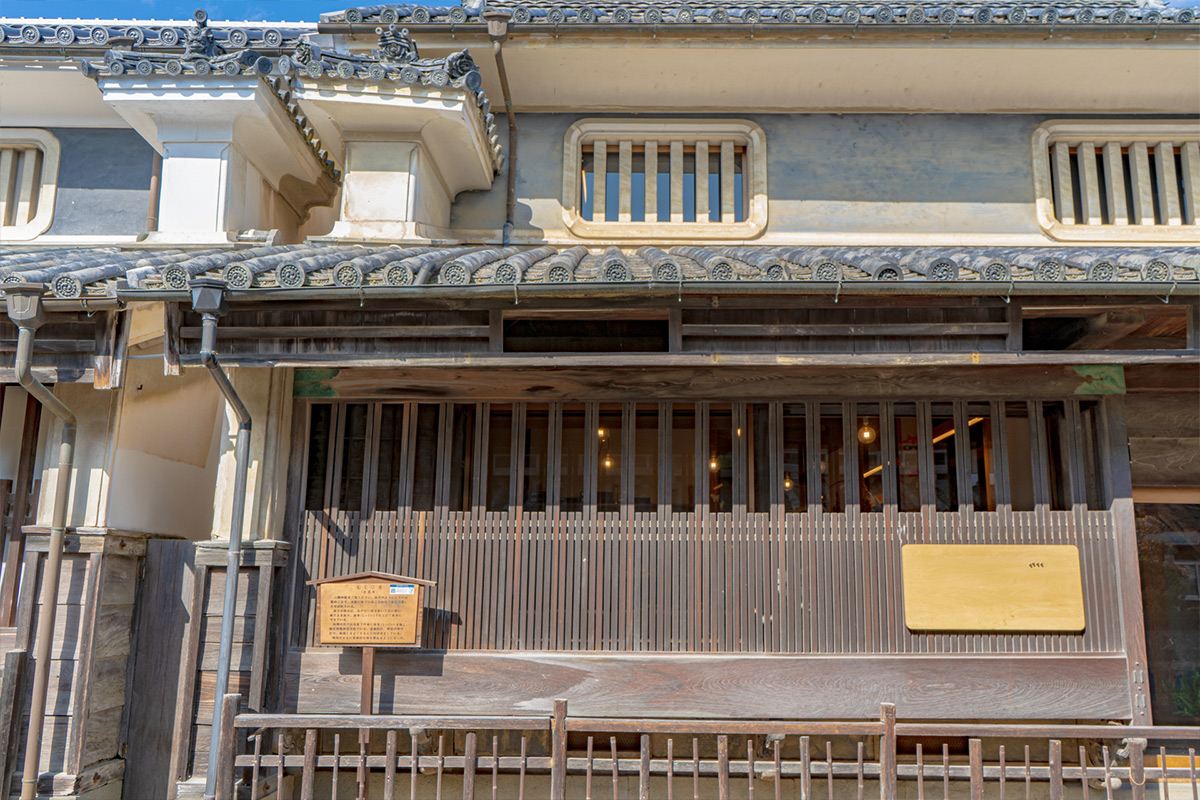 Note the windows under the roof.
This is called a "Mushikomado" (literally translated as "insect cage window"). It is a small window to let outside light into the room.
The name of the individual items is because they look like an insect cage.
This is the kind of technique that was used for townhouses in the past. It was nice to take a closer look at how each house was built with elaborate techniques.
Tokushima Prefecture is also famous for the Naruto whirlpools.
Although I could not go there this time, Tokushima Prefecture has another famous tourist attraction.
That is the Naruto whirlpools.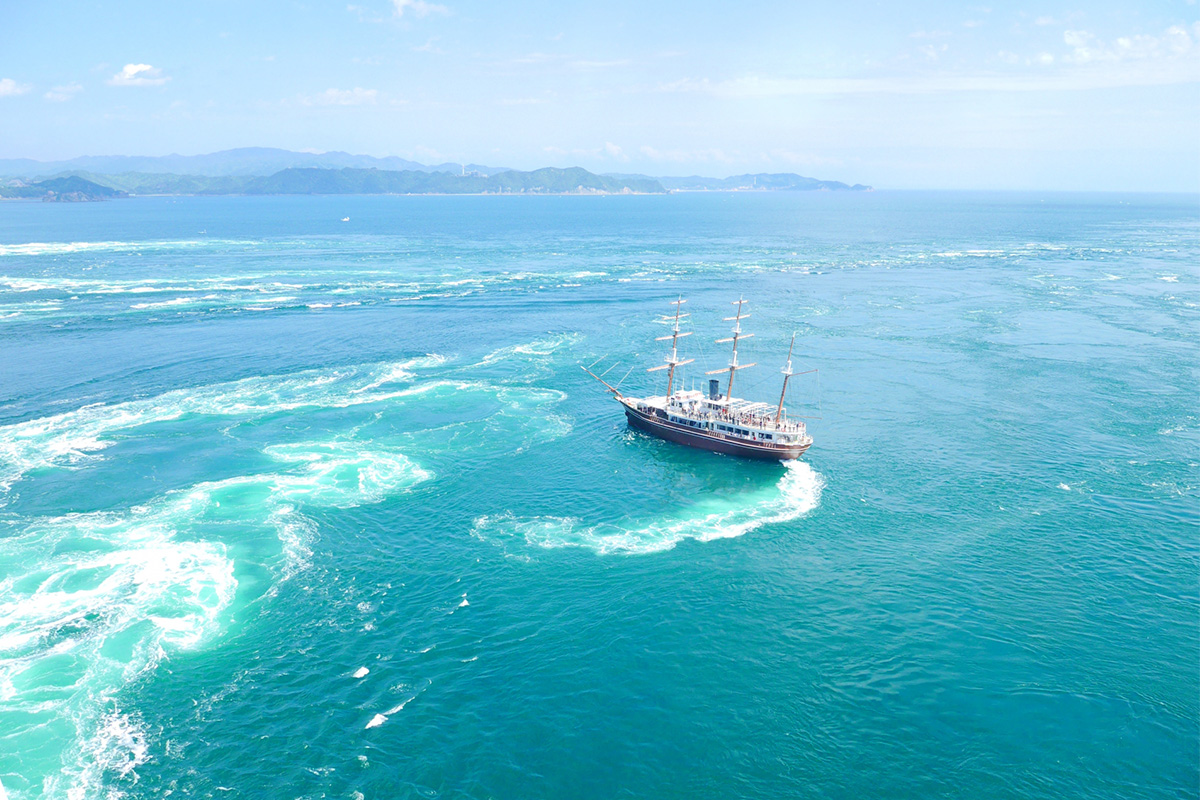 You can take a peek at my old blog!
TOUKUSHIMA offers great satisfaction in terms of nature and history.
This is a must-see tourist attraction to visit when the weather is nice. Go there!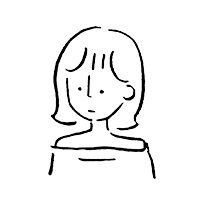 aki