Tsukigase Umeshu – A plum wine that melts on the tongue like honey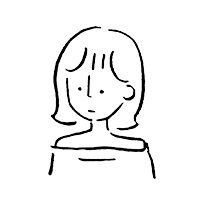 Written by aki
2022.01.30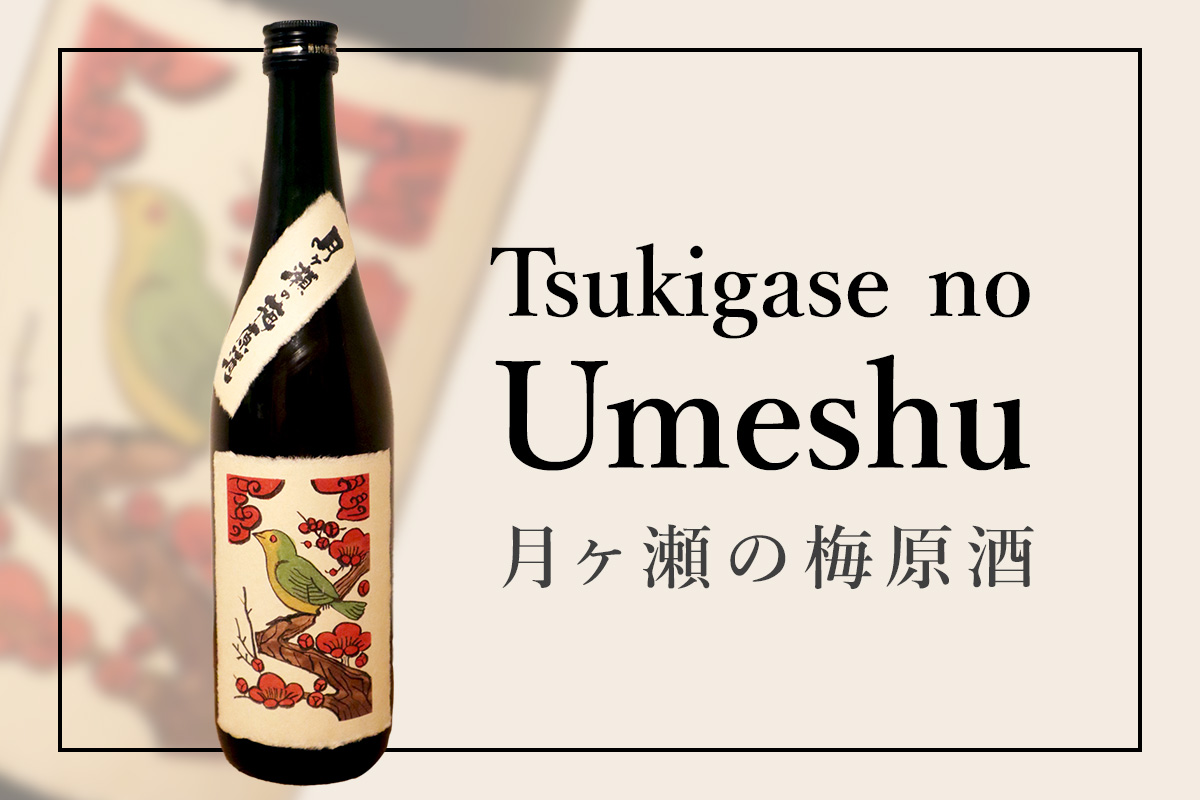 Hello, this is AKI.
I'd like to introduce you to a very delicious Umeshu(plum wine) I found!
*What is Umeshu? If you have any questions, please read this article.
It's called… "Tsukigase no Ume Genshu".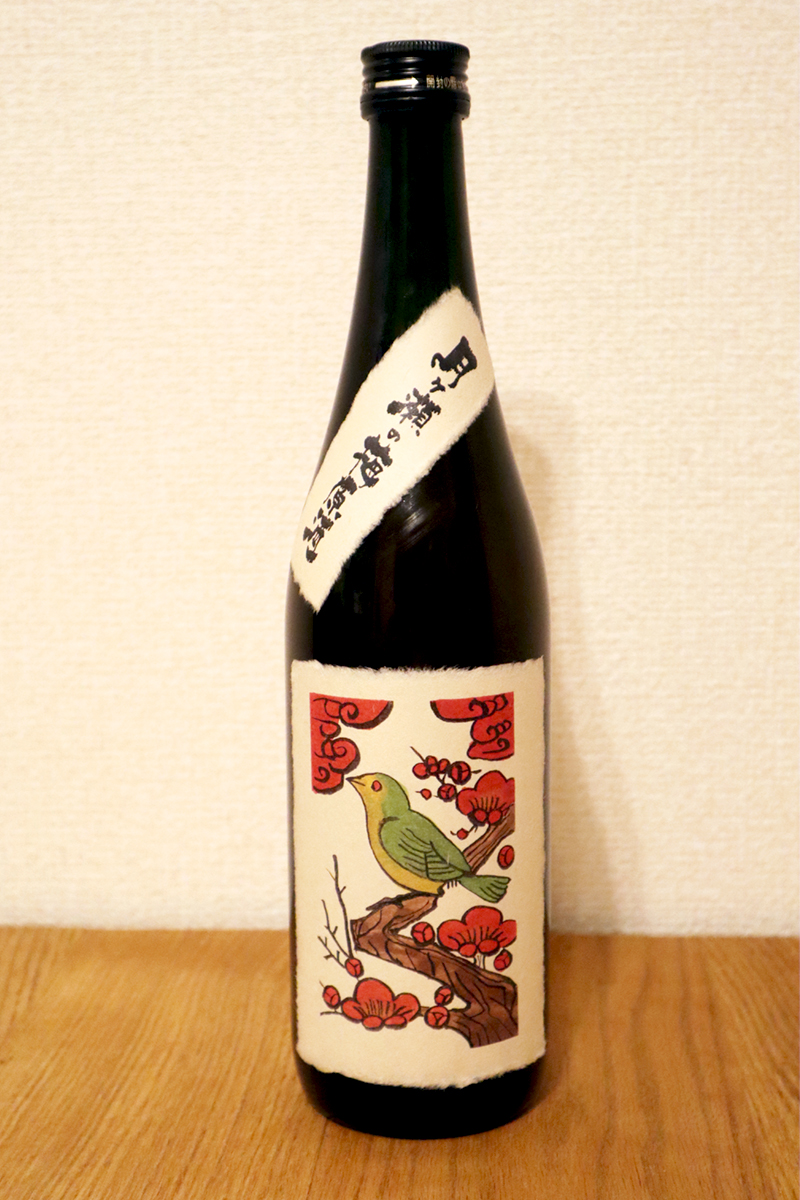 A very cute label marks the spot.
What are the characteristics of "Tsukigase no ume genshu"?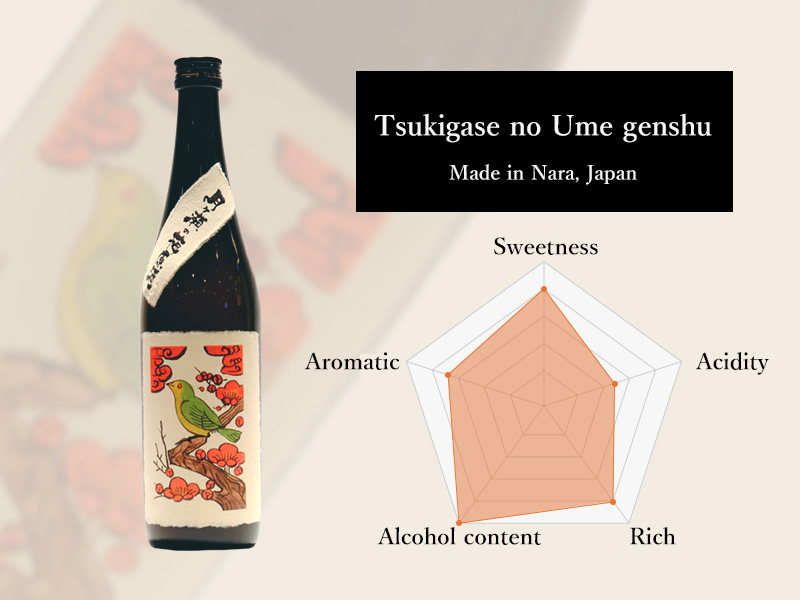 Comparing Tsukigase no Ume genshu with other Umeshu(plum wine), you will be surprised to know that the alcohol content is 20%, which is quite high.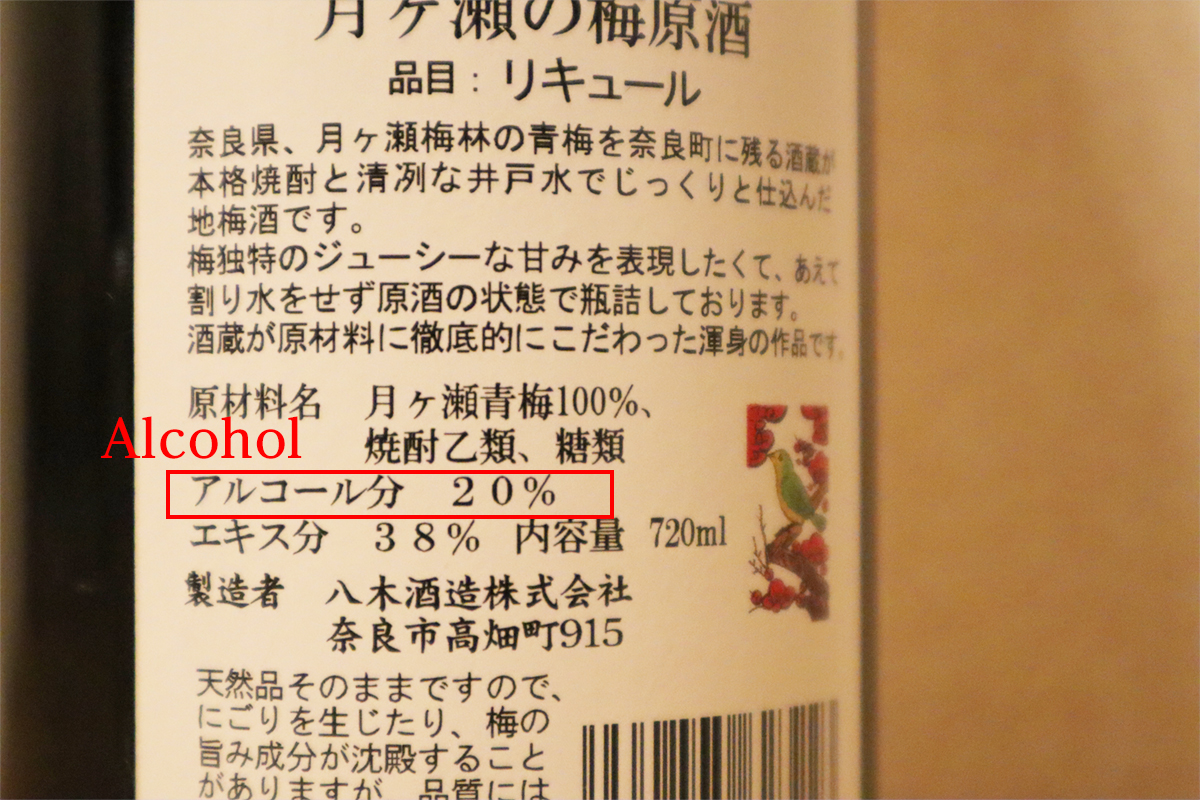 That's about twice as much as any other Umeshu!
In addition, it contains an abundance of plum extract, about three times (38%) as much as ordinary Umeshu.
Just looking at the numbers, you can see that it's just a very rich Umeshu!
The manufacturer says that they do not filter or add water when bottling because they want people to enjoy the sweet and sour juicy flavor of the plum fruit.
It is a slightly rich Umeshu where you can enjoy the original "taste of plums" and its richness.
This "Tsukigase no Ume Genshu" is only distributed to a limited number of stores in Japan.
The fact that it is only distributed to stores that deal in truly delicious sake is quite rare!
What is the recommended way to drink Umeshu(plum wine)?
Umeshu can be drunk on the rocks, with carbonated water, with hot water, or straight.
Basically, you can drink it any way you like, but the one I actually enjoyed drinking was "on the rocks"!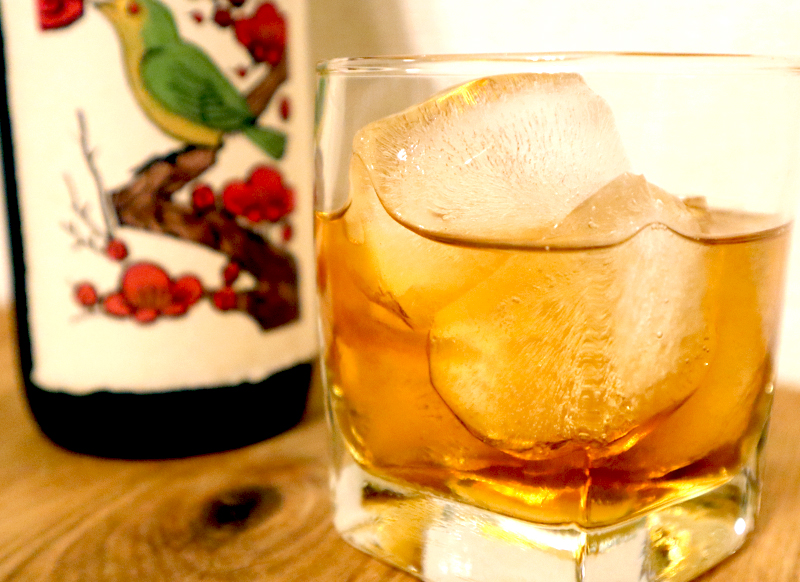 "Tsukigase no Ume Genshu" is very thick on the tongue, a bit like brandy.
The appeal of on the rocks is that the mouthfeel changes with time.
When it is freshly poured, you can feel the attack of alcohol, mellow sweetness, and rich texture of the original Umeshu.
As the ice gradually melts and the drink becomes mellower, the alcohol level drops, making it easier to drink!
A moderate acdity lingers afterwards, allowing you to enjoy the varied flavors.
Even though it's "sweet" and "rich", the balance of acidity and aroma is very well balanced, so the sweetness is not that overpowering.
For those who don't like high alcohol content, enjoy it with water or soda.
What kind of food goes well with "Tsukigase no Ume genshu"?
If you want to enjoy it on the rocks, I recommend foods with texture and a light flavor.
For example, "nuts & dried fruits".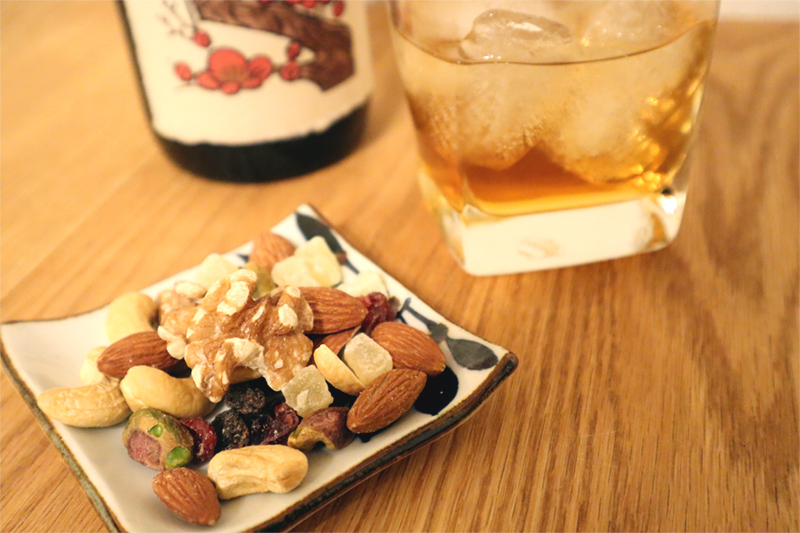 The savory flavor of the nuts goes well with the rich mouthfeel of the Umeshu.
The combination of cheese and plum wine was also delicious.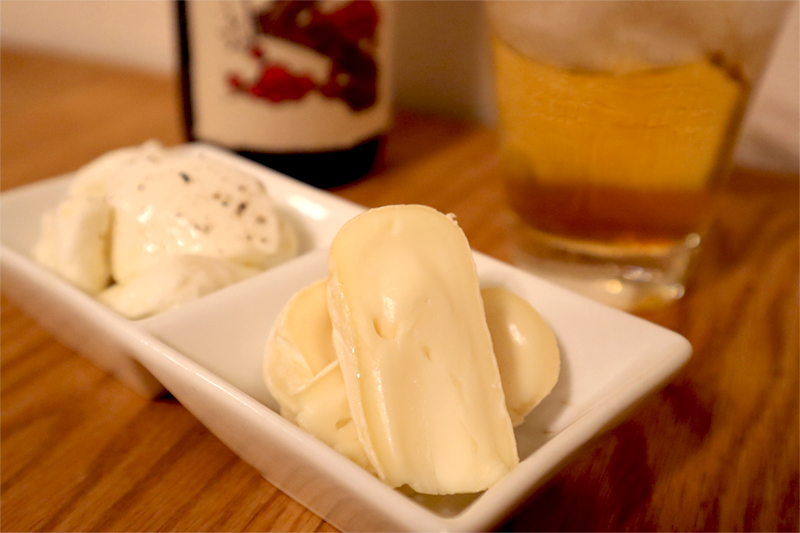 When combined with mozzarella cheese, the fruity flavor of the plums adds to the milky taste, making it a light snack and drink.
I also recommend washed cheeses, which have a peculiar taste. Umeshu (plum wine) is a good mildener for the aged, mellow taste.
I felt that the combination was only possible with "Tsukigase no Ume genshu", which has a thick and sweet taste and a well-balanced acidity.
If you want to drink it on the rocks, I'd recommend drinking it slowly after dinner or before bed!
If you want to pair it with a meal, drink it with soda or water.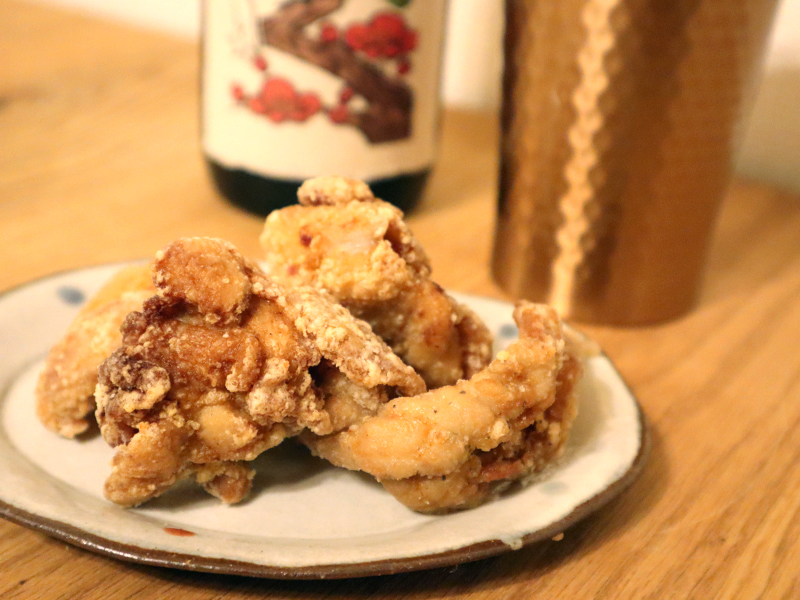 Umeshu is very fruity, so I recommend pairing it with simply seasoned food.
I felt that the balanced flavor of this Umeshu would be lost if it was sauced, heavily seasoned, or spicy.
Umeshu can be purchased at the online store!
"Tsukigase no Ume Genshu" is a plum wine that is only sold at certain stores.
You may not be able to find it in EC malls.
You can purchase it at MOMOTARO, which sells alcohol to overseas markets, if you'd like!
Tsukigase no Ume genshu | MOMOTARO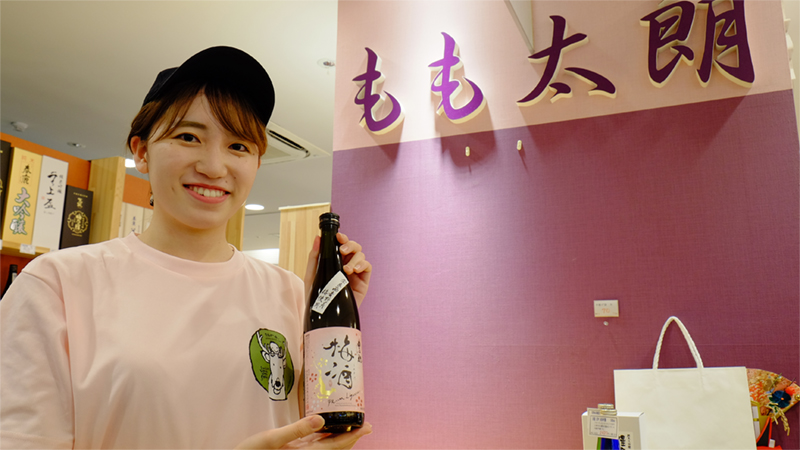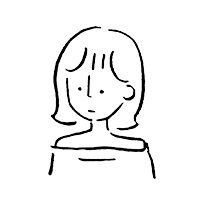 aki