4-day trip to Okinawa in 2023 winter! – Day 1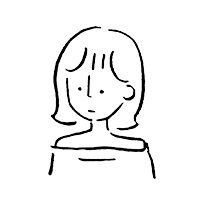 Written by aki
2023.03.22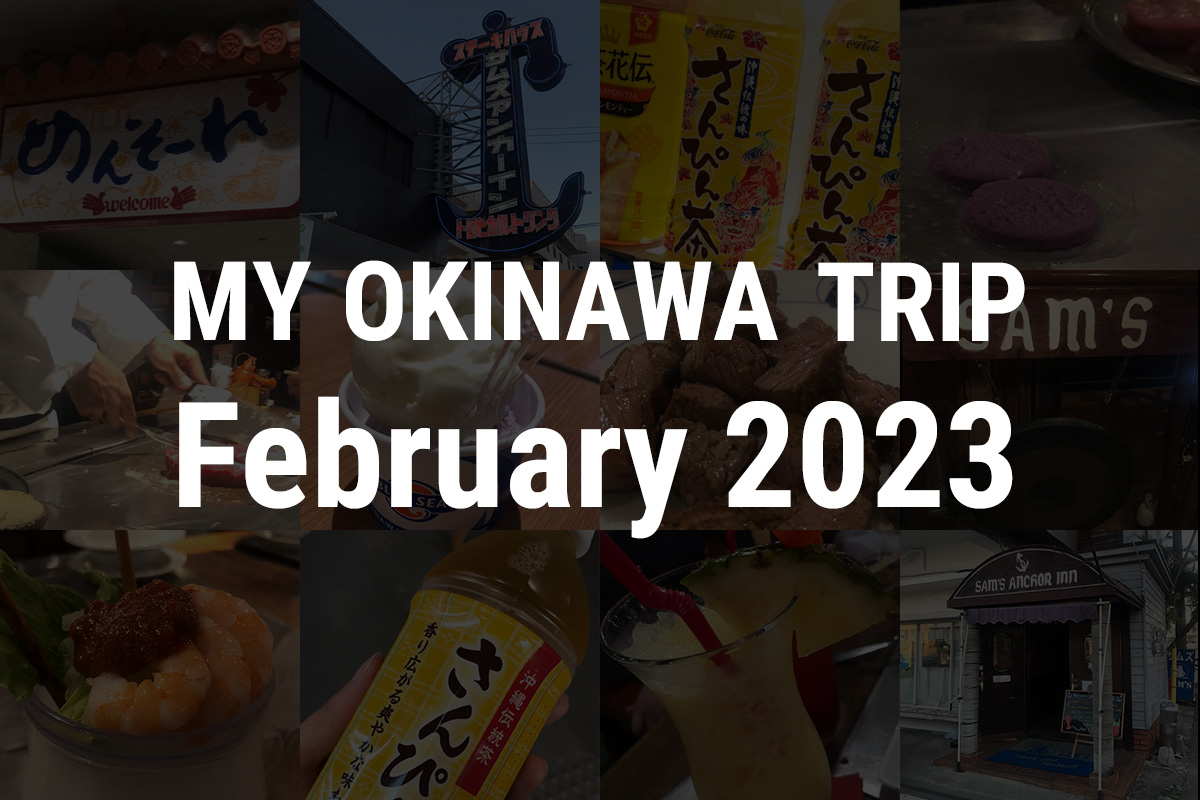 I went to okinawa, japan in february 2023!
I have been to Okinawa many times, but this is my husband's first time.
I have written a blog post about the route I took on my trip.
The theme is "Gourmet!"
Many people travel to Okinawa with the premise of swimming in very clean waters.But winter is too cold to swim.
And most importantly, since it was my husband's first time in Okinawa, we decided to focus on the major tourist attractions and gourmet food.
Trouble when booking a trip to Okinawa
I had quite a bit of trouble when making reservations for this trip to Okinawa. For those of you who are thinking of going, I will tell you about the trouble I experienced.
Rental cars are not available & expensive.
This is the one that gave me the most trouble. I planned my February trip to Okinawa in November and already in November I did not have a rental car.
I look at the car rental sites every day and sometimes there is an opening…but they are all very expensive.
Sometimes there were only large cars, luxury cars, and trucks with seating for seven people, even though there were two of us.
I was finally able to book it through a Japanese car sharing service (and that was a week in advance!). But it would probably be safer to get a ticket that includes both airfare and rental car.
They are reducing the number of rental cars due to COVID-19.
Villa type accommodations are also difficult to book.
Villa-type accommodations are very popular, probably due to the influence of COVID-19. If you find a good one here, too, you'd better book it early, even if it's a tentative reservation!
February is the month for Japanese professional baseball teams to have their camps.
Every year from January to March, a Japanese professional baseball team goes to Okinawa for its camp.
Therefore, you should also book your airline tickets early.Surprisingly, there are many tourists during this season.
Day 1 – Kansai Airport to Naha Airport
I flew to Naha Airport in Okinawa Prefecture this time by an LCC called "Peach".
There are roughly six flights a day from Kansai Airport in Osaka to Naha Airport with Peach.I chose a flight arriving at Naha airport after 1pm.
By the way, if you use Peach from Kansai Airport, go to Terminal 2.
Buses are available from Terminal 1 to Terminal 2.From Terminal 1 to Terminal 2 is usually a 5~10 minute bus ride.
Terminal 2 is relatively small. There are few cafes or souvenir shops.
The flight from Kansai Airport to Naha Airport takes less than two hours.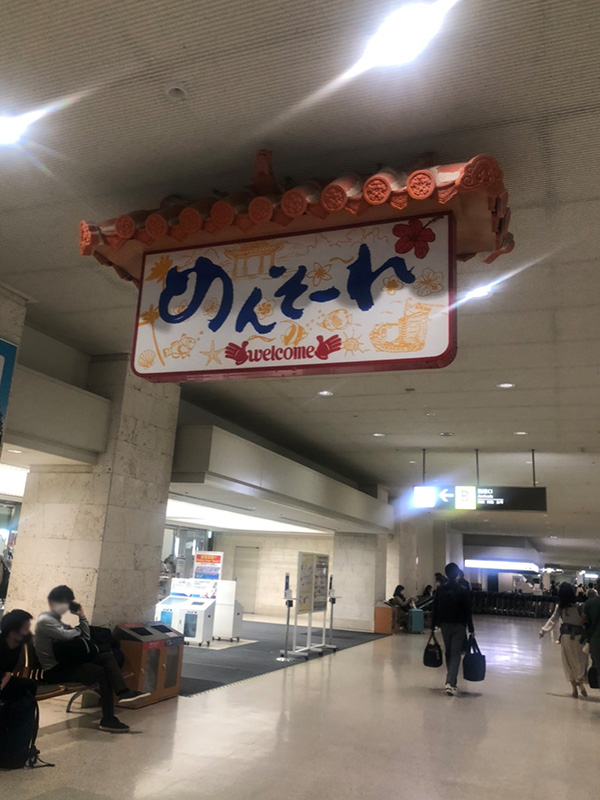 We are at Naha Airport! This signboard says "Mensore".
This means "welcome" in the Okinawan dialect.In Japanese standard language, we say "Youkoso".
When we arrived, we took the monorail to rent a car-sharing vehicle.The monorail station is very close to the airport.
Well, I was able to rent a car without incident, but I was starving. *It is roughly 1:40 p.m. at this point.
This trip is a gourmet tour. Let's go find some food!
BLUE SEAL Ice Cream
The temperature that day was 22 degrees Celsius (even though it was about 10 degrees in Tokyo and Osaka!) and it felt very hot, so we first went to eat something cold.
Many people may have been wearing short sleeves that day. I was in long sleeves.
BLUE SEAL ice cream is one of the most famous cold desserts in Okinawa.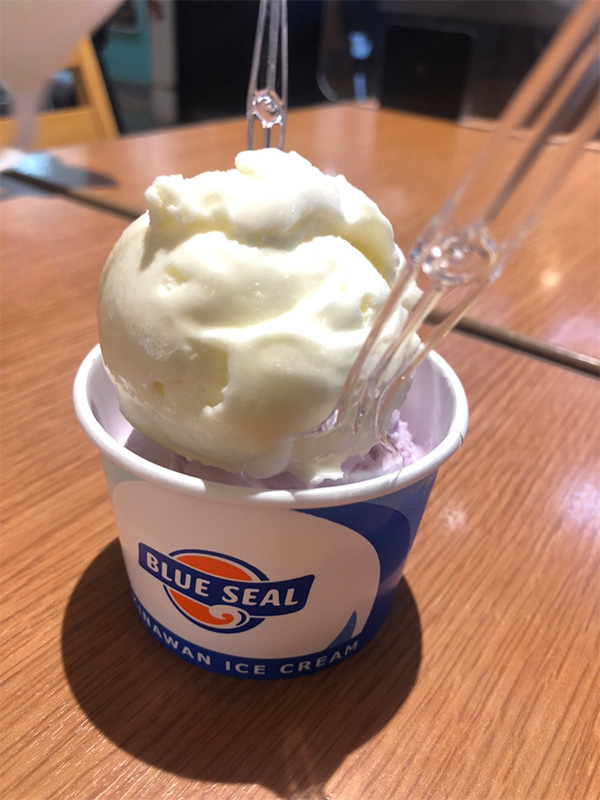 This ice cream shop was born in the United States and has several stores in Okinawa Prefecture.
Flavors chosen were Okinawan "Shekwasha(Flat lemon)" and "beni imo(red sweet potato)" .
Shekwasha, so refreshing, so tart, so good! The beni imo is very smooth.
SANPIN Tea
It was still hot, so I bought some tea from a vending machine.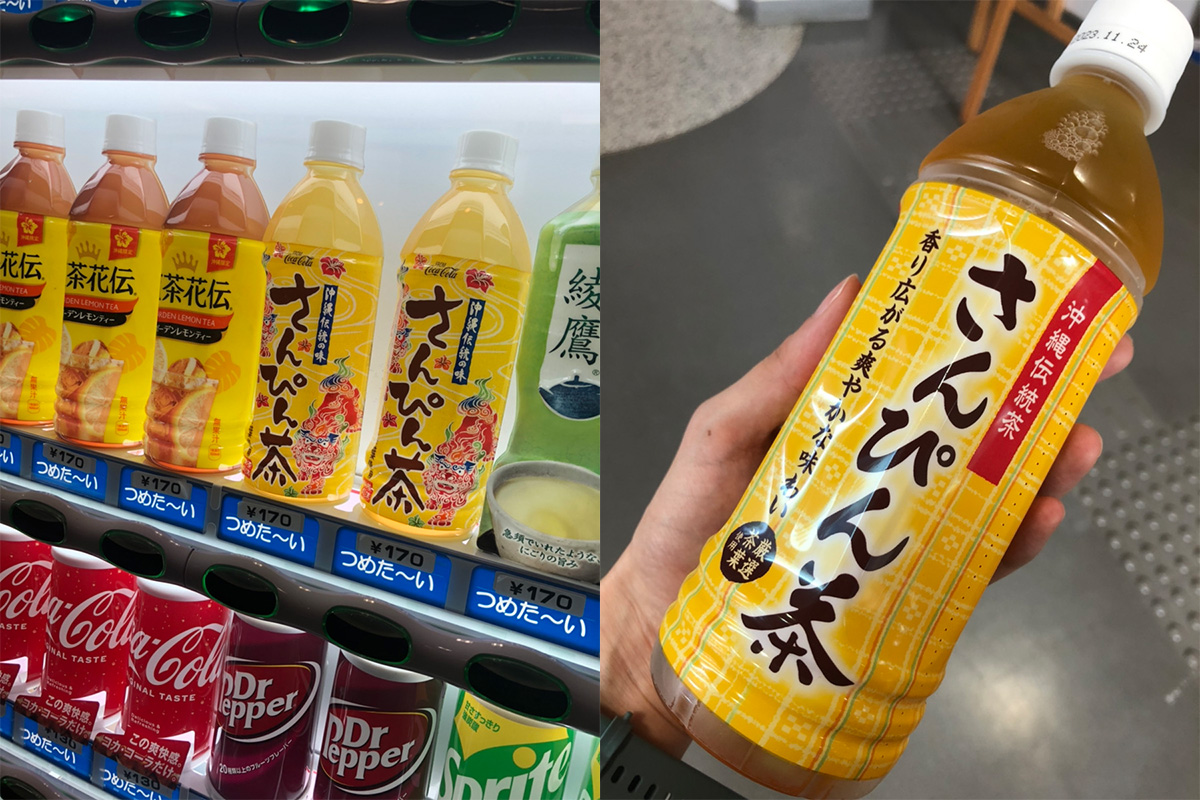 This is SANPIN Tea, a jasmine tea.
With its roots in China, this tea is a staple of Okinawa.
It is readily available in cans and PET bottles from vending machines, supermarkets, and convenience stores.
Well, today we are going to one tourist attraction and then dinner.
*Sorry, here's a little war story. If you're not interested, scroll down to dinner!
The Former Japanese Navy Underground Headquarters
Okinawa has beautiful seas, tranquil scenery, and many fun tourist attractions.
But at the same time, it was the site of a violent war.
Of course it is important to enjoy sightseeing, but I decided to go here this time because I thought I should know this kind of history as a person born in this country.
Inside the museum, visitors can see materials on the ground battle of Okinawa and the dugouts where Japanese naval personnel committed suicide.
It took me about 1 hour and 20 minutes because I looked at each exhibit slowly. I think it takes about 40 minutes for a fast visitor.
It was located on a slightly elevated hill, surrounded by a park, and had a nice view.
There is a pamphlet in foreign languages on the official website, if you are interested.
Steak for dinner! Sam's Anchor Inn Ginowan
Now, it is just about 5:00 pm. We decide to have dinner early on this day.
We drove 30 minutes to a steak restaurant.The name of the restaurant is Sam's Anchor Inn Ginowan.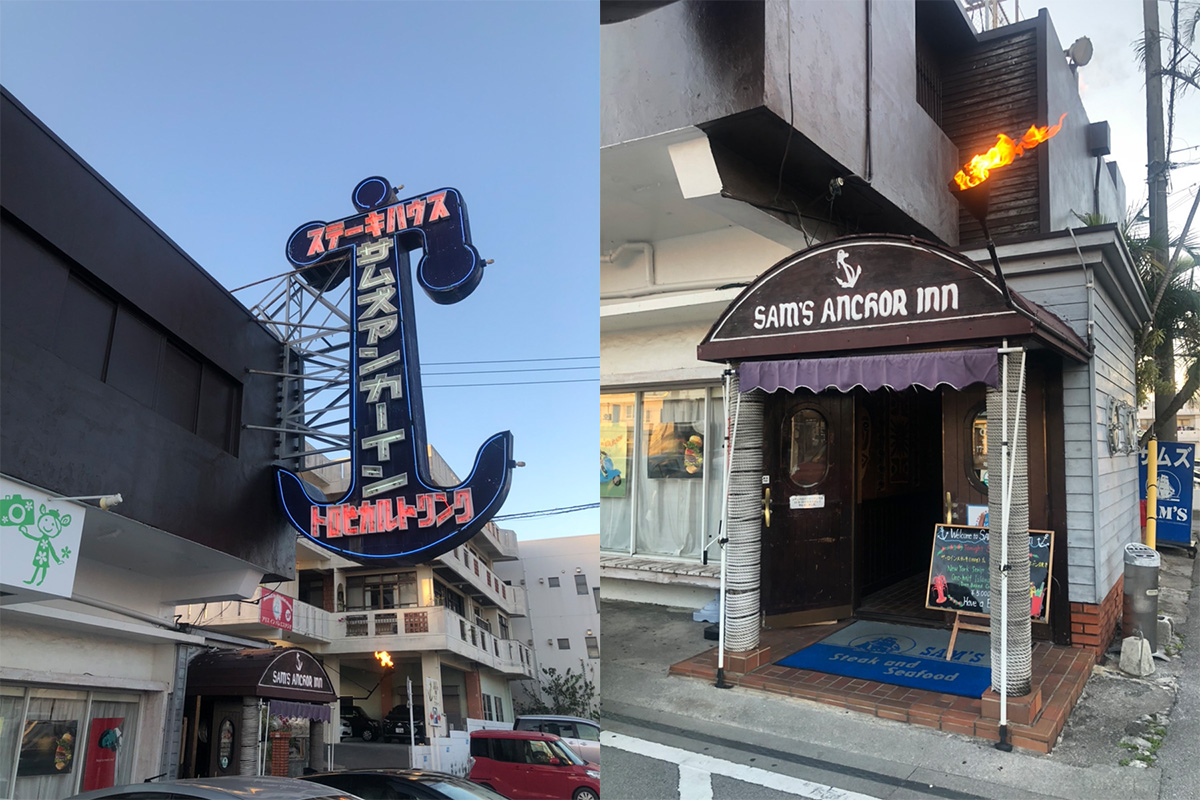 There is another affiliated restaurant in Naha City, but I heard that Ginowan is the main restaurant, so I came here.
By the way, when I went from Naha to Ginowan, the cars were very congested. It seems that traffic jams often occur on weekdays from 5:00 p.m. to 6:00 p.m.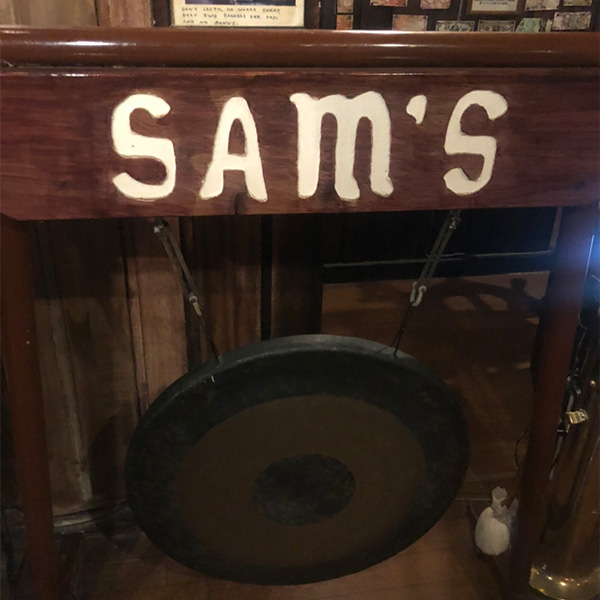 When we arrived at the restaurant and were shown to our seats, they rang a gong for some reason.
At Sam's Anchor Inn, when you are seated, you are first asked about the drink menu. They have a huge selection of cocktails!
Also, most of the cocktails can be changed to non-alcoholic. It is driver and kid friendly.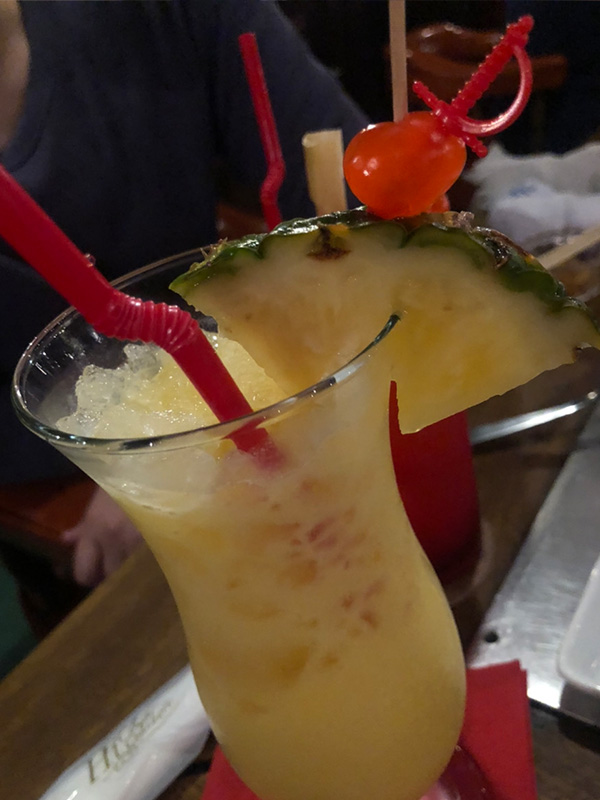 Here is the drink I ordered. Cute.
We ordered an appetizer, steak, and dessert course meal.First, appetizers.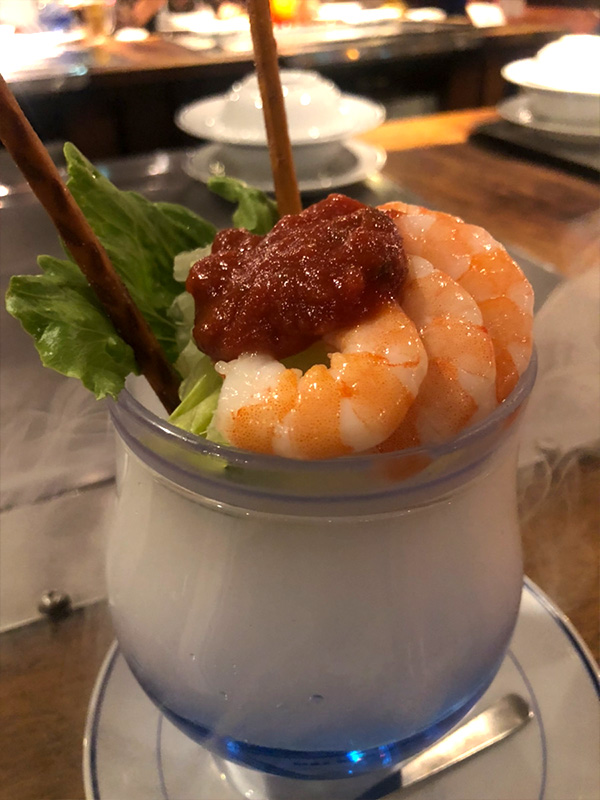 Shrimp cocktail. This glass had dry ice in it, so it was interesting to see the smoke coming out the whole time.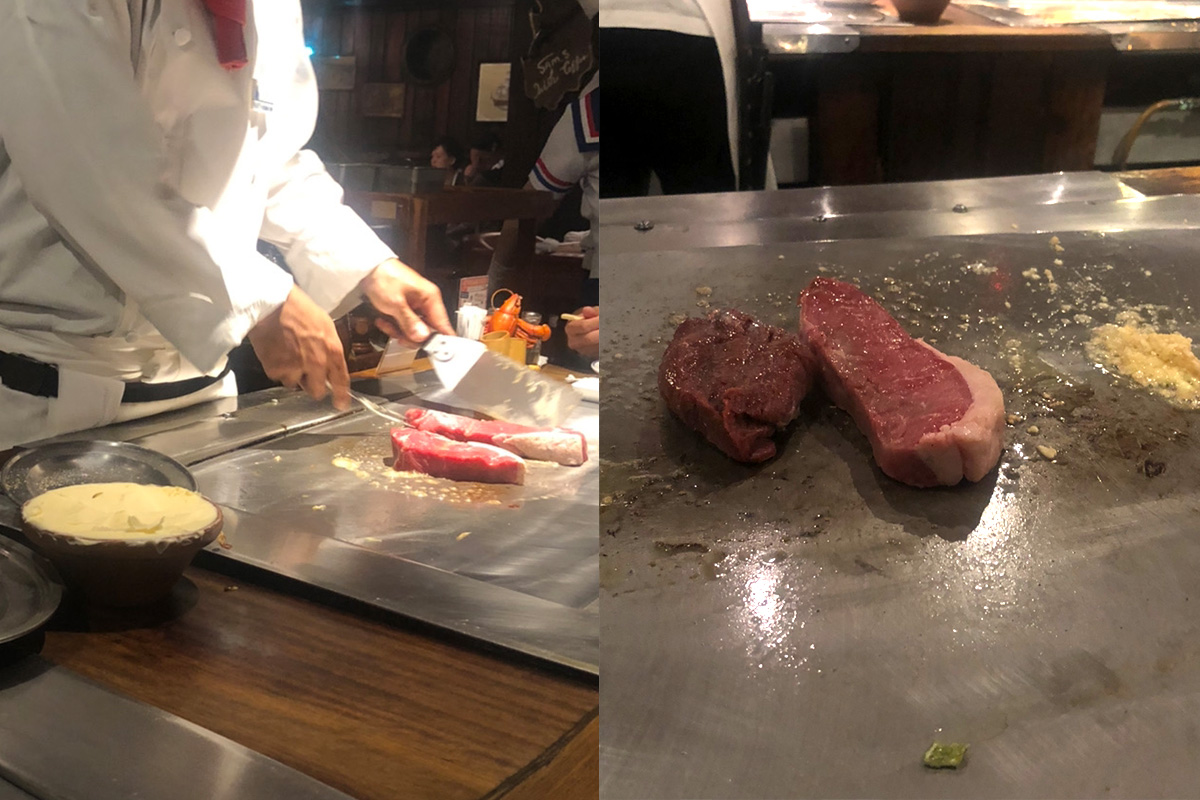 Then the main dish and vegetables. The chef will grill them in front of us.
Nice aroma of garlic and meat~!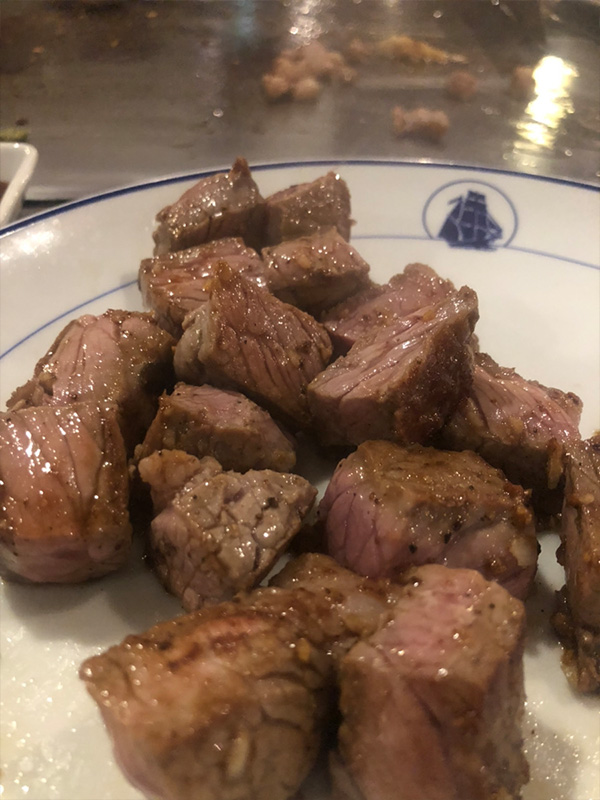 Steak is ready!The course meal was quite hearty.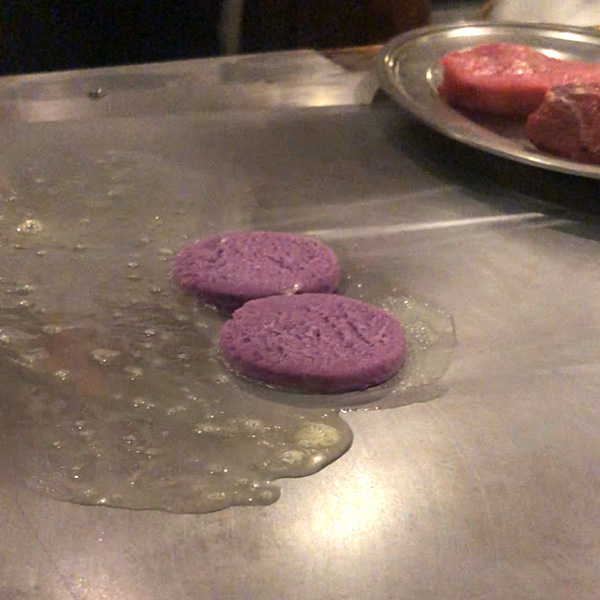 I liked the sauteed beni imo best. It was sticky.
Hotels near Asahibashi Station
With our stomachs full, we went to return the car-sharing vehicle.
I had rented the car near Asahibashi station, so I returned it there and went straight to the hotel to check in.
It was about a 7 minute walk from the station, but it was pretty cheap and clean! It seems like Okinawa is getting new hotels again these days.
By the way, the plan is without breakfast. Because Okinawa has a variety of gourmet foods that are perfect for breakfast, I could enjoy it without breakfast.
I will discuss the itinerary for days 2-4 in the next blog!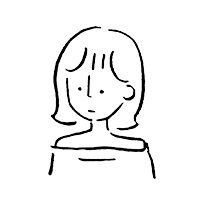 aki