6 Souvenirs Bought in Okinawa – 2023 Edition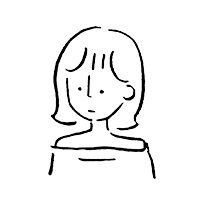 Written by aki
2023.05.04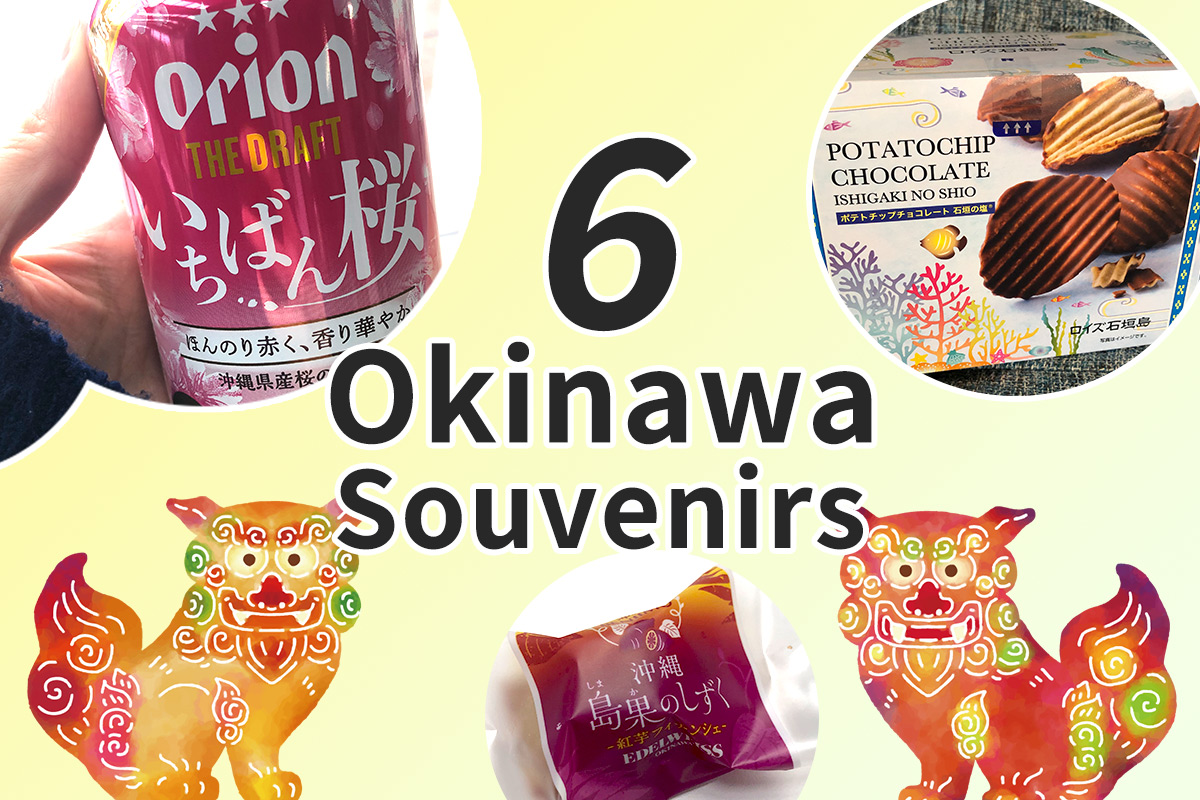 I went to Okinawa in February 2023 and received a message on Facebook wanting to know what souvenirs I bought!
In this article, I would like to share with you some of the souvenirs I actually bought.
(I'm sorry, it's all food.)
1. Orion Beer Spring Limited Edition + Orion Beer Nuts
A classic souvenir is local beer. Okinawa has a beer called "Orion Beer".
With its refreshing thirst-quenching taste, this beer is perfect for hot summers.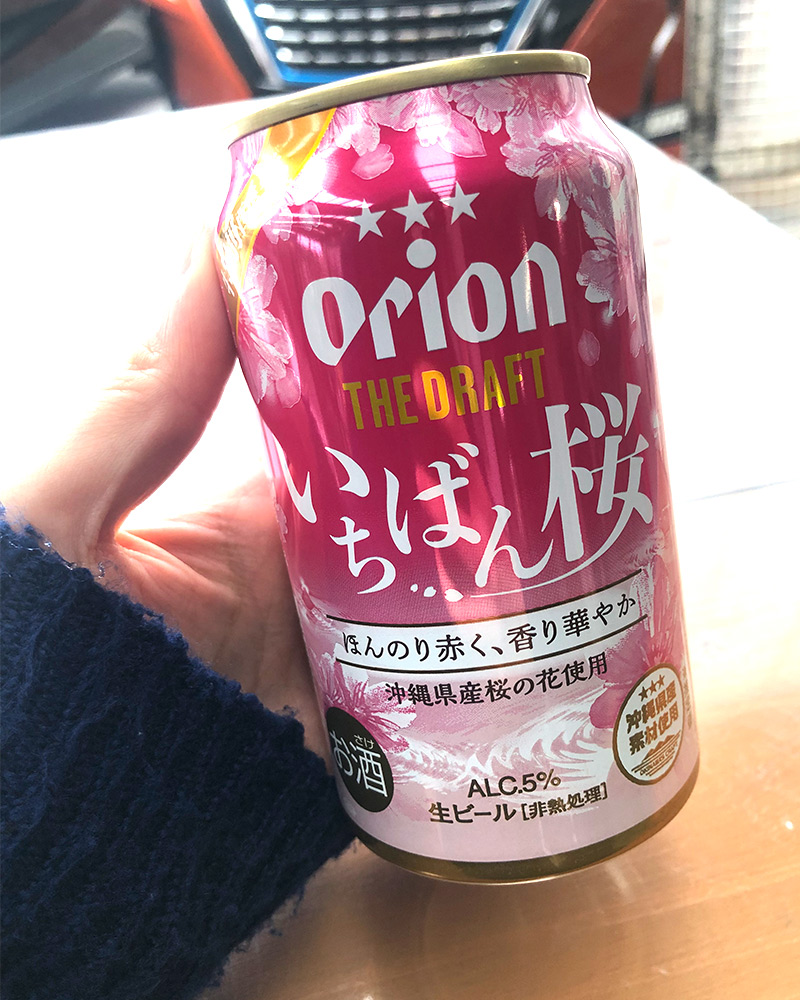 When I was there in March, there was just a spring-only Orion beer.
It has a cute cherry blossom illustration.
What a surprise…they used "cherry  blossom petals" in the beer!
It had a gorgeous aroma and deep umami flavor.
It was a little bit luxurious and I recommend giving it to someone.
Yes, I also bought snacks to go with the beer.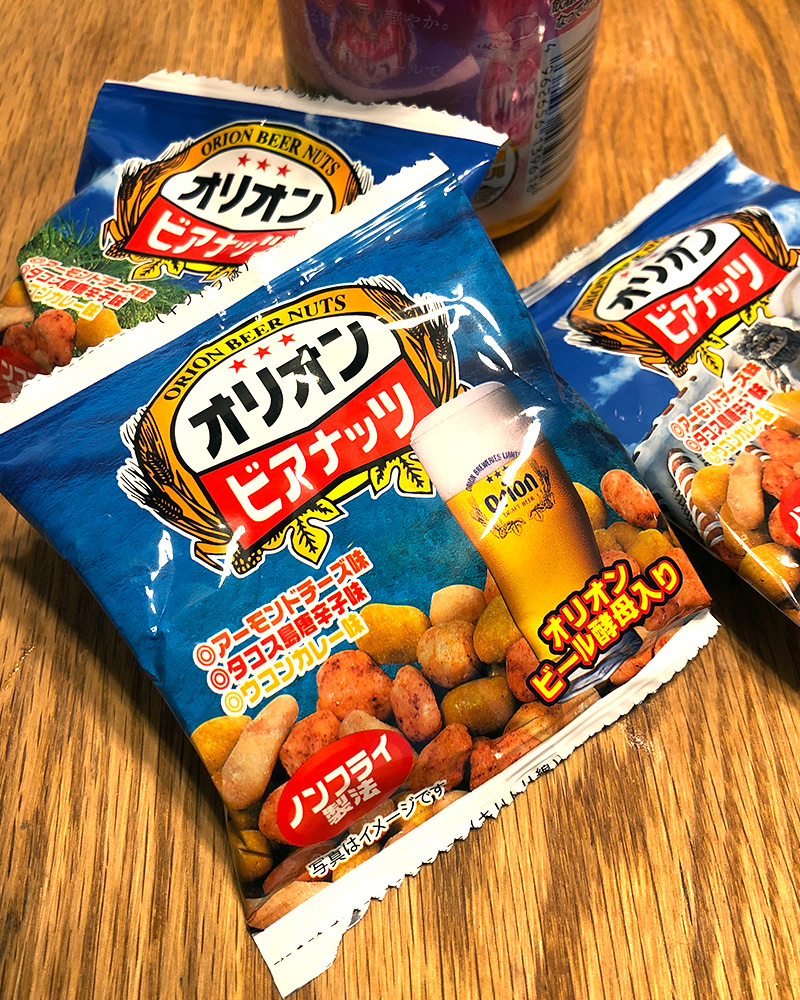 That's it. It is called Orion Beer Nuts.
The yeast that is produced when making Orion beer is used.The spices are delicious and flavorful.
The individual packaging makes it a good choice for giving as a souvenir to a large number of people.
2.HOT Sauce
Then the seasonings.
One of Okinawa's gourmet foods is called "taco rice".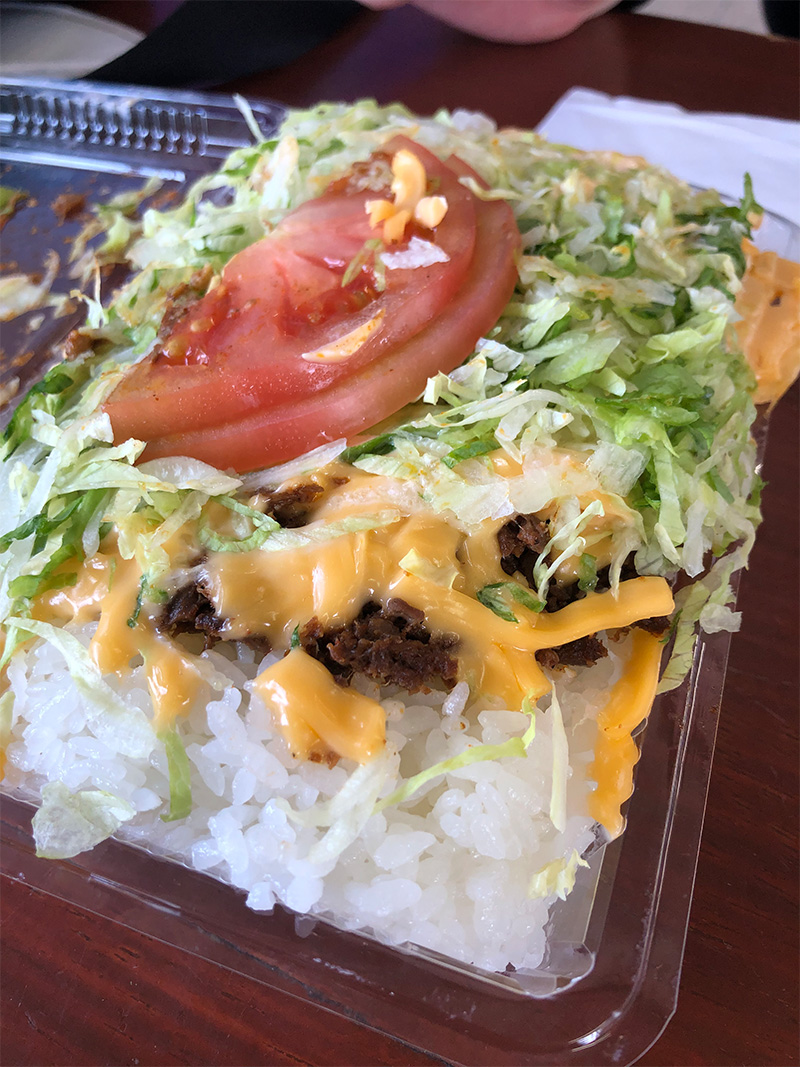 This was really delicious. I wonder if I could do it at home? So I decided to buy the seasoning.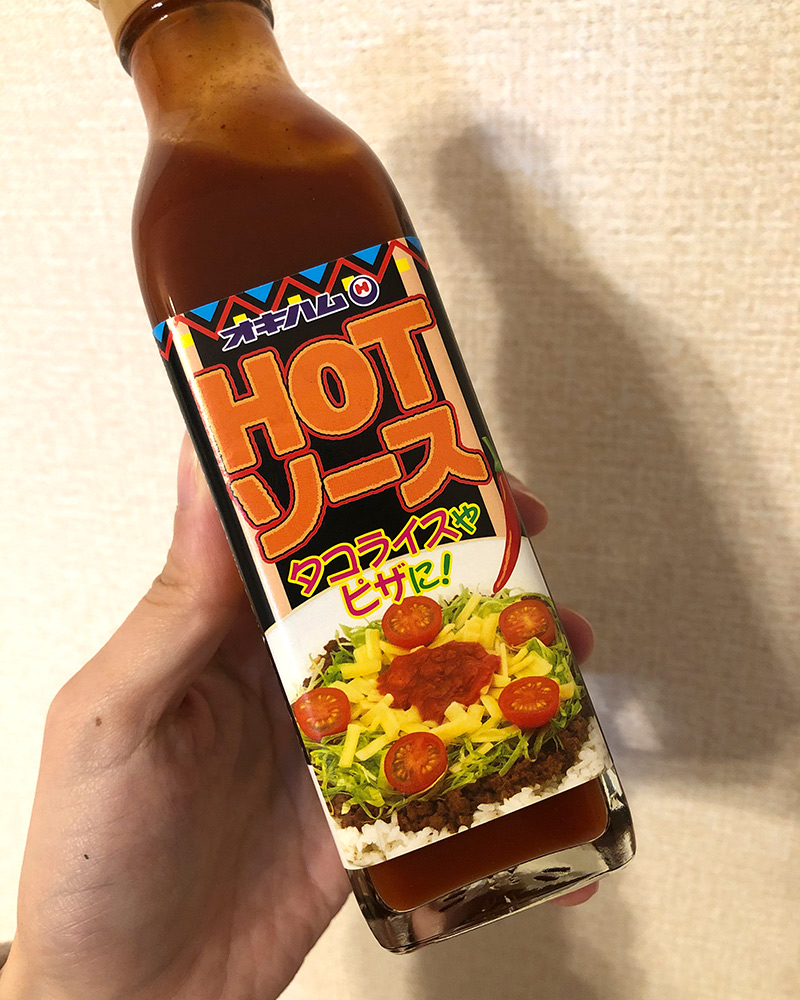 I bought a sauce with the spiciness of chili peppers and the sweetness of tomatoes.
The description suggests that it can be used on pizza or as a dipping sauce, in addition to being served over taco rice.
I immediately tried making taco rice at home.
Top rice with spiced ground beef, lettuce, cheese, tomatoes, and HOT sauce.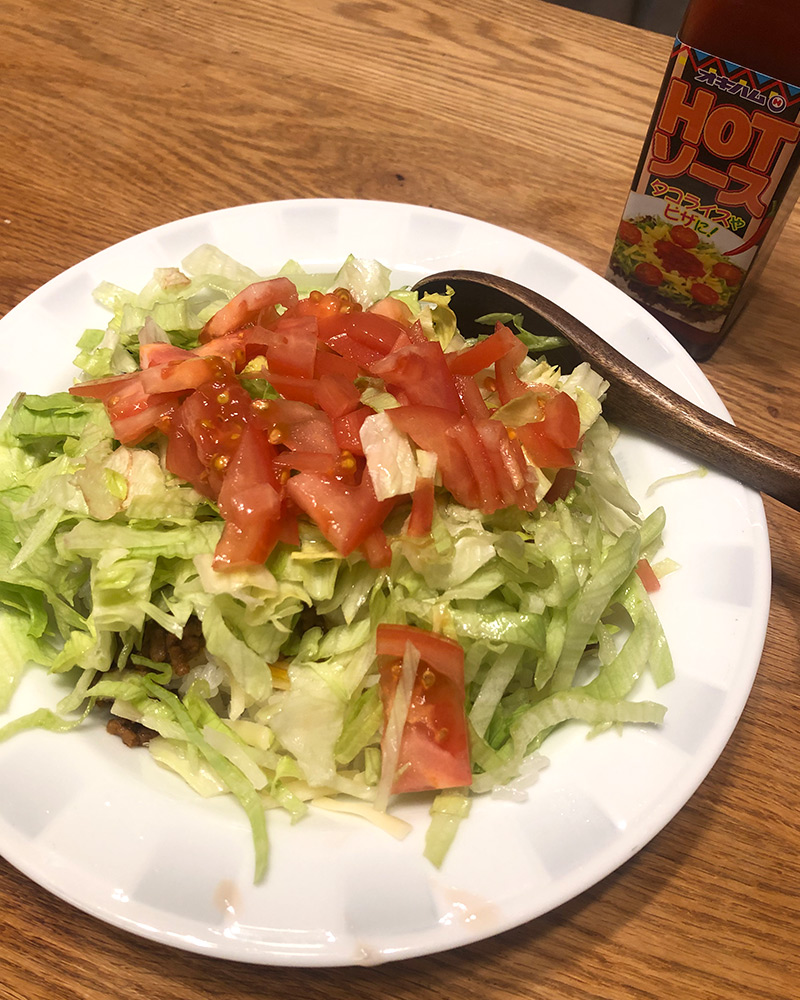 Delicious and easy!
3. Andansu
Another thing I bought was seasoning.It is a traditional Okinawan food.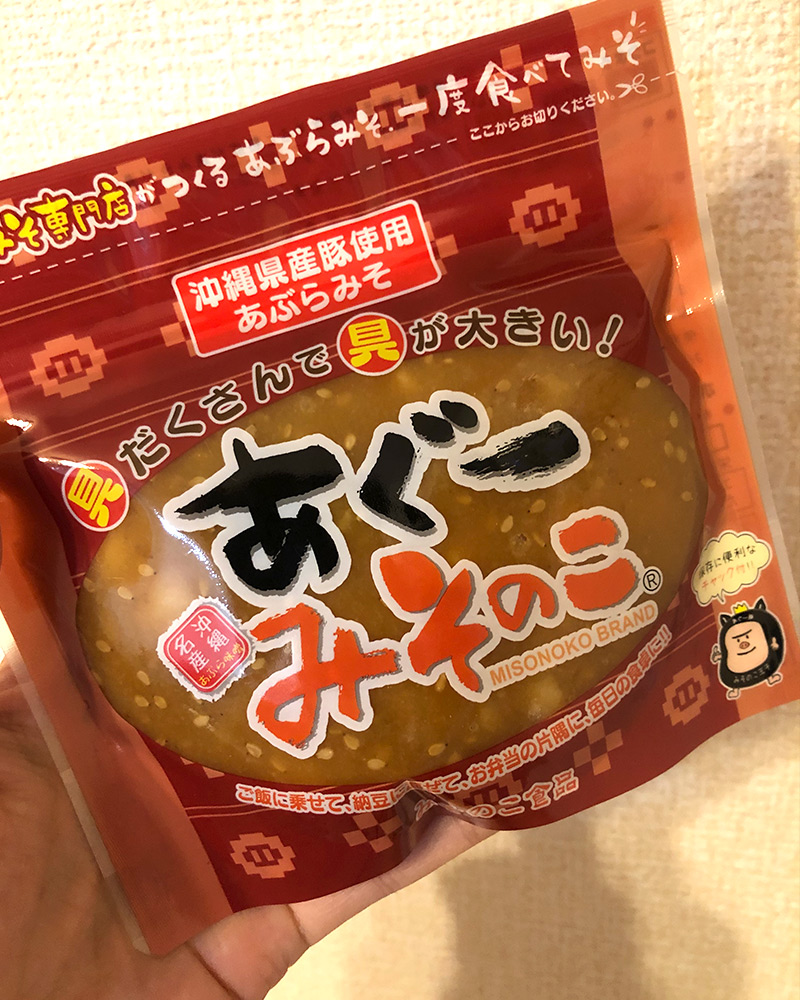 In the local language, it is called andansu, or more commonly, abura-miso.
It's miso stir-fried with pork lard, and it's slightly sweet.It is usually eaten as is on rice.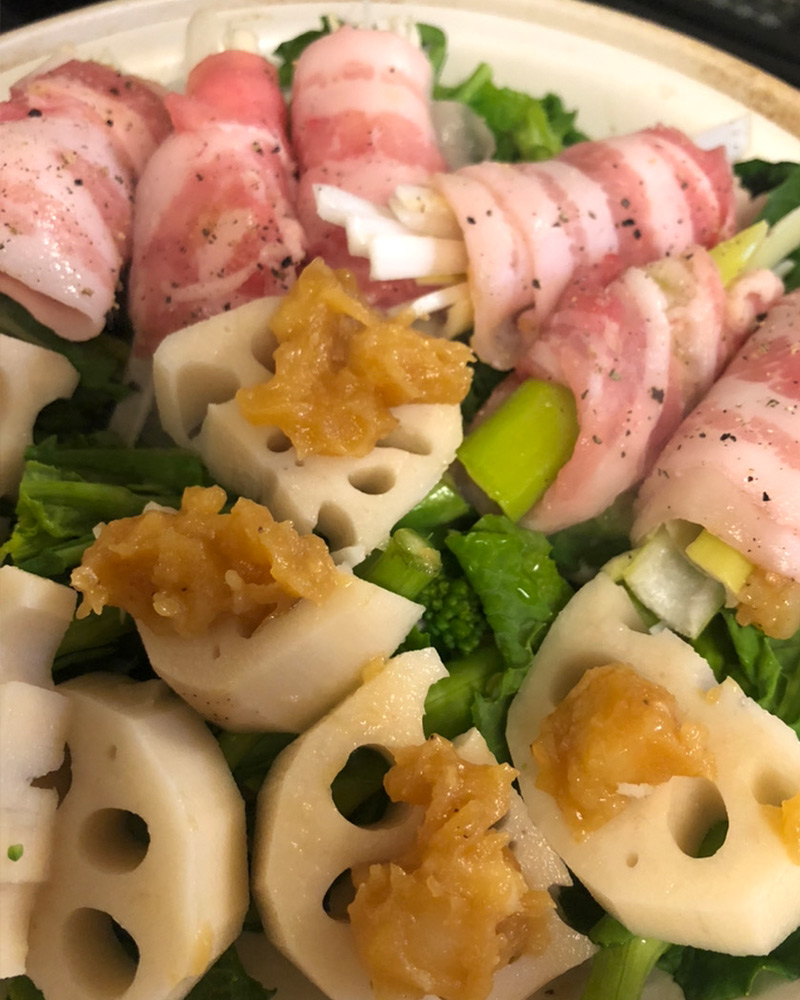 I used to eat steamed vegetables with this miso. It was delicious!
Also, I stir-fried ground meat with this miso and ate it over eggplant, which was also delicious.
I bought this one at a roadside station!
4. Beni imo tart & Imo imo tart
Here is the sweets section. First is the classic sweet "Beni Imo Tart".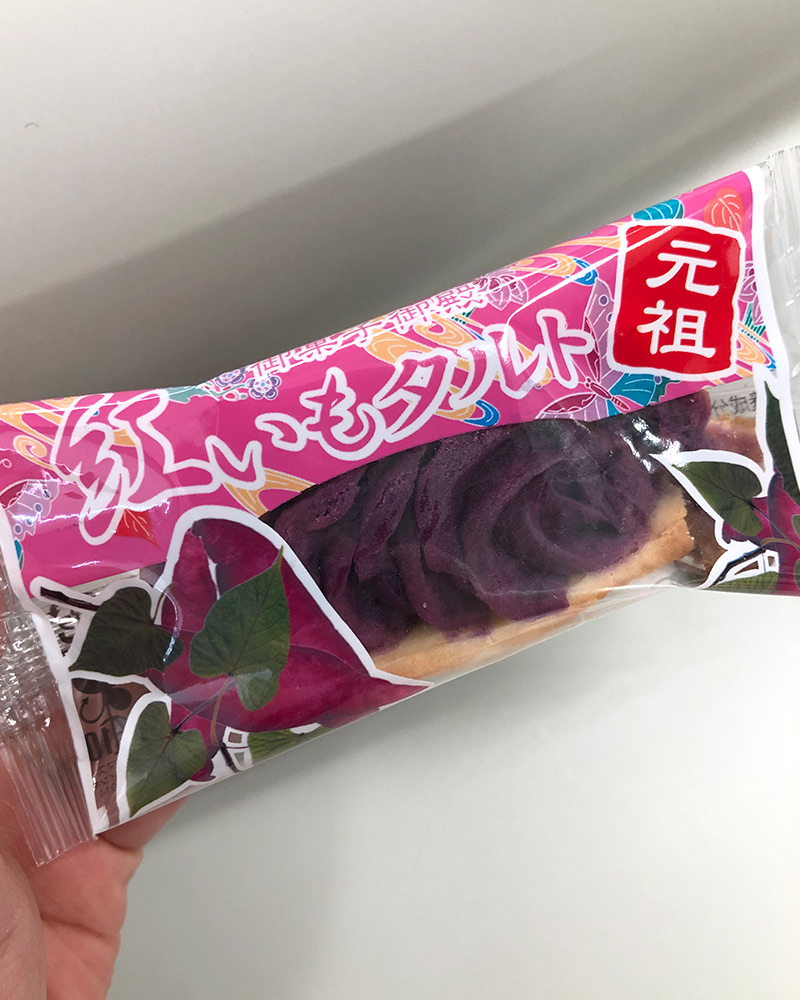 The tart dough is topped with a paste of Beni imo(red potatoes).
The one I bought was from the original Beni Imo tart store.It contains no preservatives or coloring and has a delicious rustic sweetness.
As of 2023, there seems to be a shortage of Beni Imo, and this tart was quite out of stock.
Instead, I bought one called "Imoimo Tart". It was also delicious.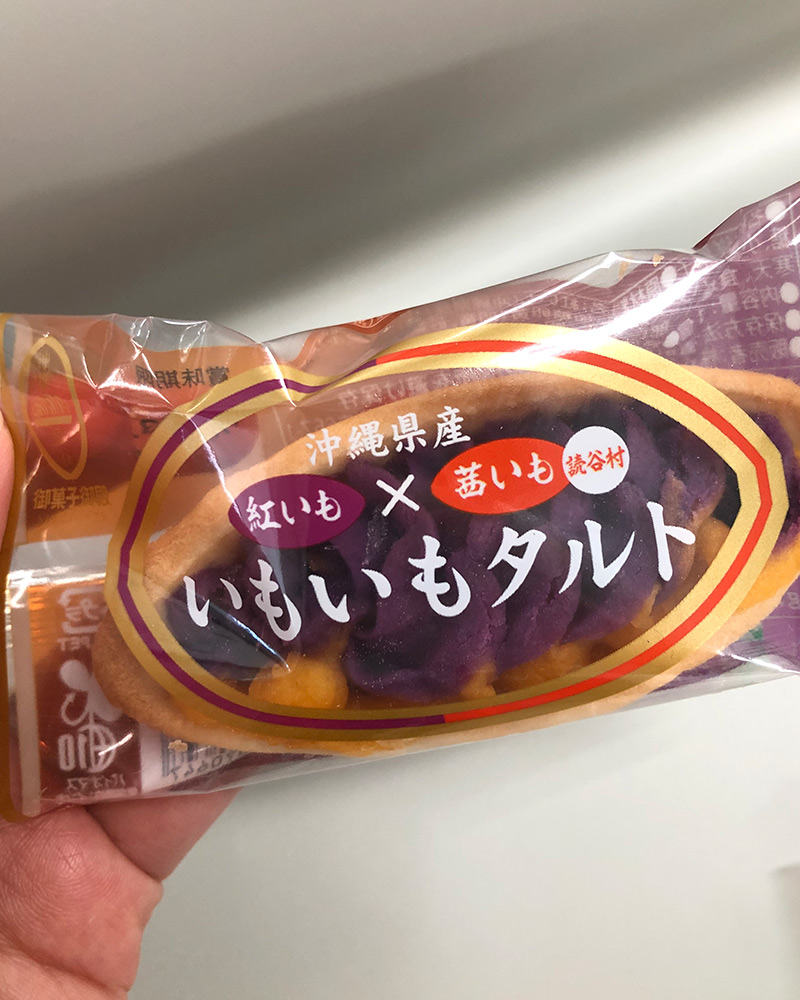 Tart with Beni imo and a sweet potato called "Yomitan Akaneimo". It looks cute in two colors.
5.ROYCE Ishigakijima Potato Chip Chocolate
ROYCE is a well-known chocolate company.The company sells chocolates made from a variety of regional ingredients in various locations.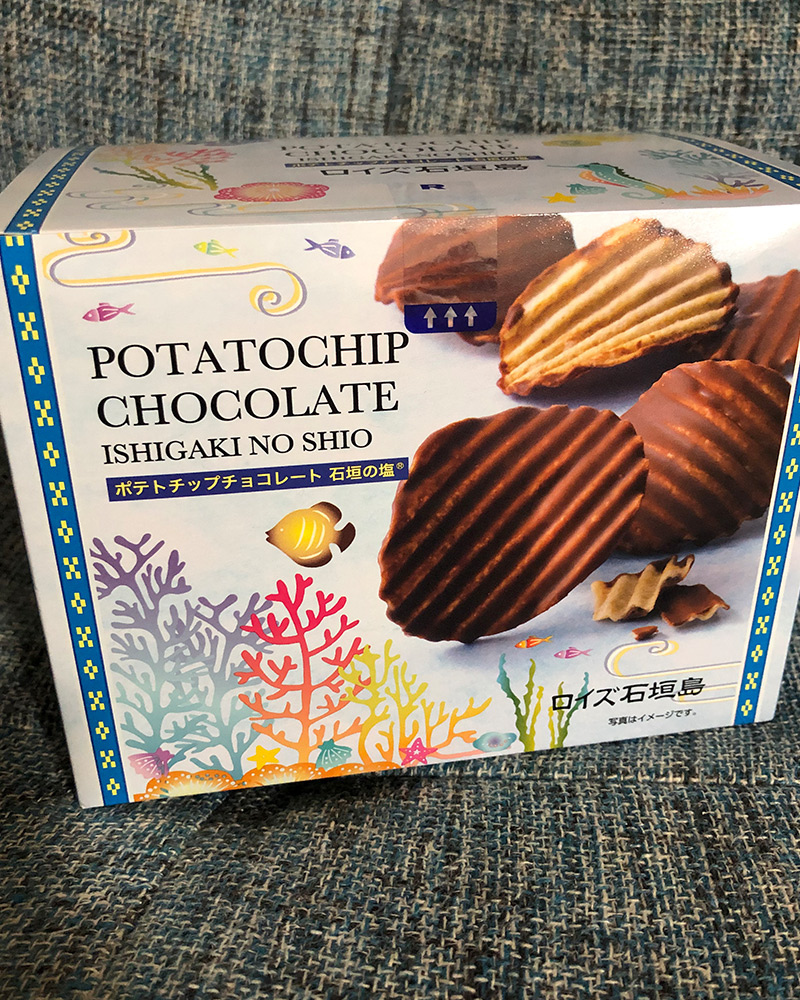 This is a potato chip made with Ishigaki Island (Okinawan island) salt and coated with chocolate for a perfect harmony of salty and sweet.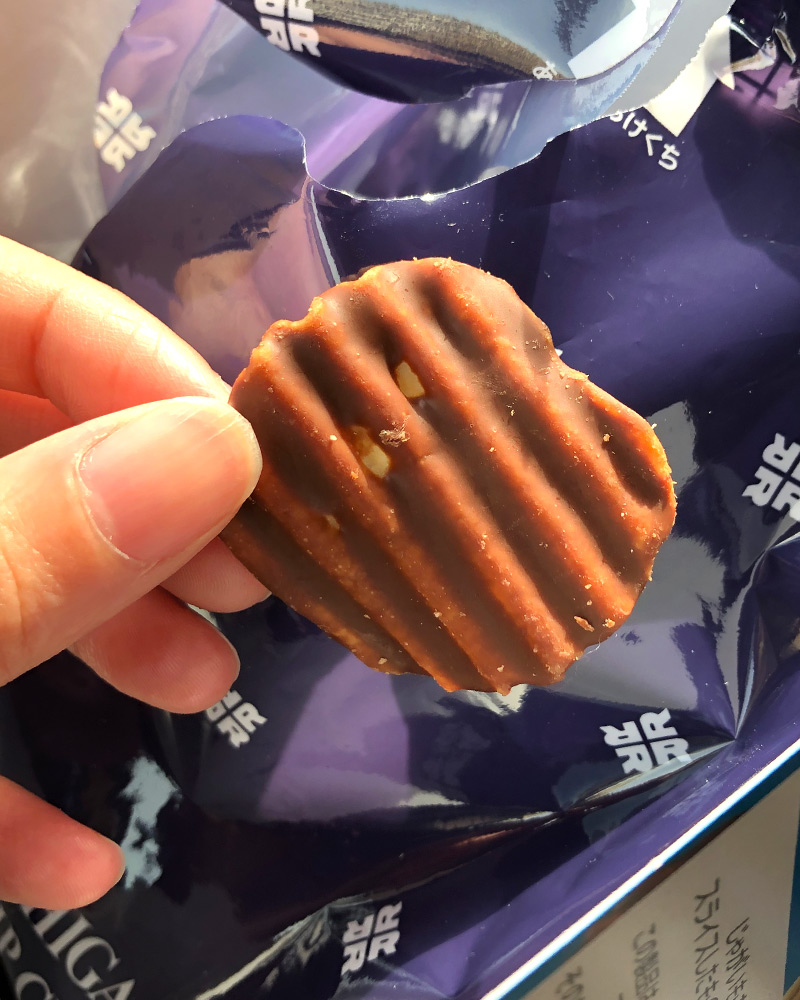 Once I eat it, I get addicted and can't stop eating it.
6.Shima ka no Shizuku(島果のしずく)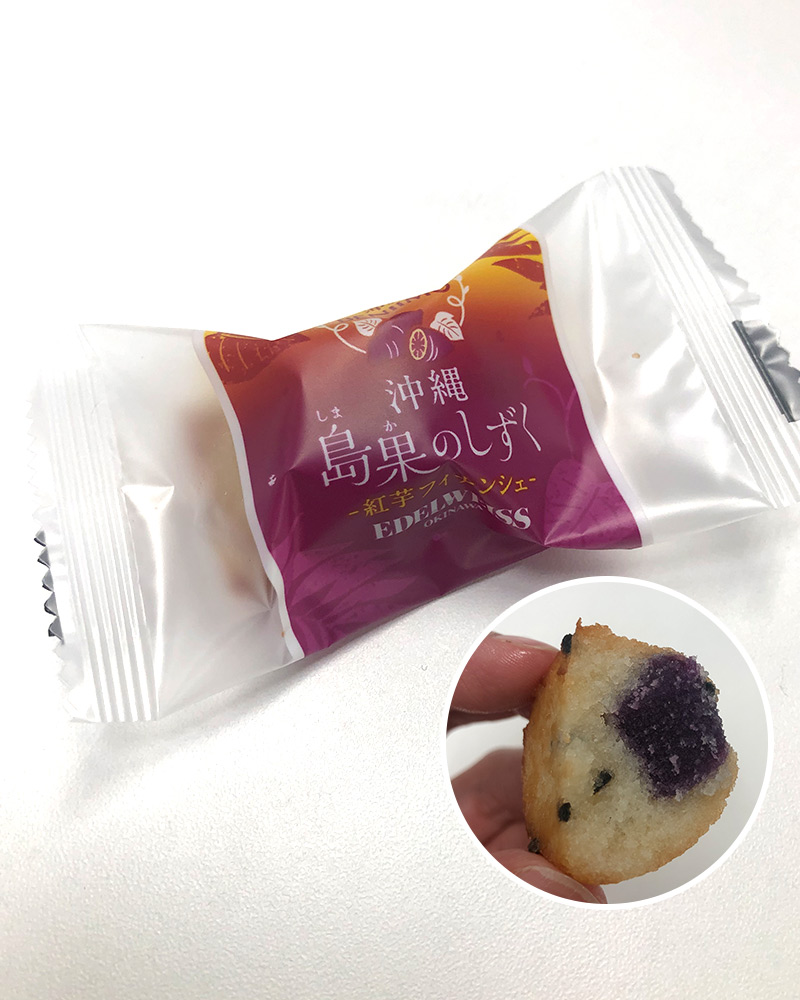 This is a financier.I bought the Beni Imo flavor, which has Okinawan ingredients all over the inside.
It is well buttered and moist.
Incidentally, the literal translation of "Shima ka no Shizuku" means a drop of island fruit.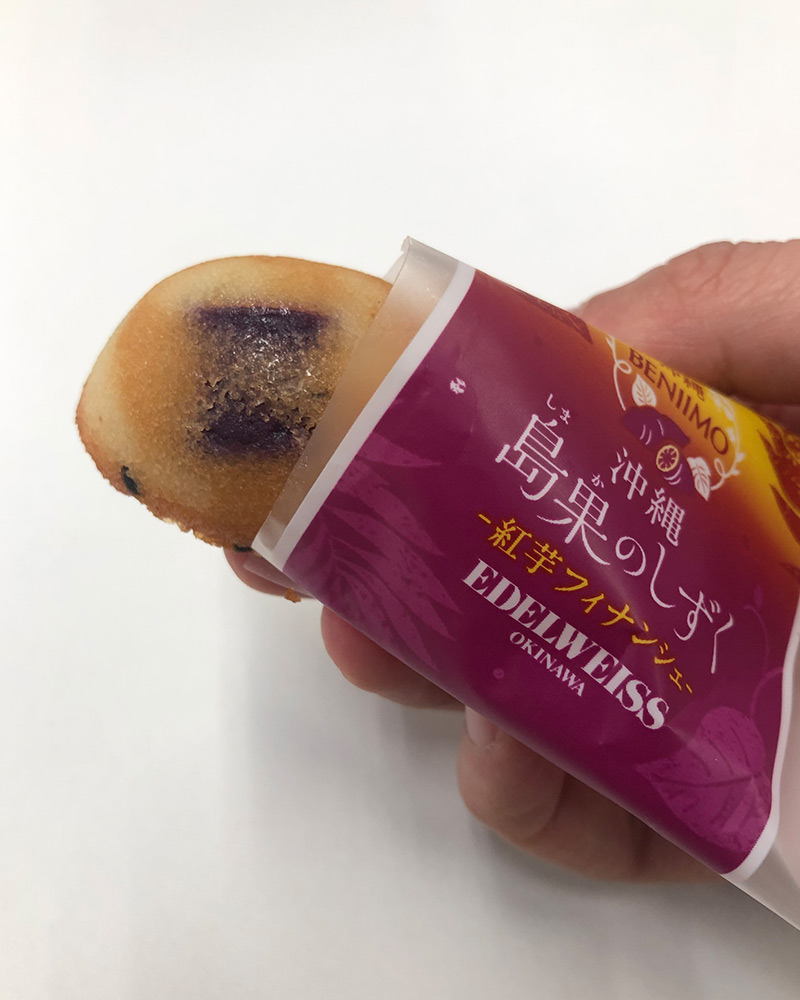 Indeed, it is shaped like a droplet.
They're individually wrapped and easy to distribute!
Extra: Things I wanted to buy but couldn't
There are two souvenirs that I could not buy because I did not have enough time to choose carefully.
First, "Ryukyu Glass."
It is a very beautiful and clear color.They have over 100 years of history in Okinawa.
The other is "Yachimun".Okinawan ceramics.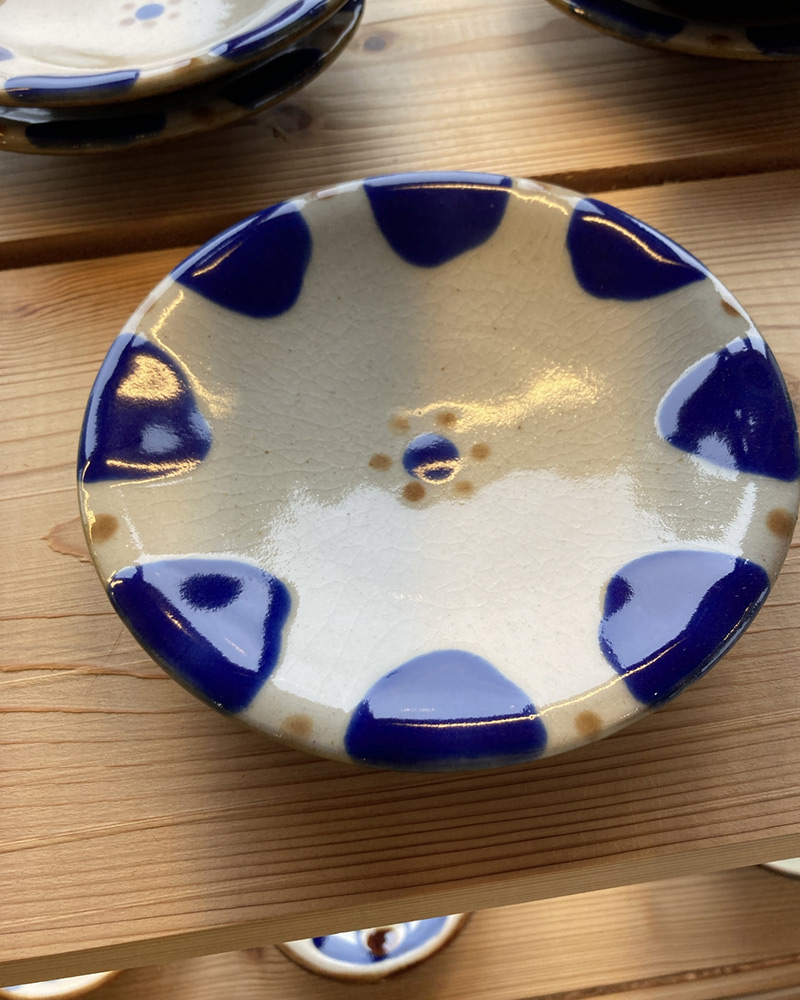 It is thick, yet the pictures are cute. I wanted to buy it very much, but I couldn't find a pattern I liked, so I decided not to buy it this time.
Next time I go to Okinawa, I would like to try my hand at making these.
If you have any souvenirs that you bought when you visited Okinawa, please let us know on Facebook, etc! I will refer to it the next time I go.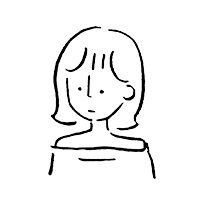 aki