Highlights of Beppu – Beppu "Jigoku Meguri" Report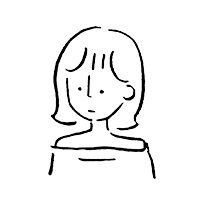 Written by aki
2022.12.22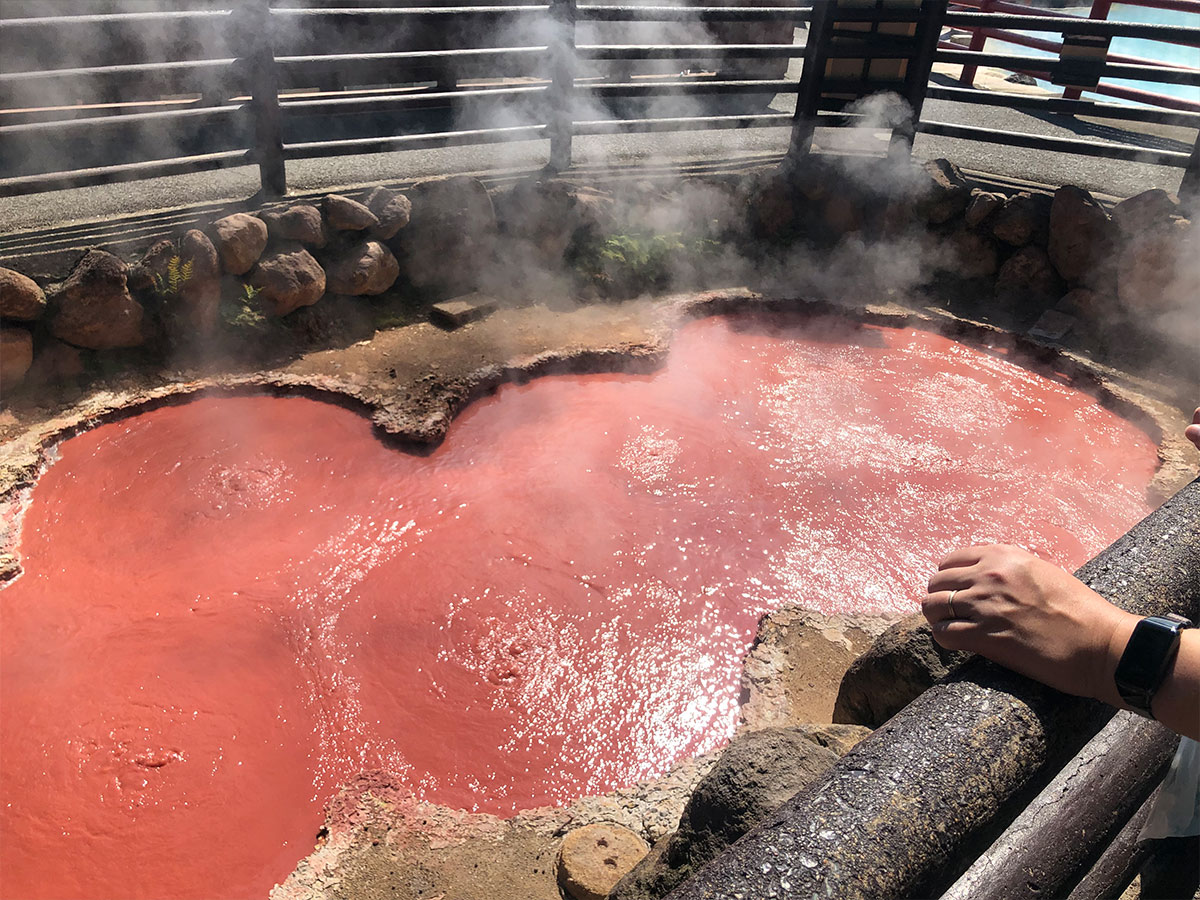 Winter in Japan is cold!
So, here are some recommended Onsen(hot spring) resorts.
I went to "Beppu" this fall. Do you know Beppu?
Oita, where Beppu is located, is known as the "Onsen prefecture" in Japan.
And Beppu ranks first in Japan in the number of springs and the volume of water gushing from them.
The Beppu area has a wide variety of onsen, some very hot, some blue in color, for example!
And one of Beppu's most popular tourist attractions is the "Jigoku Meguri(地獄めぐり)".
Jigoku means "hell" and meguri means "to go around".
In other words, Hell Tour!
I went there this fall, and I'll show you what route I took, along with the highlights!
1.Umi Jigoku(Sea hell,海地獄)
Jigoku (地獄) means hell.
Jigoku(hell) is not a real hell, but rather a hot spring fumarole that has been gushing out fumaroles and hot mud at around 100 degrees Celsius, which have been gushing out for more than 1,000 years.
There are several Jigoku in Beppu, but I purchased a common ticket at umi jigoku.
Umi-Jigoku's umi means "sea".
As the name implies, the Jigoku that showed up was…BLUE!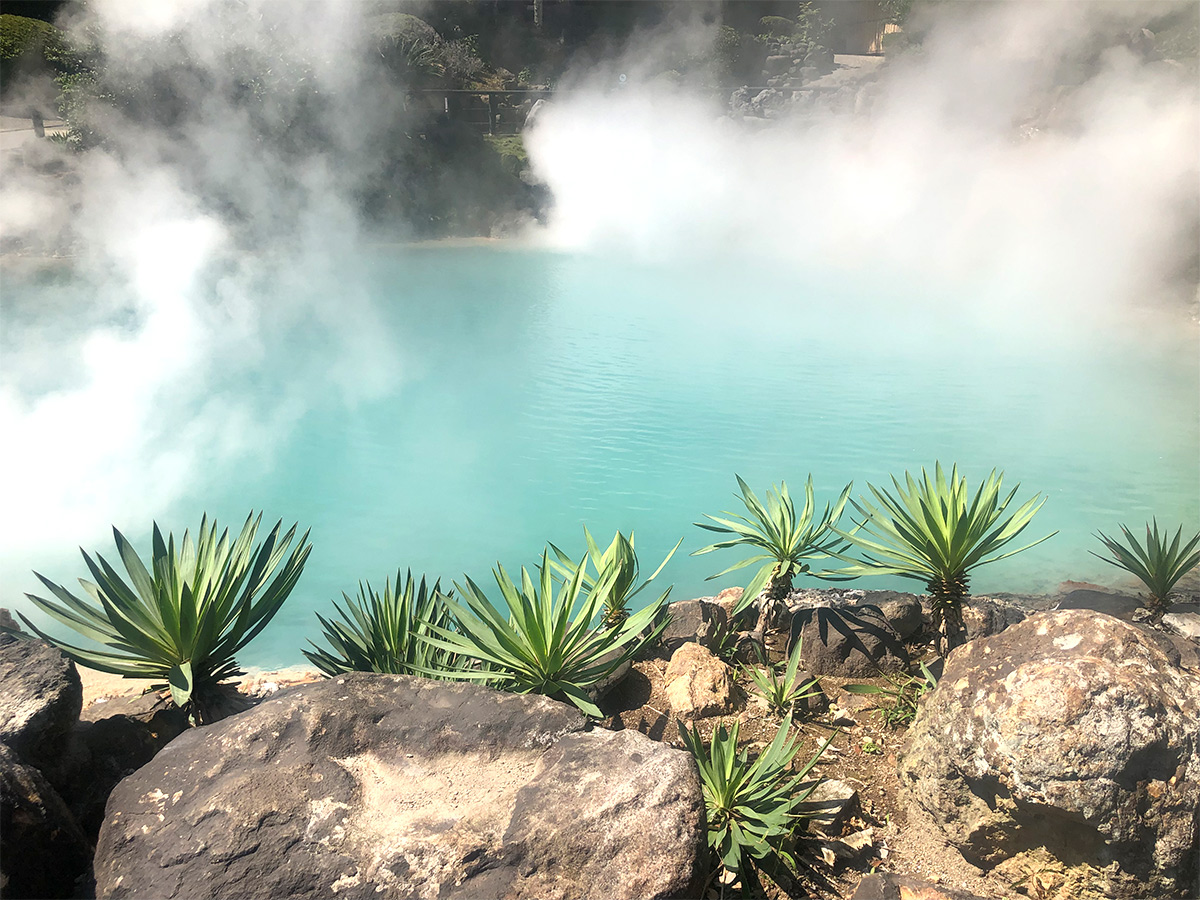 It was created by an eruption 1,200 years ago.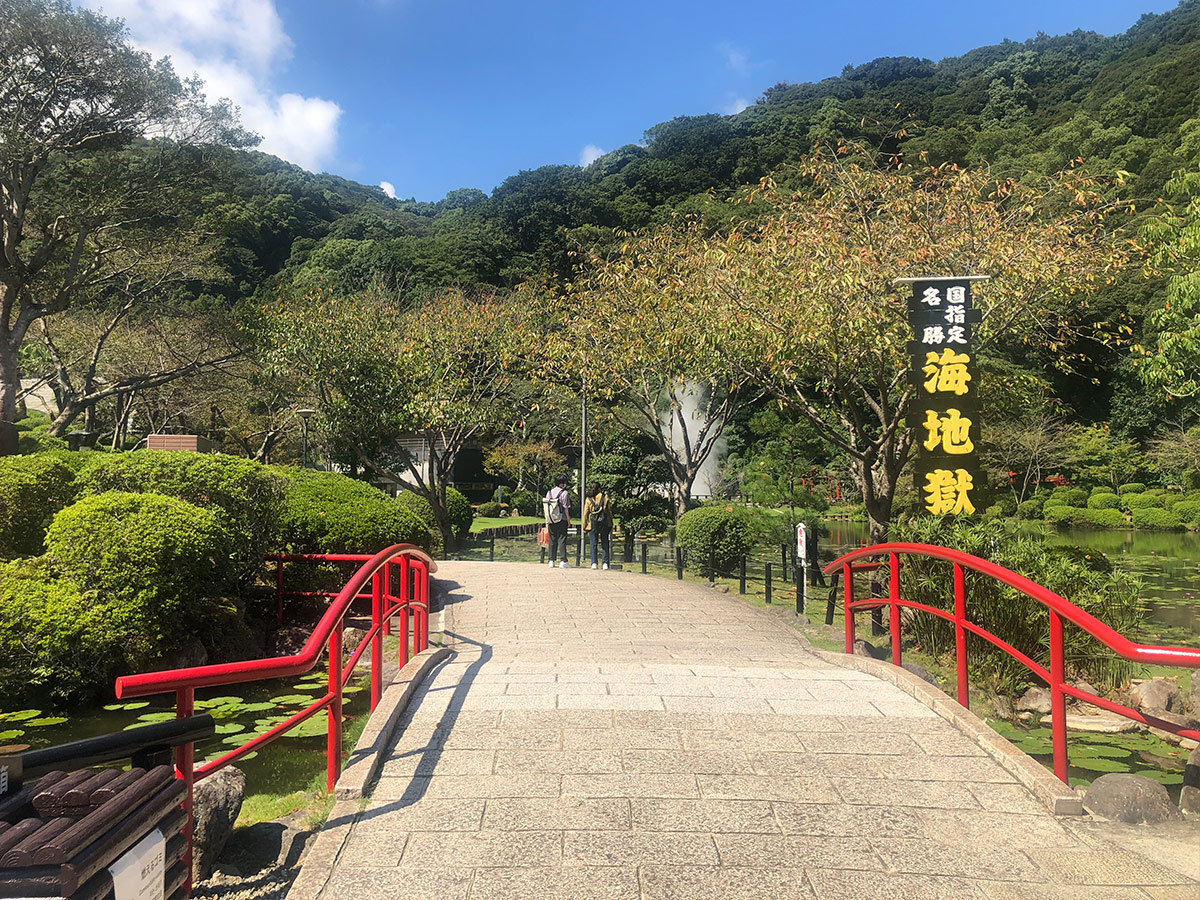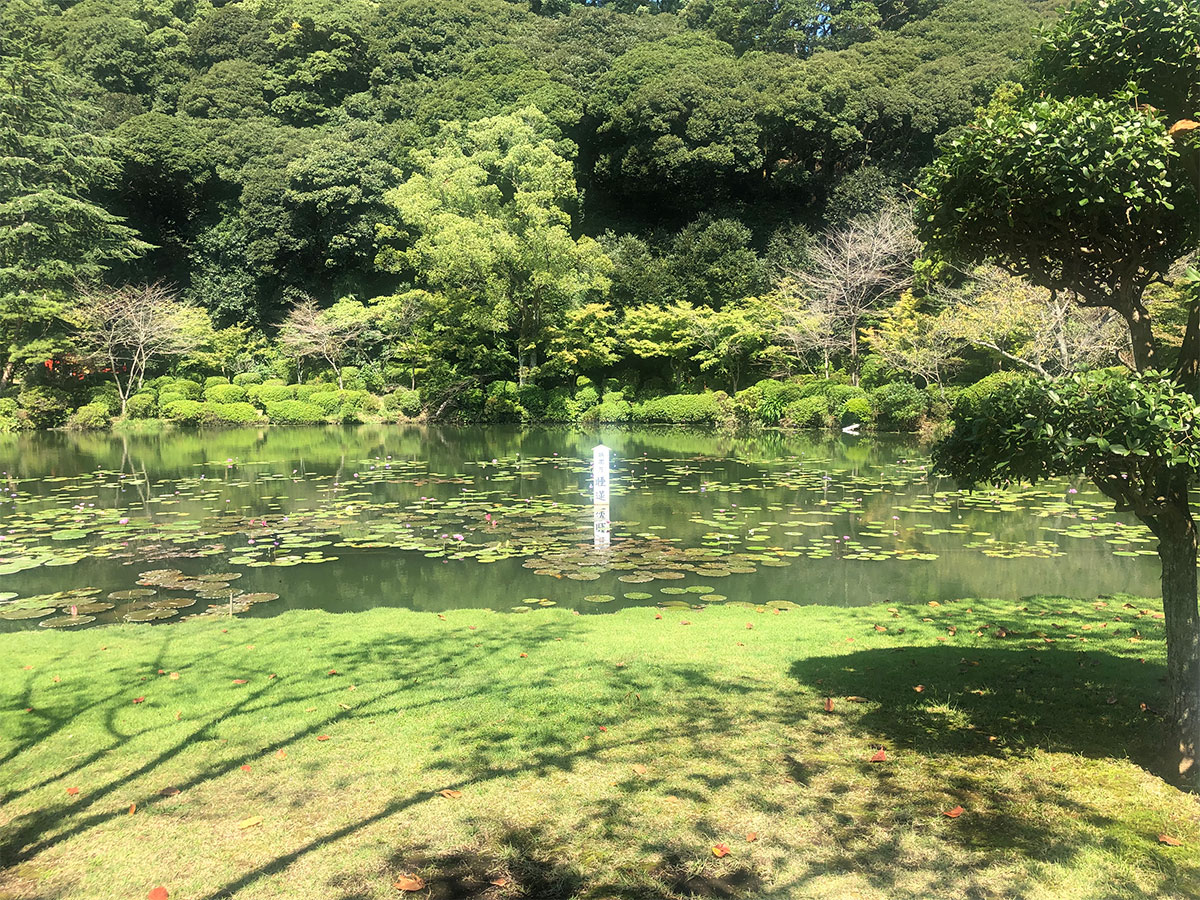 The grounds were large, with shrines and a well-maintained pond!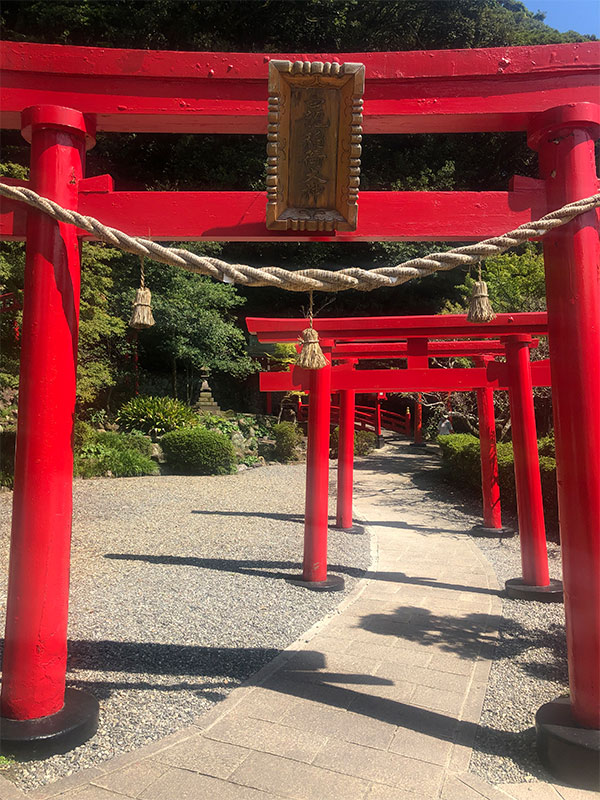 I went to a souvenir shop and ate the famous "Jigoku Pudding".Smooth and not too sweet. Delicious!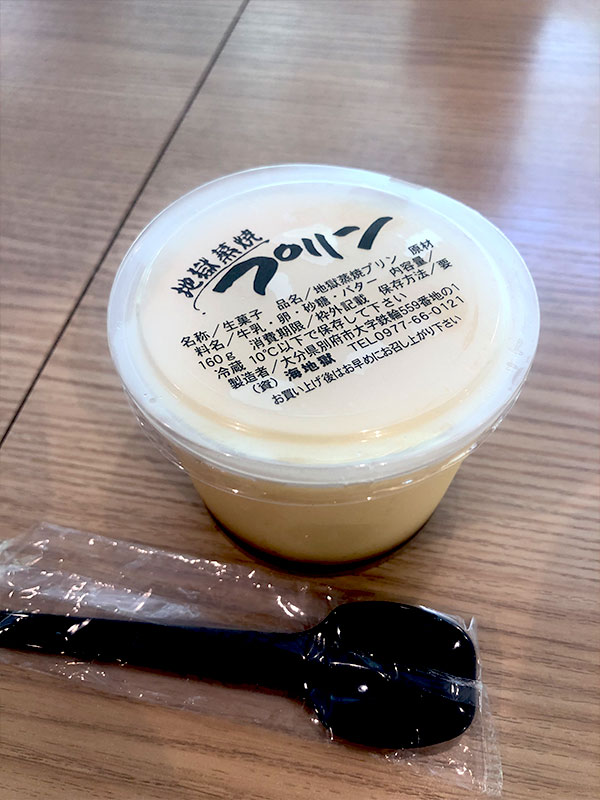 Apparently, they are steamed with steam from this Jigoku. They also have other steamed eggs.
At the exit, there were cute manju(japanese steamed yeast bun with filling) for sale.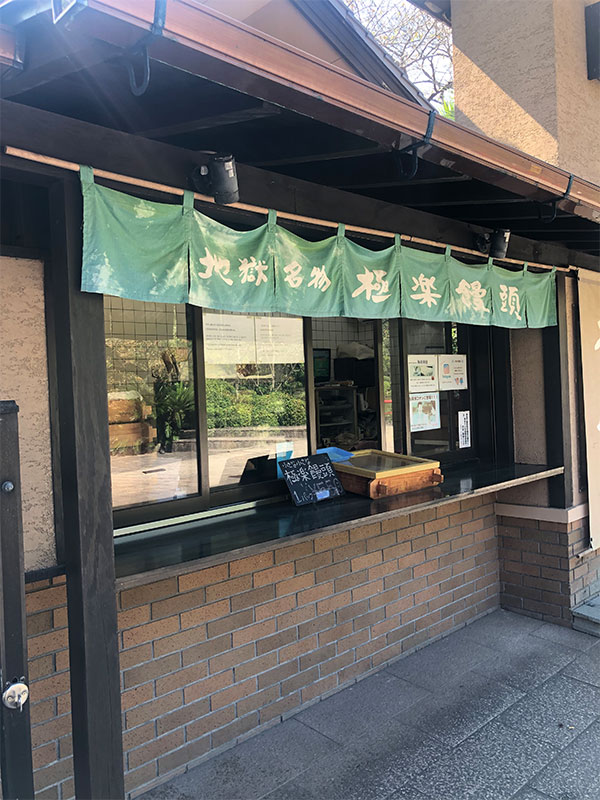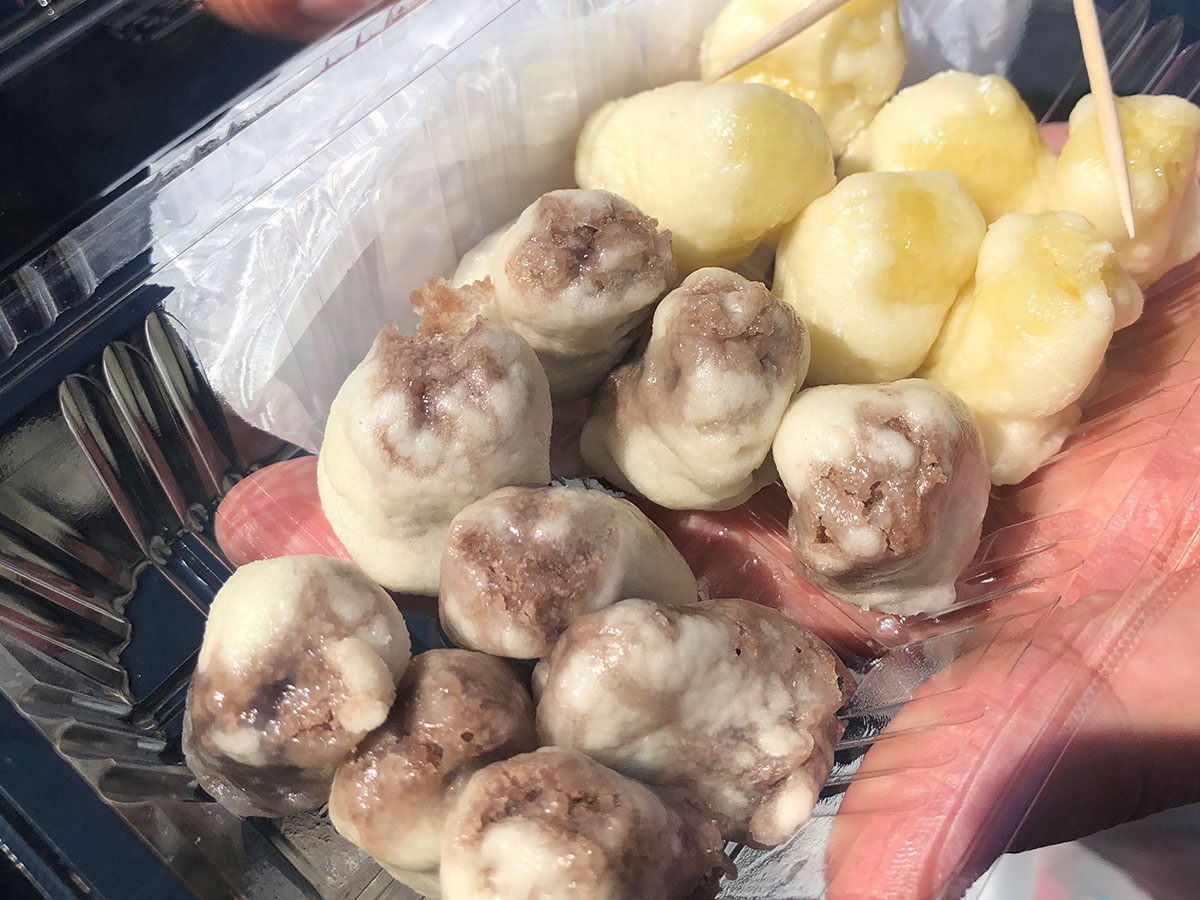 I bought it on the spur of the moment. I heard that it appears in the famous Japanese anime "Detective Conan".
2.Oni-ishibouzu Jigoku(Hell of the Monk's Head,鬼石坊主地獄)
"Oni-ishibouzu jigoku" is located next to Umi-Jigoku.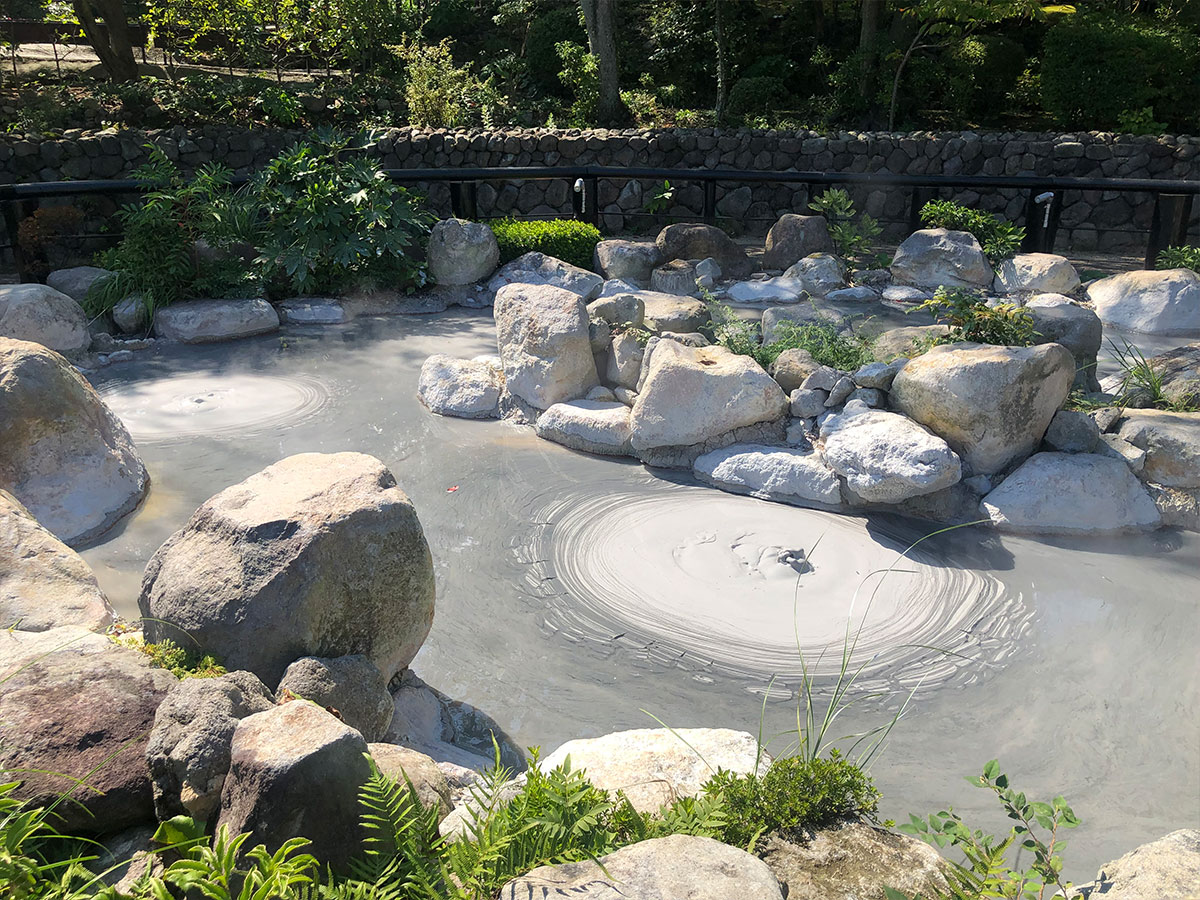 I quickly took a look…unlike the Umi Jigoku I saw earlier, it is sludgy.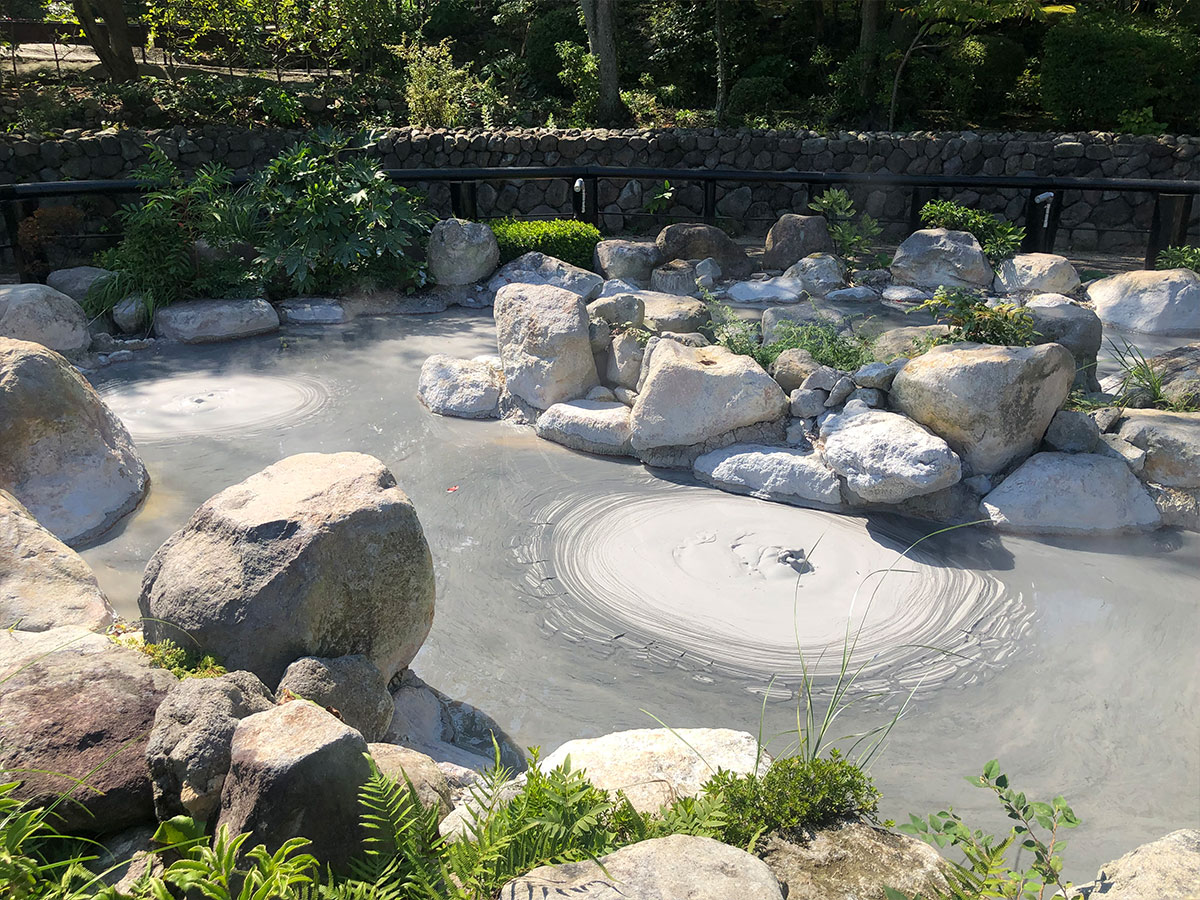 It is said that hot water balls spring up one after another in the clayey mud.I wonder~!
There is also a footbath in Onishihobojigoku, which could be used as a rest stop when you get tired!
I headed to the next point.
3.Kamado Jigoku(Cooking Pot Hell,かまど地獄)
Next, I drove a little further to Kamado Jigoku.
If you have difficulty driving, try taking a bus or cab.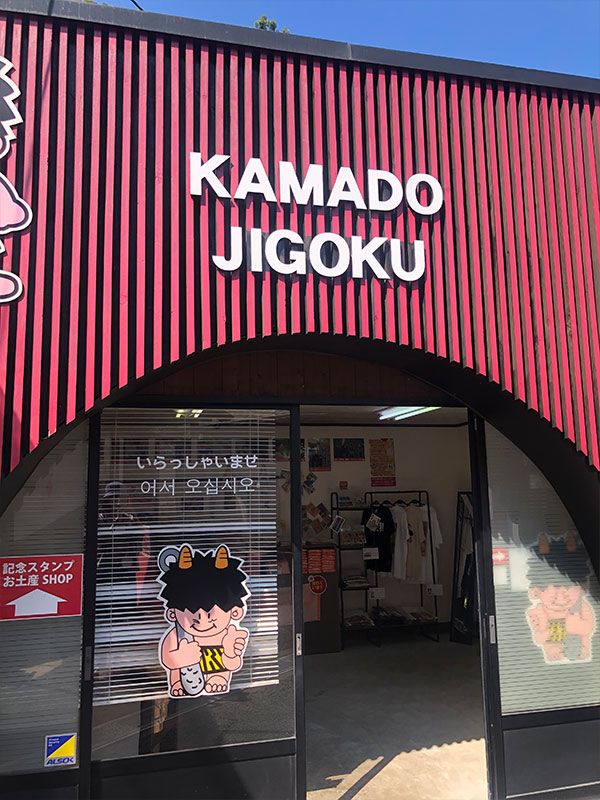 Kamado Jigoku has a wide variety of springs.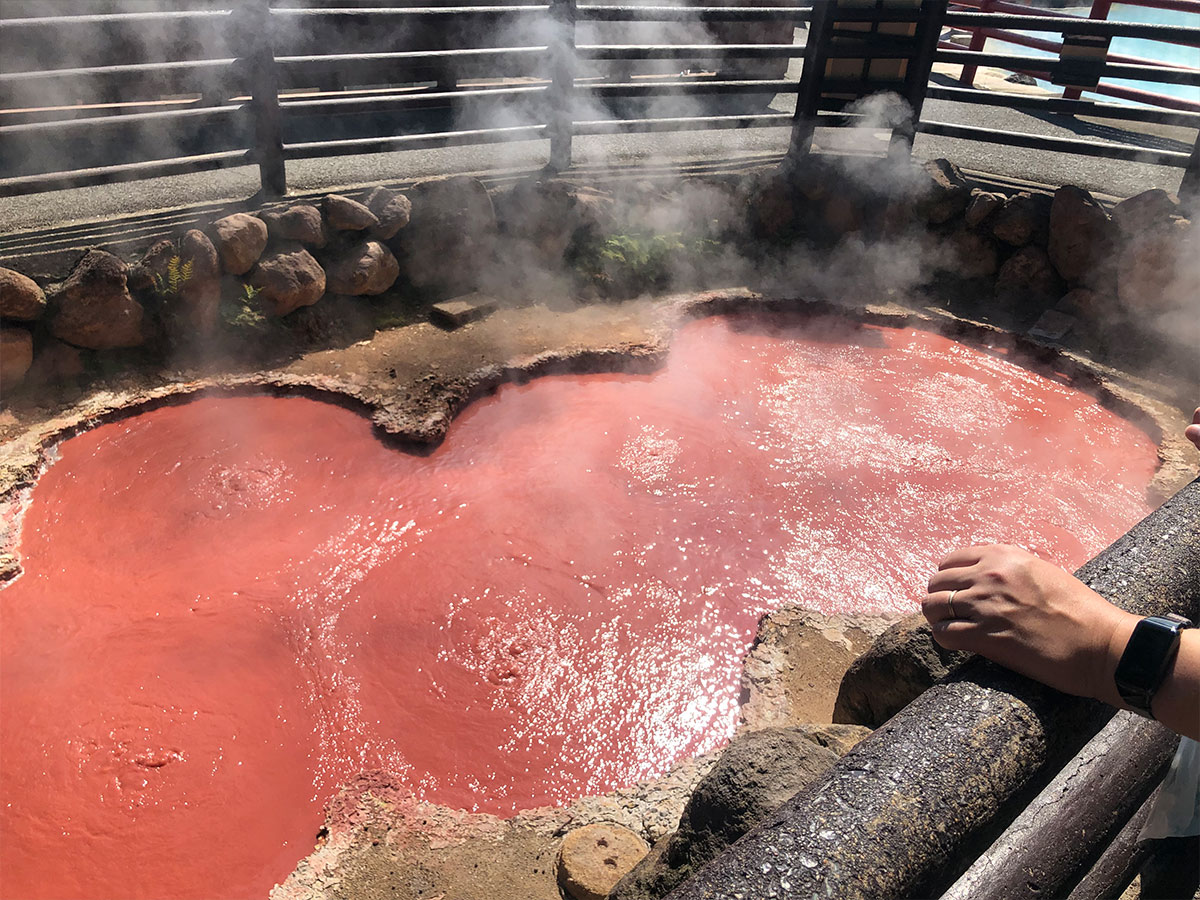 Red! Looks like blood.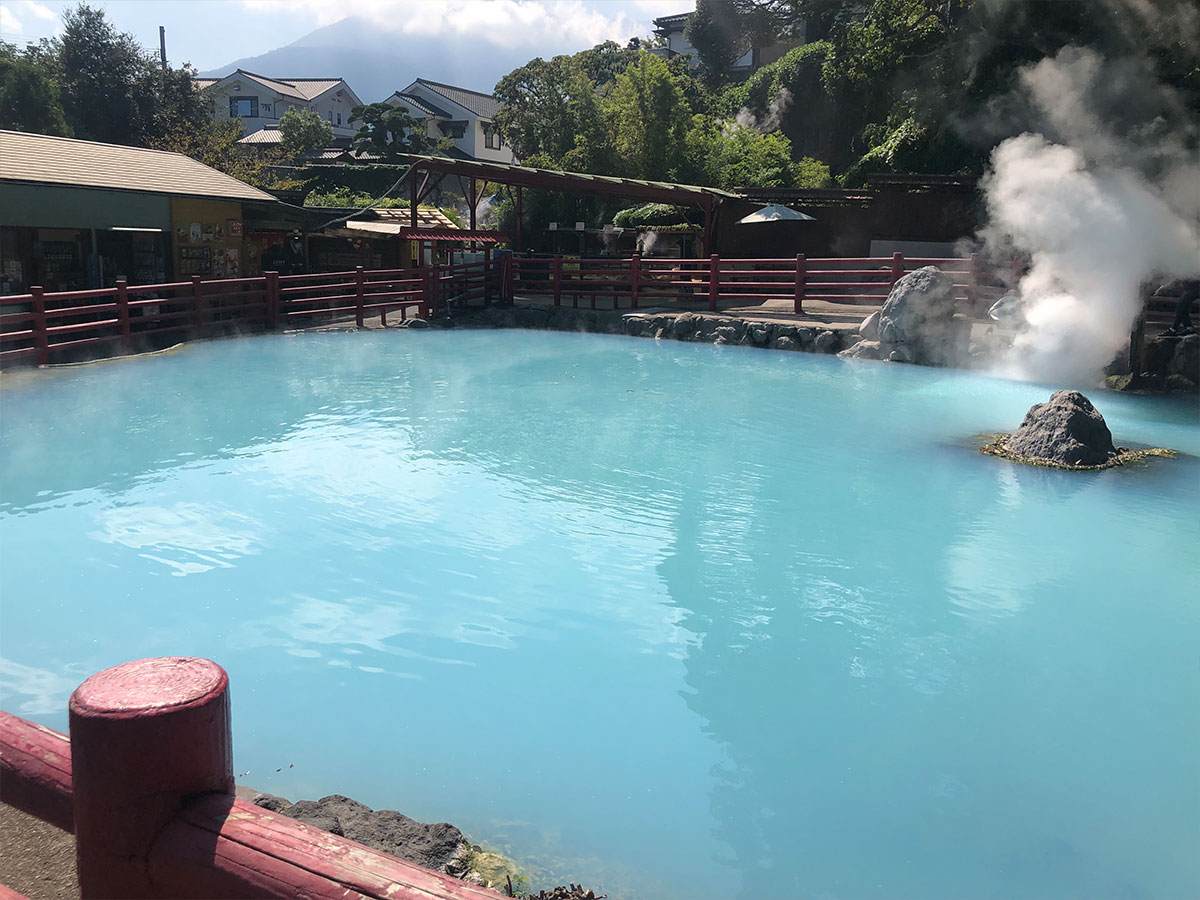 This one is a beautiful blue, similar to the one from Umi Jigoku.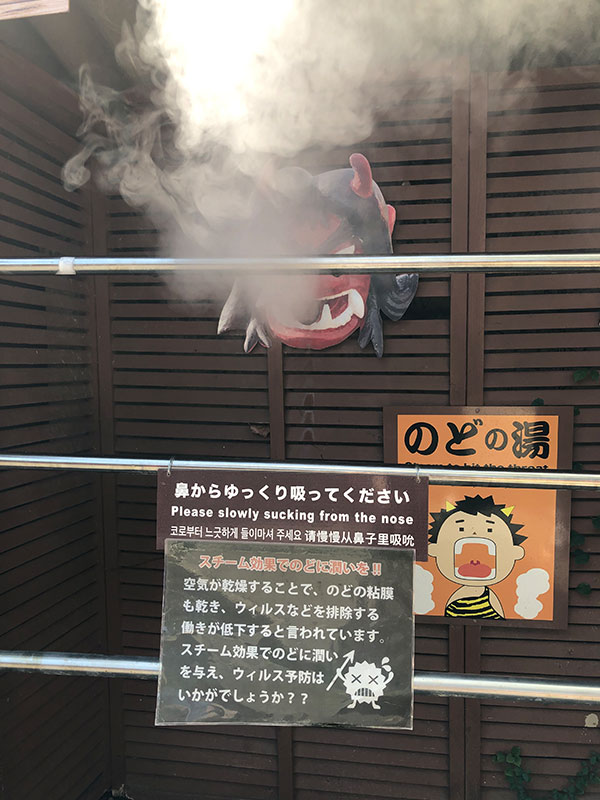 There was a corner where visitors could try "throat-warming steam".
They say that when the air is dry, the mucous membranes of the throat dry out and immunity to eliminate viruses is low, so it is better to keep them moist.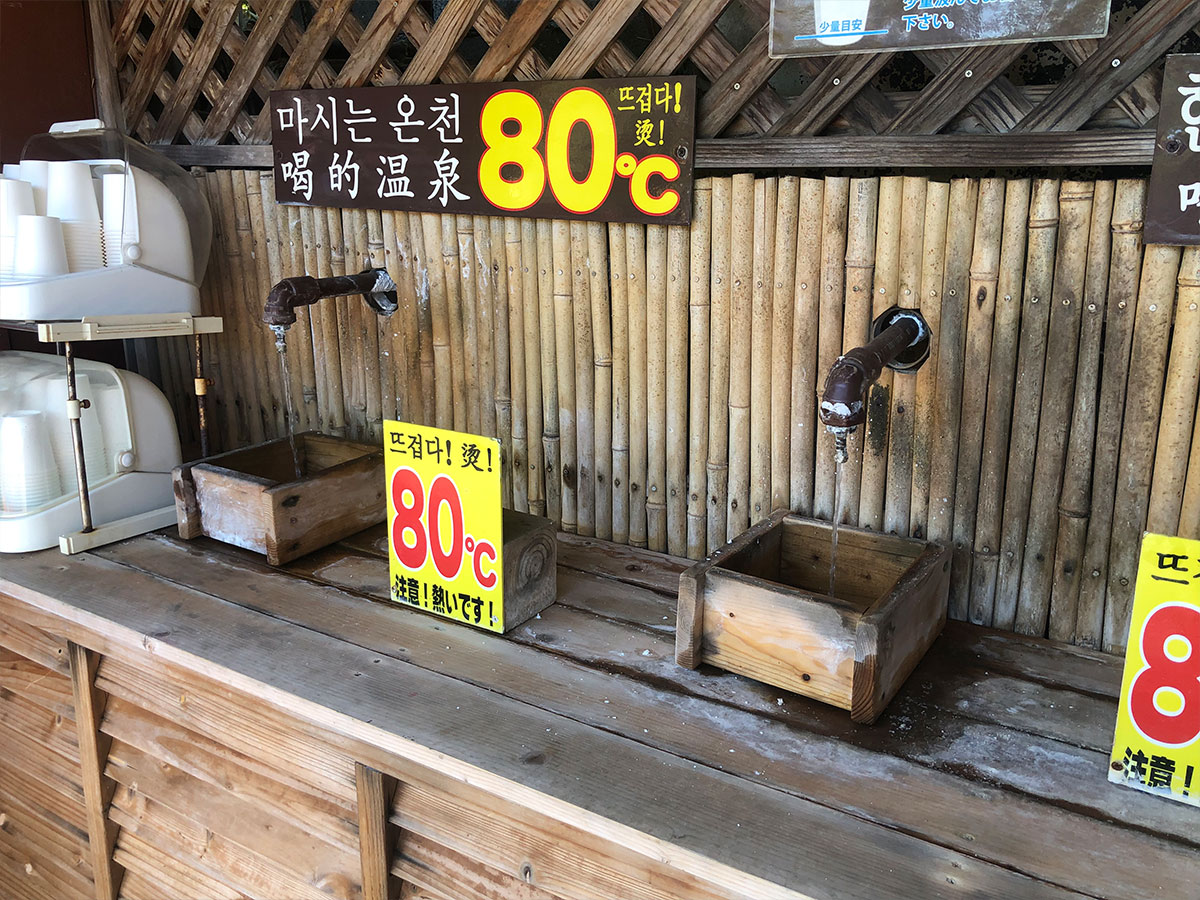 There was also a place where I could "drink from the fountains of hell."I've tried drinking from the fountain of hell, and it's pretty salty!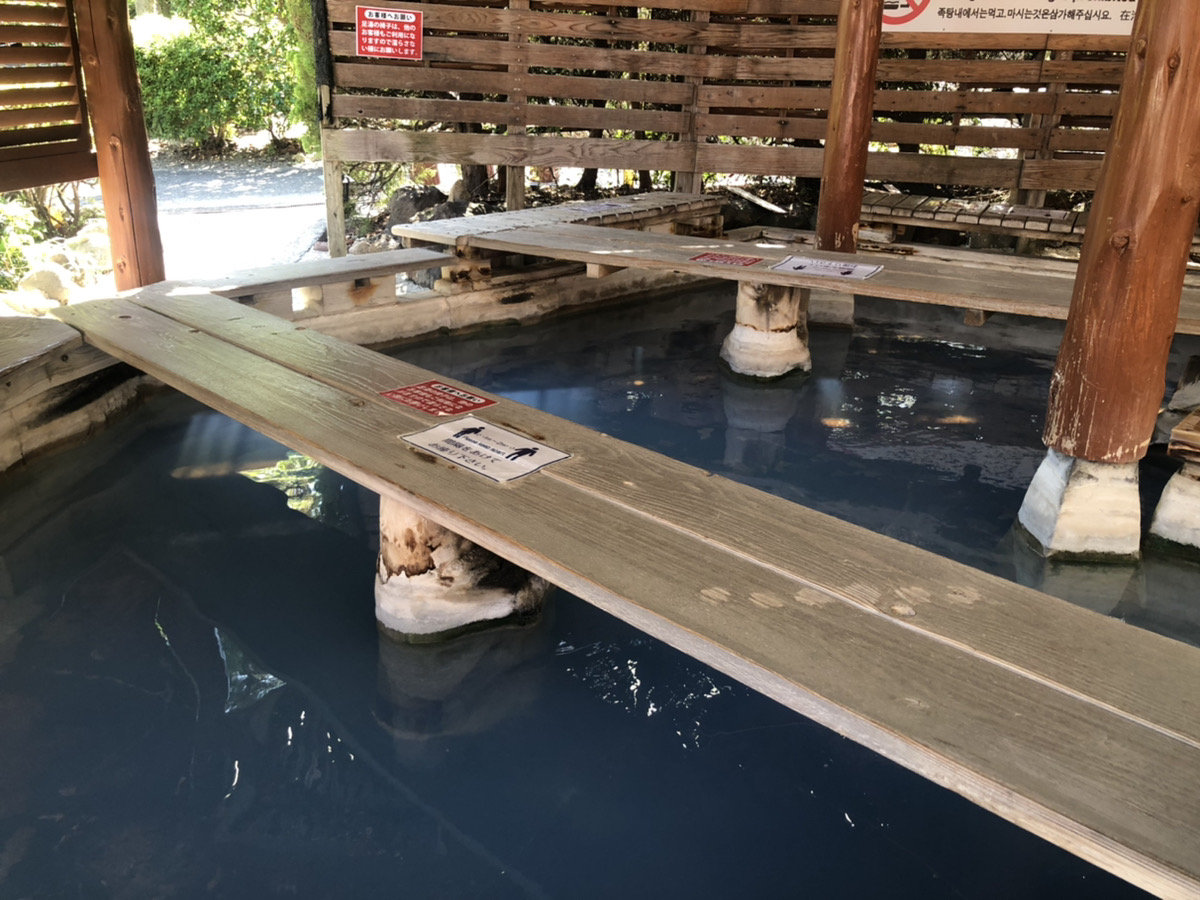 With friends, relax in a footbath. This water is very comfortable.
Lunch was at Dango soup.
Just outside Kamado Jigoku, I found an old-fashioned diner and went in.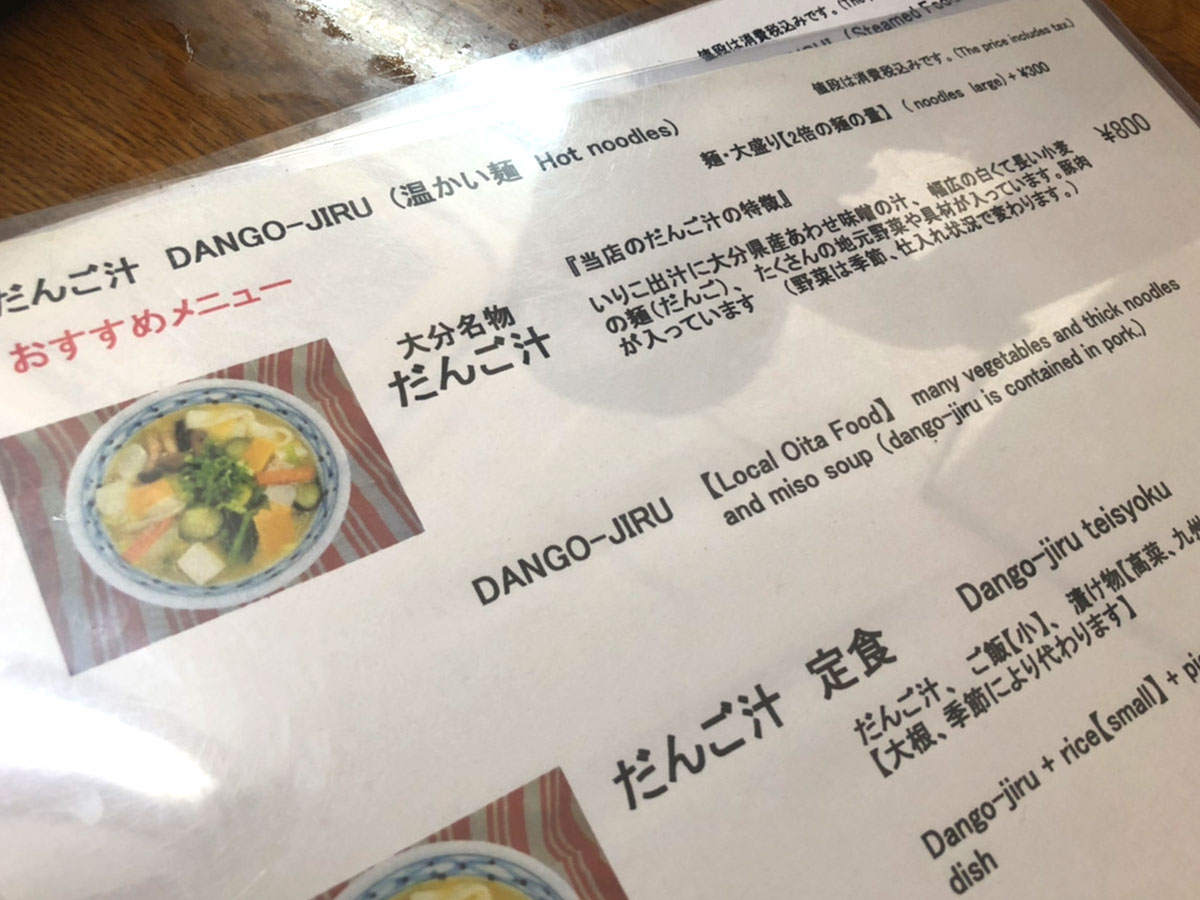 Oita is famous for its "Dango soup," so I asked for it.
The restaurant here is run by an elderly couple, and although it takes a little time, it is very comfortable.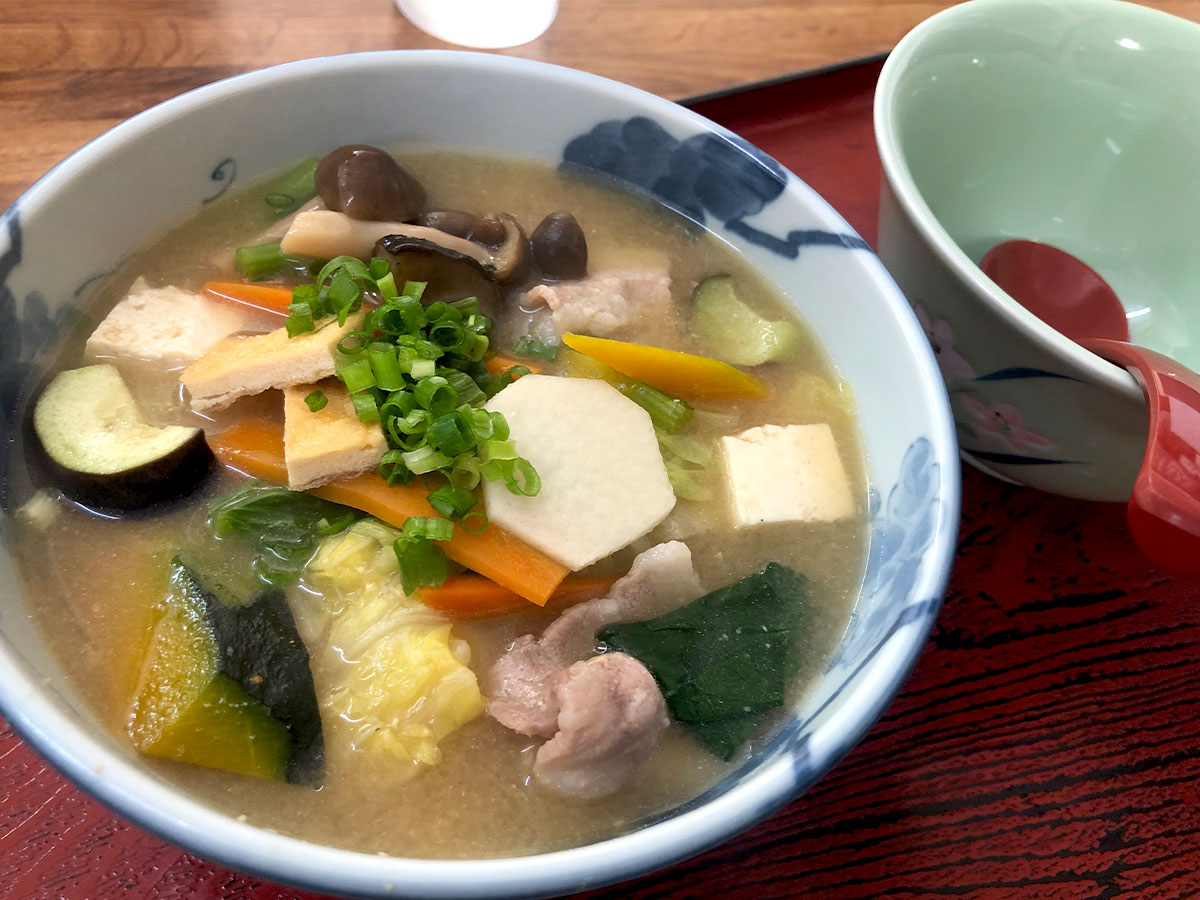 This is Dango soup!Looks delicious with lots of veggies. Definitely nutritious.
Incidentally, "dango" in Dango soup refers to flat noodles here. It was sticky and tasty.
Besides, prices are not high for a tourist destination. Thank you, Grandma! It was delicious.
4.Oniyama Jigoku (Devil Mountain Hell,鬼山地獄)
Now, we resume Jigoku Meguri. Next, we will go to "Oniyama Jigoku".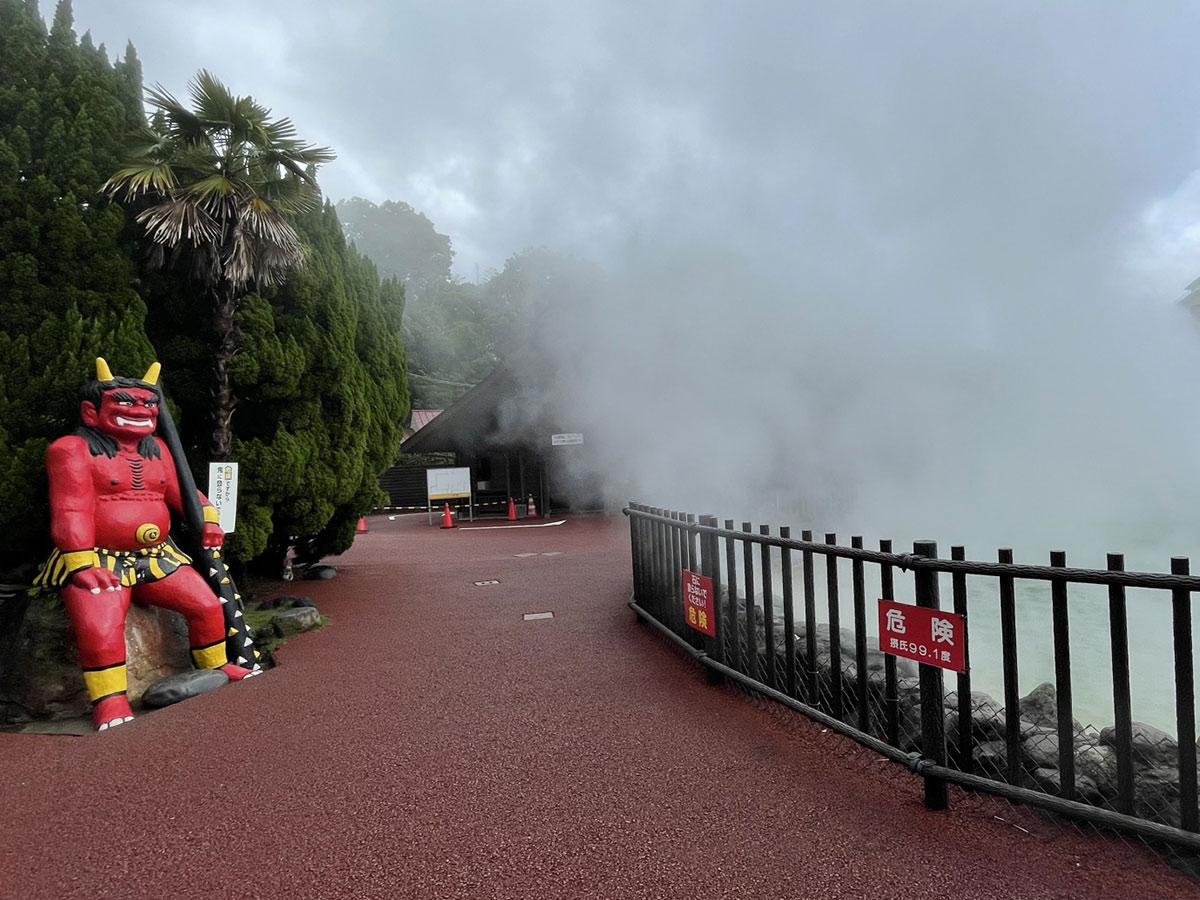 Oniyama Hell is characterized by the presence of crocodiles!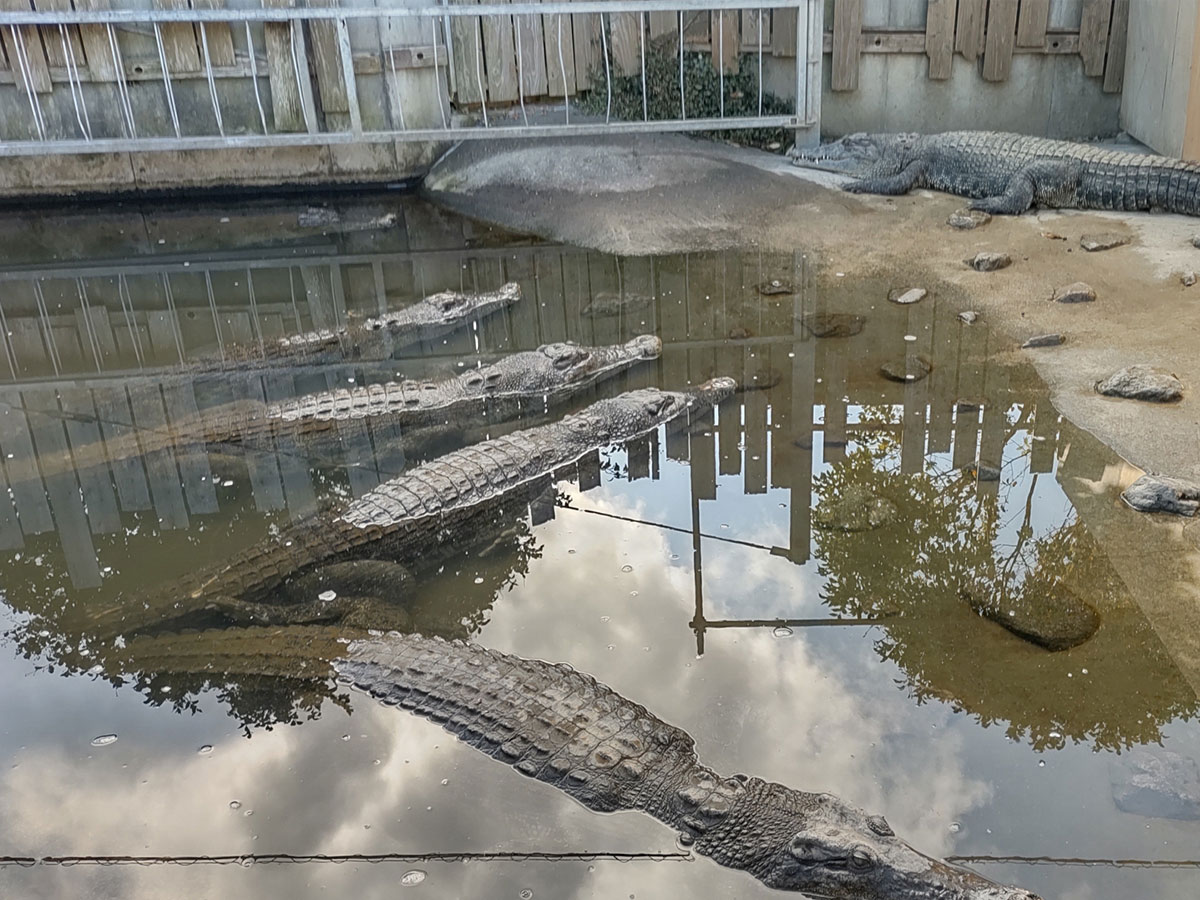 They have about 80 crocodiles, including crocodiles and alligators.
This crocodile is from Singapore. It spends its time making use of the heat from the onsen.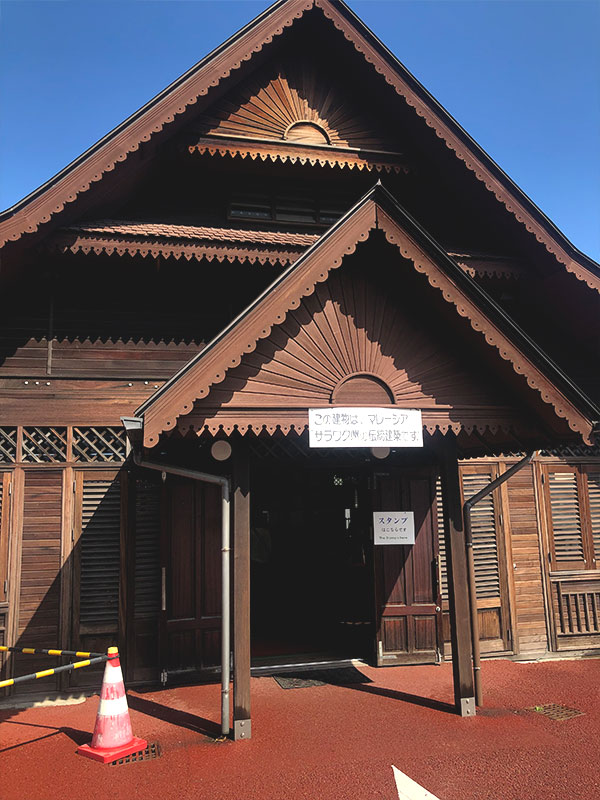 There was also a building on the premises that was a reproduction of a traditional Malaysian house.
5.Shiraike Jigoku(White Pond Hall,白池地獄)
Next, go to "Shiraike Jigoku," which is about a minute's walk away.
I imagined it was pure white, but it had a slight green tinge.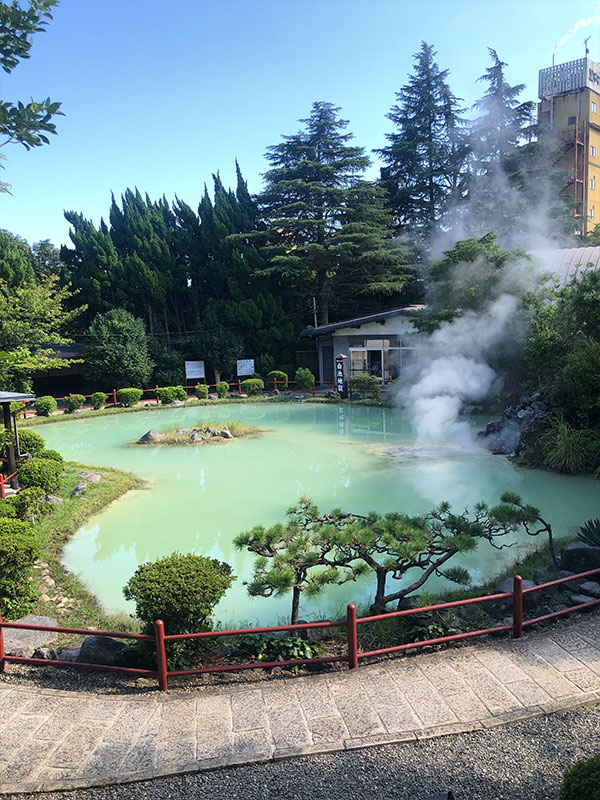 Apparently, depending on the weather and time of year, microbes can make it green. That is beautiful.
After circling around the park, we went to the next Jigoku.
6.Chinoike Jigoku (Literally Blood Pond Hell,血の池地獄)
Now, next is "Chinoike Jigoku". As the name suggests, it is red.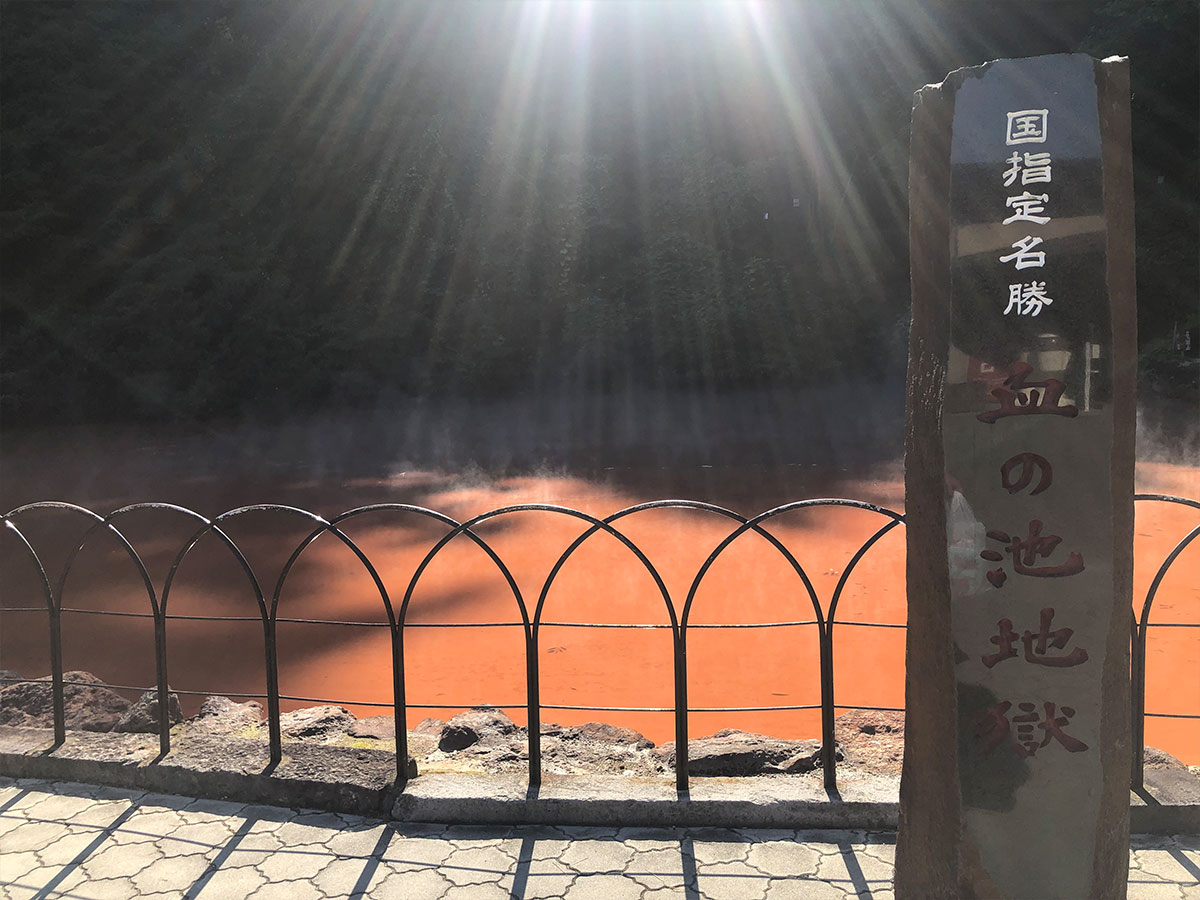 It is the oldest Jigoku in Japan and very rare.
The red hot mud was used for centuries to make medicines for skin diseases and for dyeing.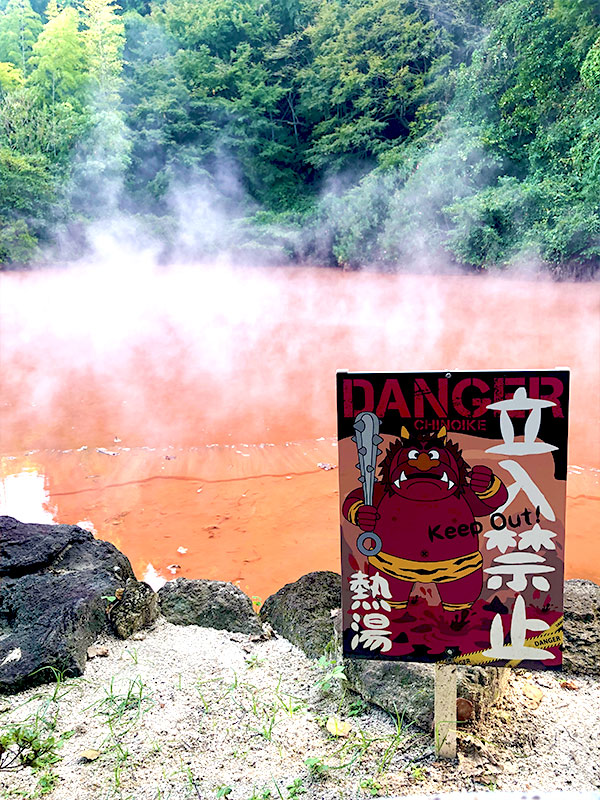 But it's still bright red and scary…
7.Tatsumaki Jigoku(Tornado hell,龍巻地獄)
Well, Jigoku Meguri is the last.
Tatsumaki hell gushes out hot spring water with great gusto.
It is said to spew out about 30 meters.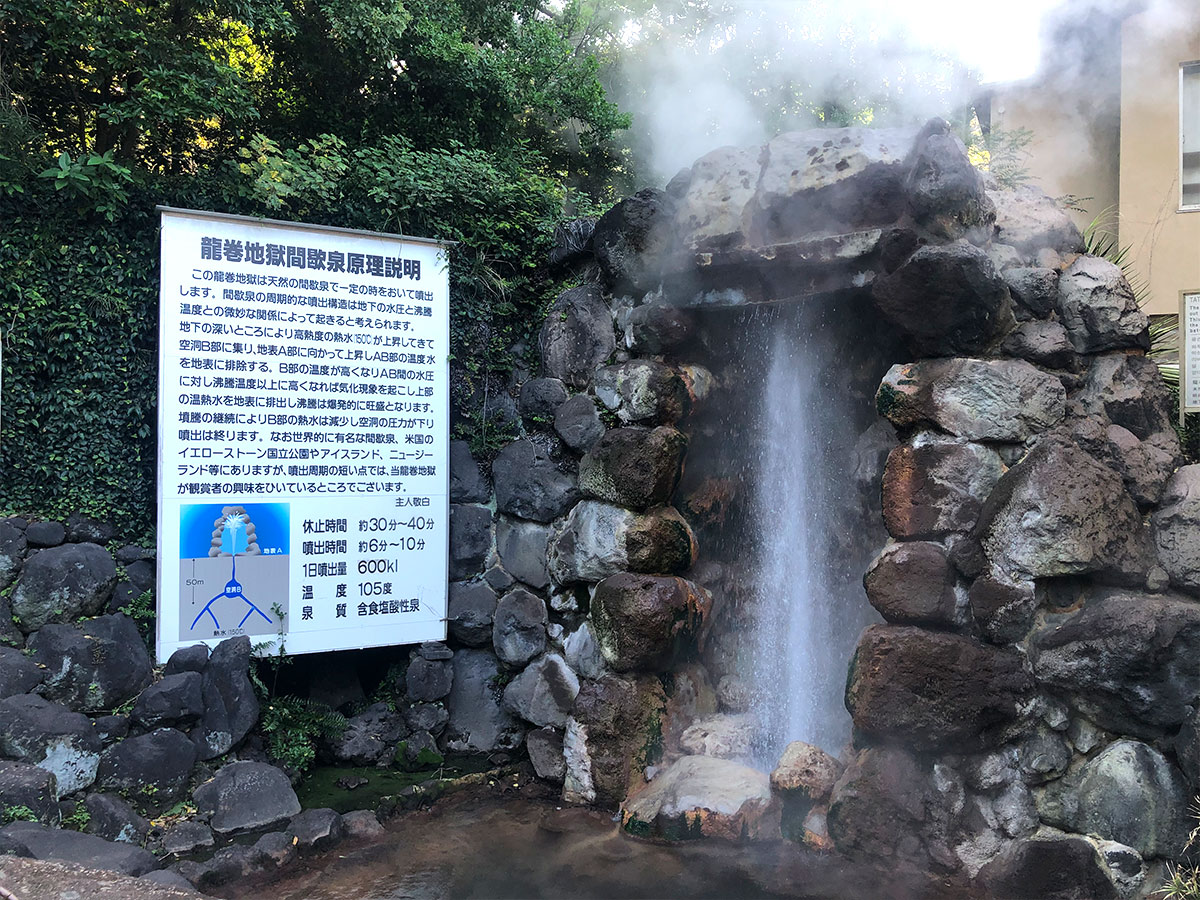 In Tatsumaki Jigoku, hot water gushes out at a fixed time every 6 to 10 minutes.
There are benches all around, so you can wait in comfort!
I was a little nervous about when the hot water would spurt out.
Jigoku Meguri One Point Advice
Finally, a bit of Jigoku Meguri advice from AKI.
1. Summer~autumn is hot!
Jigoku Meguri moves mostly outside the room. Therefore, it is very hot in summer. It was quite hot in early fall when we were there. Be sure to drink plenty of water.
2. Buy souvenirs when you want them.
Souvenirs sold by Jigoku may change. In particular, Umi Jigoku and Chinoike Jigoku sell original souvenirs, so if you want one, buy it.
3.Time required: 3 to 4 hours
My impression is that it would take roughly 3-4 hours to visit the 7 hells. This includes time to eat lunch, take a break, and buy souvenirs.
4. Jigoku has other locations besides the ones just mentioned.
In fact, there are other Jigoku in Beppu City besides those mentioned in this blog. However, the common ticket only allows you to enter these 7 Jigoku.
You can also pay for admission to one place at a time instead of using a common ticket.
If you are short on time, I would recommend Umi Jigoku, Kamado Jigoku, and Chinoike Jigoku in particular. Souvenir shops are also spacious.
5.Take a footbath when you are tired.
If you are tired, please take a footbath at one of the seven locations. It is advisable to wear socks or other clothes that are easy to take off. It is also a good idea to bring a towel.
In addition, if you have any other questions, please message me on Facebook at Kodawari Times and I may be able to respond.(I will only respond to those that we are able to respond to)
Aki's Kodawari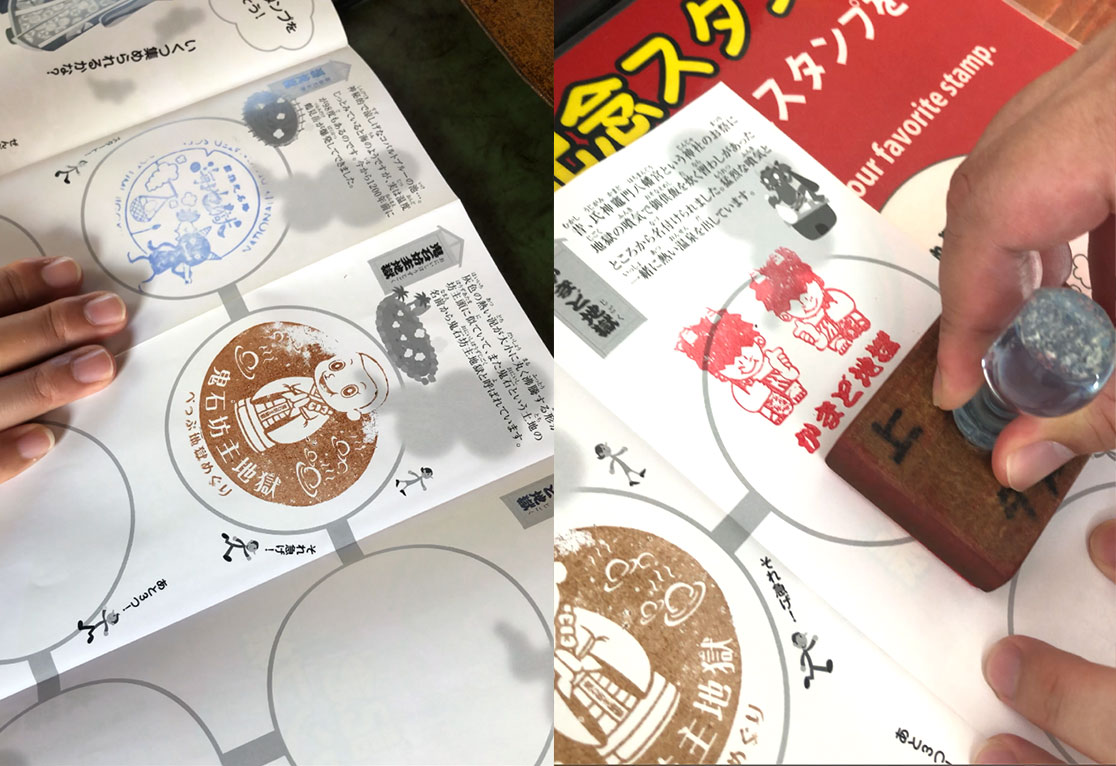 The Jigoku Meguri pamphlet is a stamp rally. Each Jigoku has its own stamp, so it was fun to find them!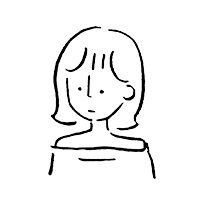 aki