What to do when you visit a Japanese shrine on New Year's Day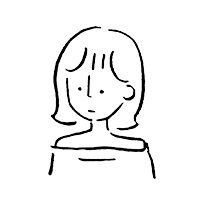 Written by aki
2023.01.23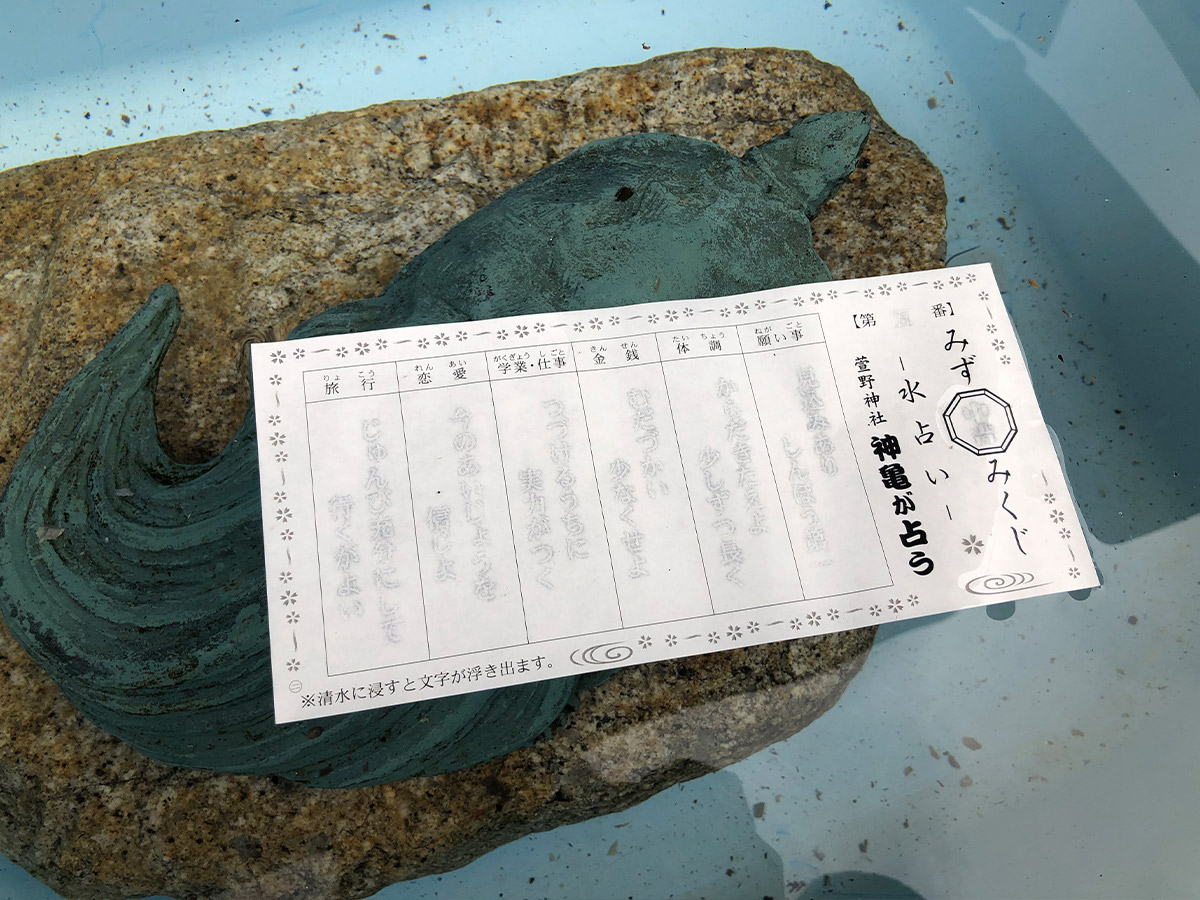 In Japan, people visit shrines in January to pray for a healthy new year.
I went myself, and now I'm reporting back on how it went!
Be sure to check out how the Japanese live!
How do you say shrine in Japanese?
In Japanese, the shrine is called "Jinjya".
Written in Kanji, it is a "神社".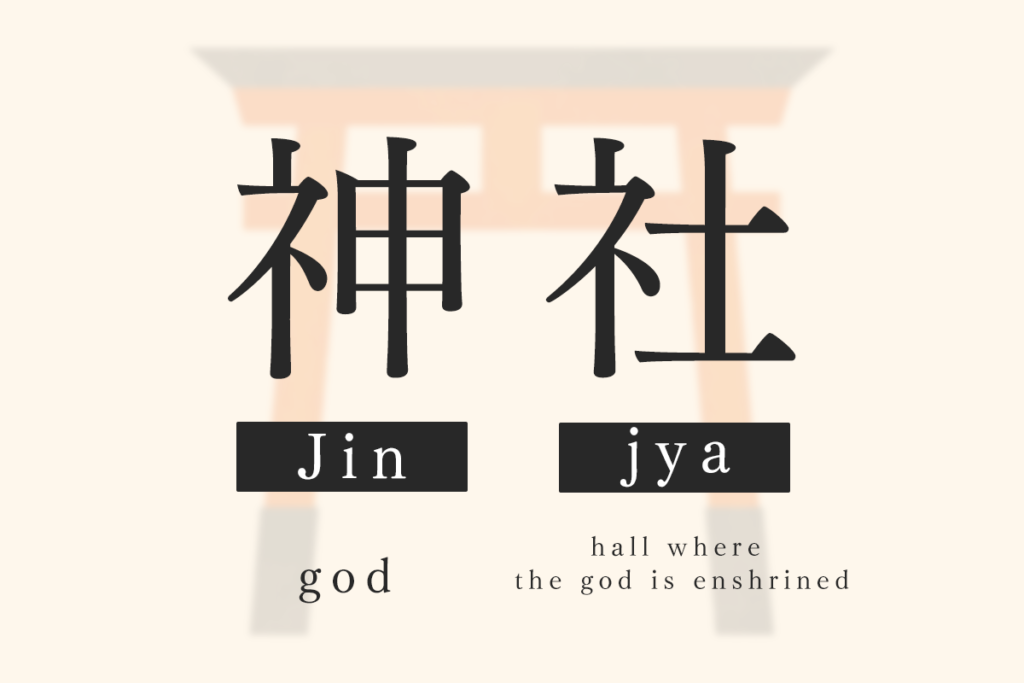 In Japanese, "神" means god, and "社" refers to the hall where the god is enshrined.
New Year's prayers often go to a local shrine.
There are many shrines in Japan, and it is said that there are 81,067 shrines throughout the country.
There are several well-known tourist shrines, but when the New Year arrives, I tend to go to my local shrine.
This is because it has a strong meaning of greeting the local deity where one usually lives.
This year I went to a local shrine of a friend of mine who has been a great help to me.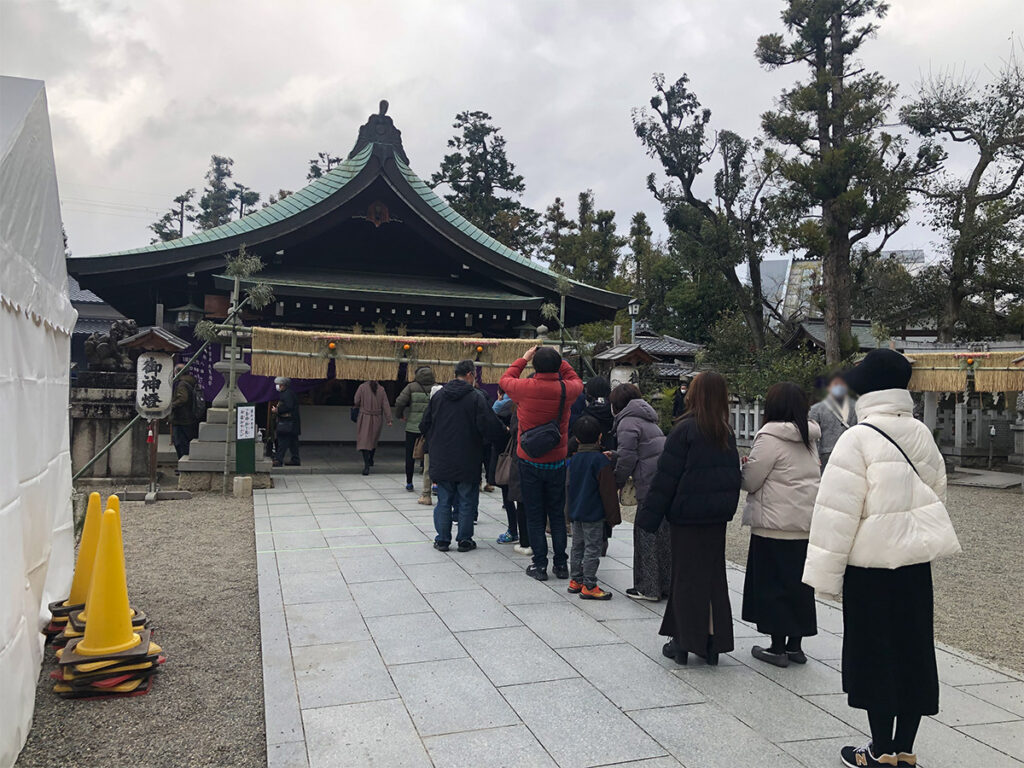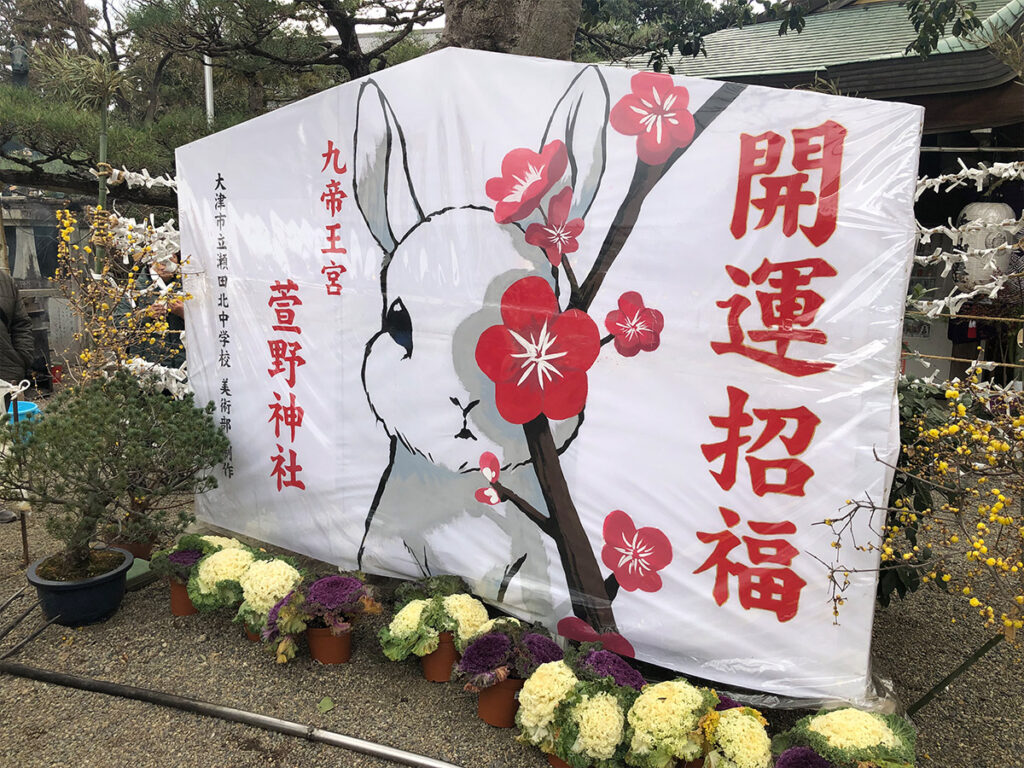 I went to the shrine, and there was a big ema(絵馬)!
An ema is a wooden board dedicated to a shrine when praying for something.
This large ema reads "開運招福(Kaiun shoufuku)," which means "opening to good fortune".
It has a picture of a rabbit on it, which means that 2023 is the Year of the Rabbit.
In Japan, there is a culture called "Eto", and each year there is an animal that represents the year.
Eto is the animal of the Chinese zodiac, which is formed in a 12-year cycle; from November to December, New Year's cards and various seasonal products sold in Japanese stores begin to feature animals associated with that year.
You may want to look for these animals when you visit the shrine.
Let's make a visit to the shrine.
When you arrive at a shrine, the first thing you do is pay your respects.
The method of visitation is the same as when visiting a regular shrine. The following is a brief description.
Bow before the torii gate and cleanse your hands and mouth with water.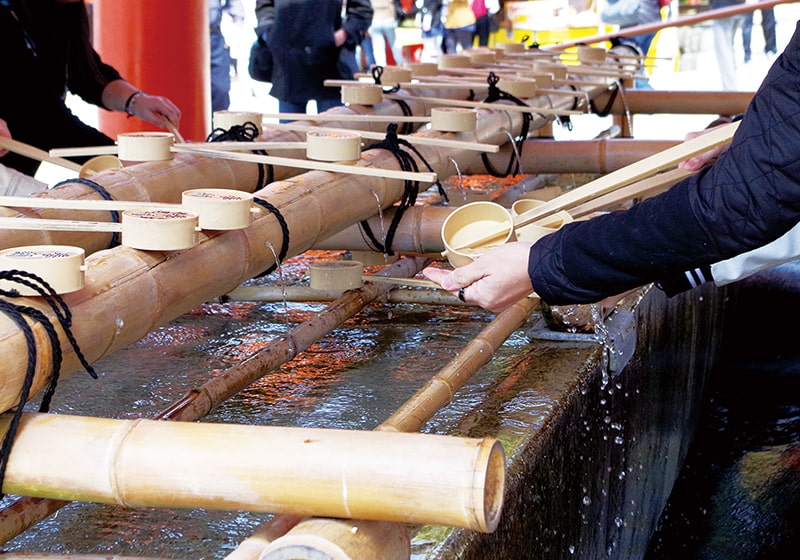 Proceed to the main hall, insert money offering and ring the bell.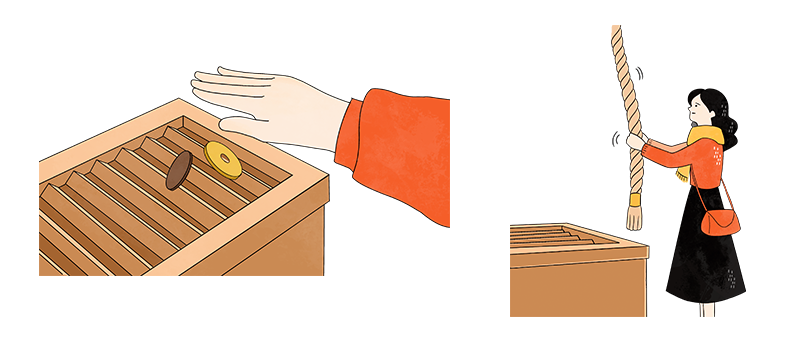 Two deep bows, then clap twice.Thank God or make a request.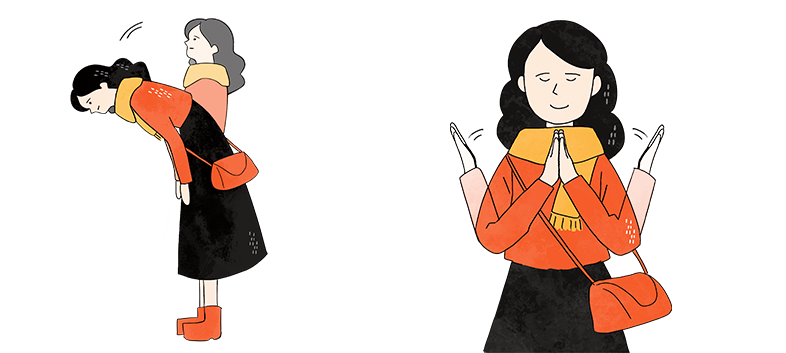 Bow at the end.
Let's drink Amazake!
After visiting the shrine, take a leisurely stroll through the shrine.
Some shrines distribute Amazake (甘酒) during New Year's Hatsumode.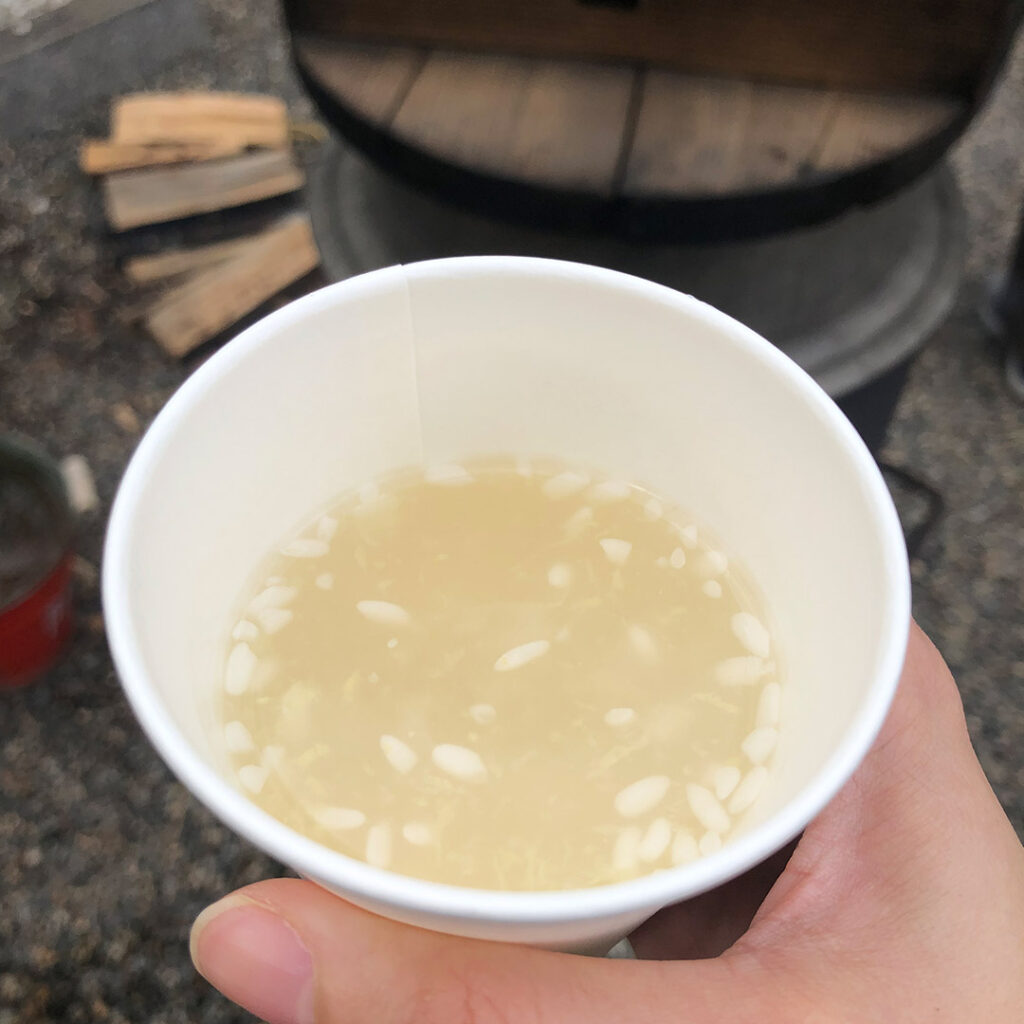 Amazake is a traditional Japanese sweetened beverage.
It is made from rice.
As the name implies, it is a very sweet drink. "甘" means sweet and "酒" means sake.
They are often classified as soft drinks because they contain less than 1% alcohol. (Depending on the Amazake distributed)
By the way, amazake is a drink rich in sugar, amino acids, and B vitamins, and is believed to be effective in relieving fatigue and making your skin beautiful!
Try your luck with a fortune paper!
Omikuji is a must-try when you visit the shrine.
Omikuji is a form of divination that can be tried at Japanese shrines and other places.
Your fortune is written on a piece of paper.
I tried Omikuji called "Mizumikuji".
Mizumikuji is Omikuji for water.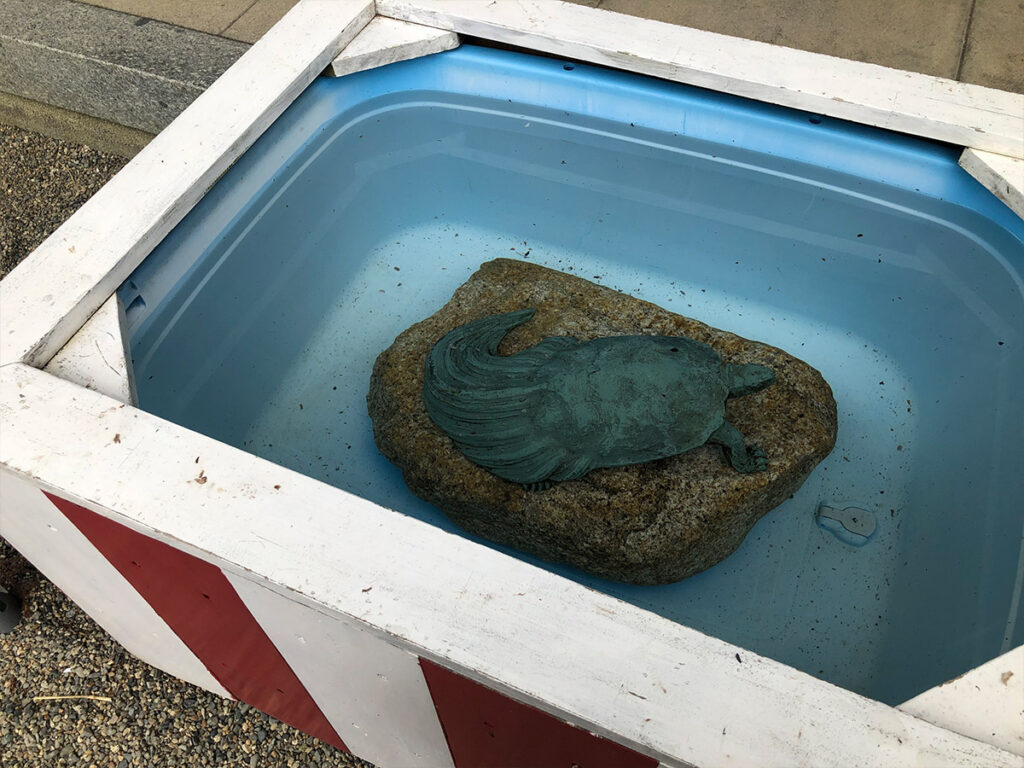 This shrine is said to have a turtle god.
When Omikuji is floated on water, God will tell your fortune.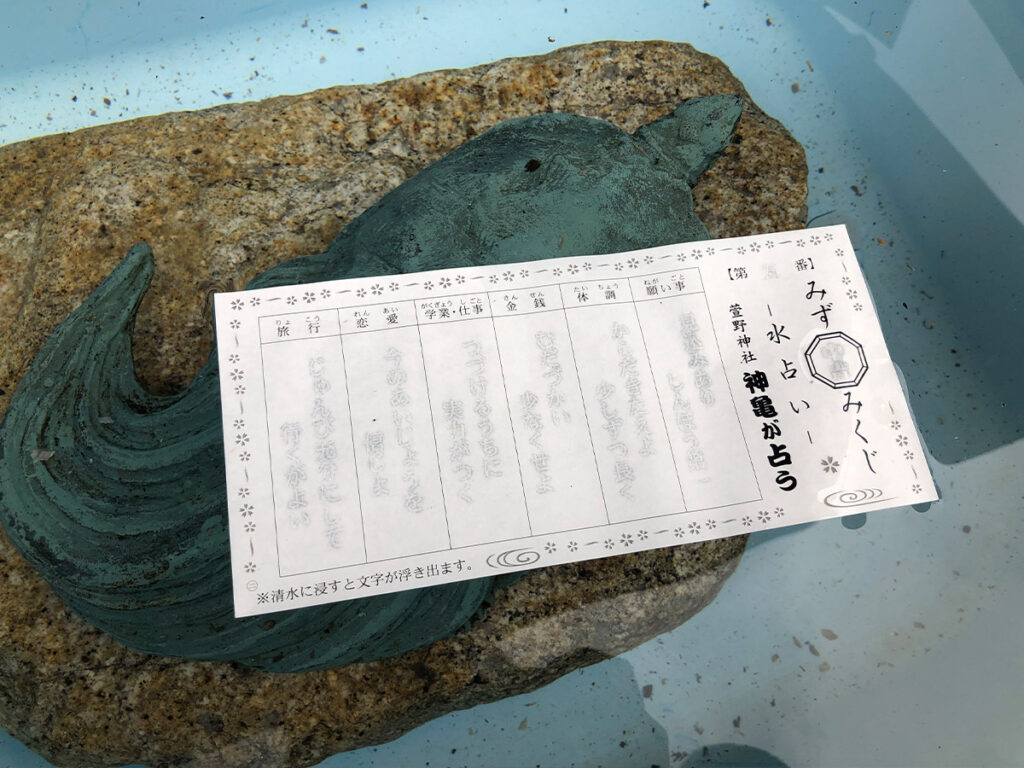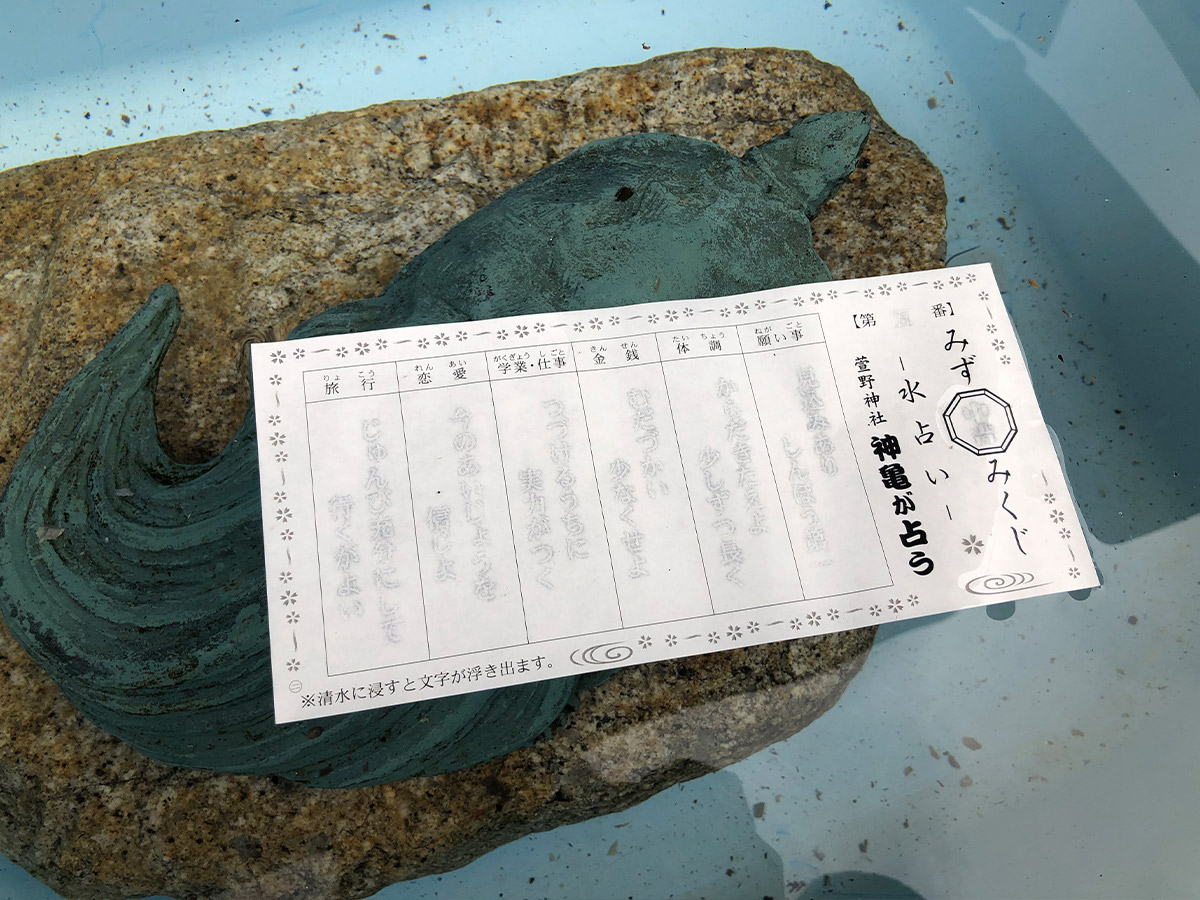 The letters slowly began to emerge.
The fortune is medium good luck.
Wish…prospective. Let's wait and see.
Physical condition…work out your body little by little for a long time.
Money…waste less.
Academics and work…you will become more competent as you continue.
Love…trust the love you have now.
Travel…you should be well prepared.
Not bad luck! I wanted to continue my efforts.
By the way, Omikuji is mostly in Japanese, but recently there are also Omikuji in English.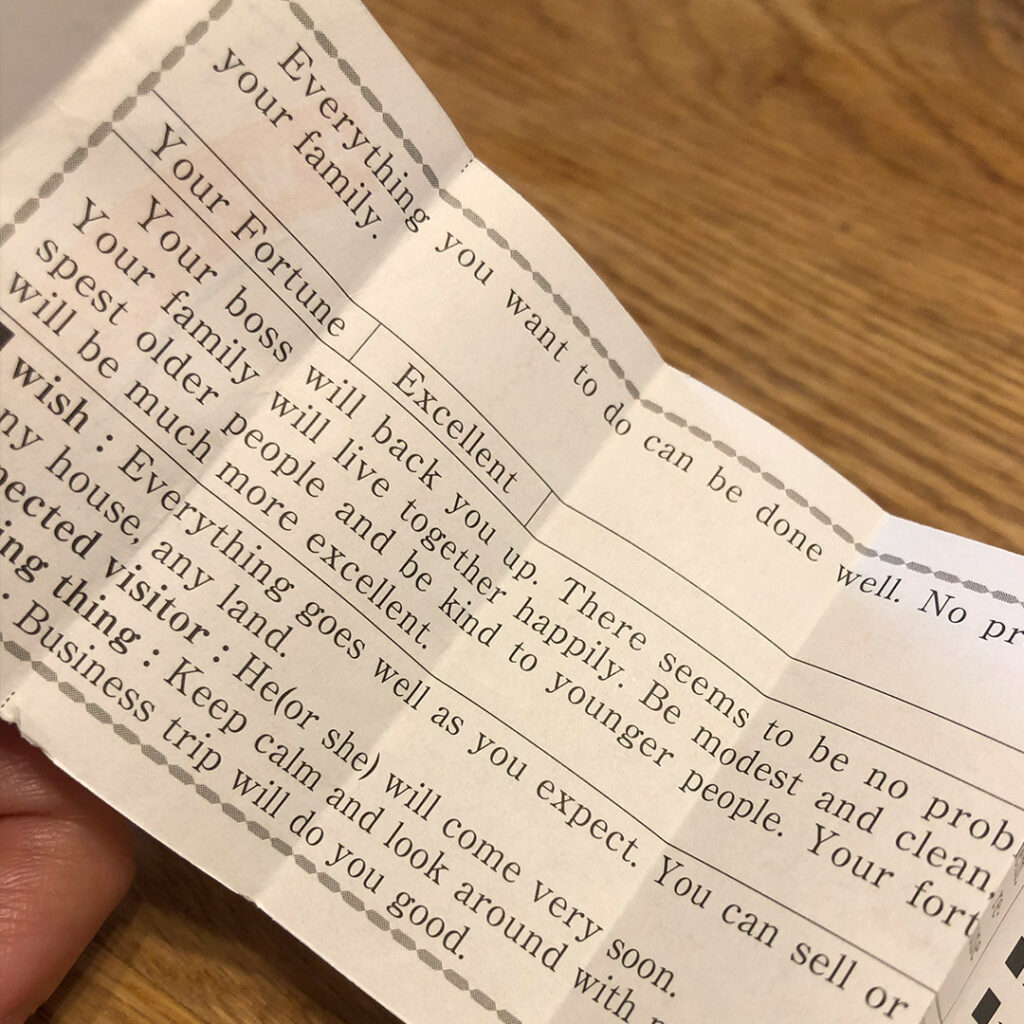 This is an Omikuji that I tried my luck at "Zojoji Temple" in Tokyo.
If you find Omikuji written in English, try it!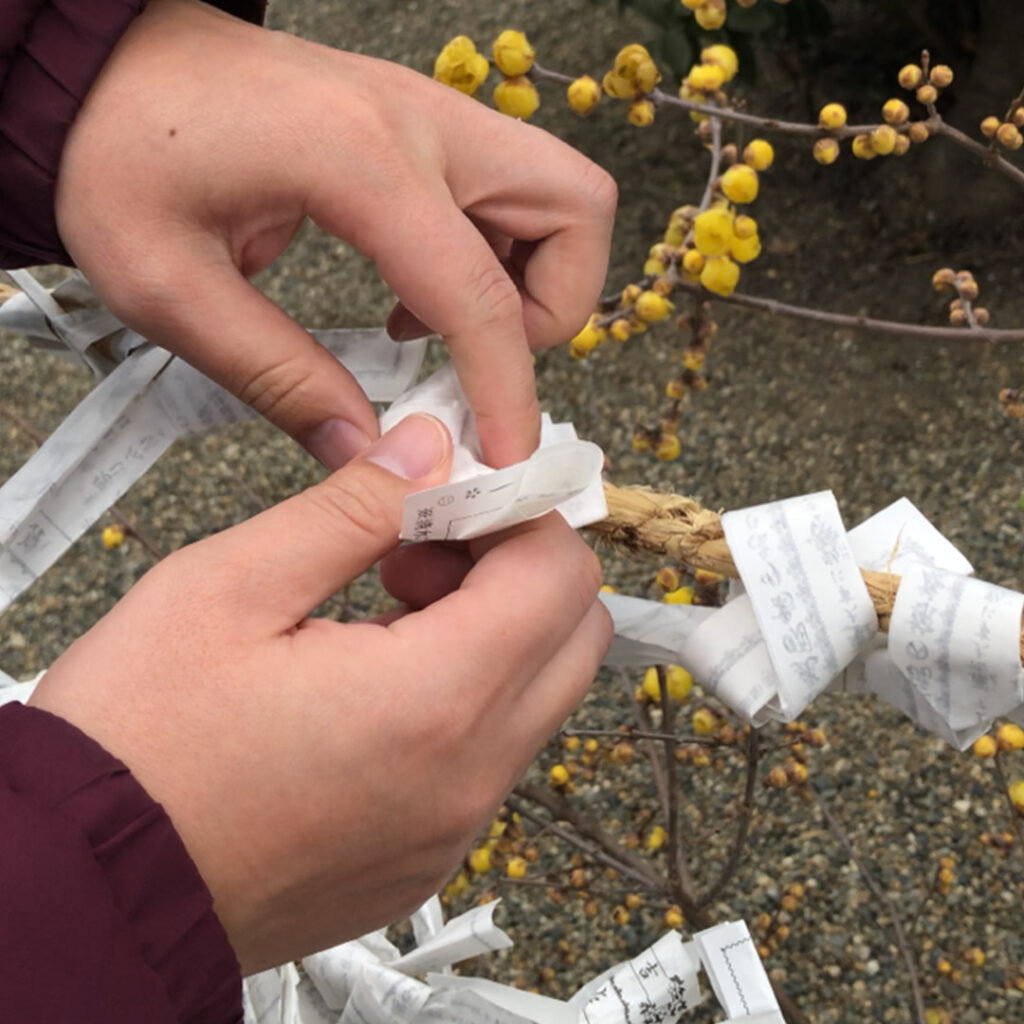 The fortune may be taken home or tied to a tree branch at the shrine.
It is said that by tying omikuji to a tree branch or other object, one can make a connection with the gods and have things turn out in the right direction.
Each shrine has its own rules about where Omikuji can be tied, so be sure to check before tying!
Let's buy a good luck charm!
After trying your luck, you may want to buy Omamori next.
Omamori means Japanese talisman.
You can choose Omamori by design or by efficacy.
Different shrines have different gods and different benefits.Incidentally, since many students are preparing for exams in January, many people visit the god of study in search of Omamori for their studies.
Enjoy the individuality of our shrines!
At the shrine I went to, they were holding a kakizome only during the New Year's season.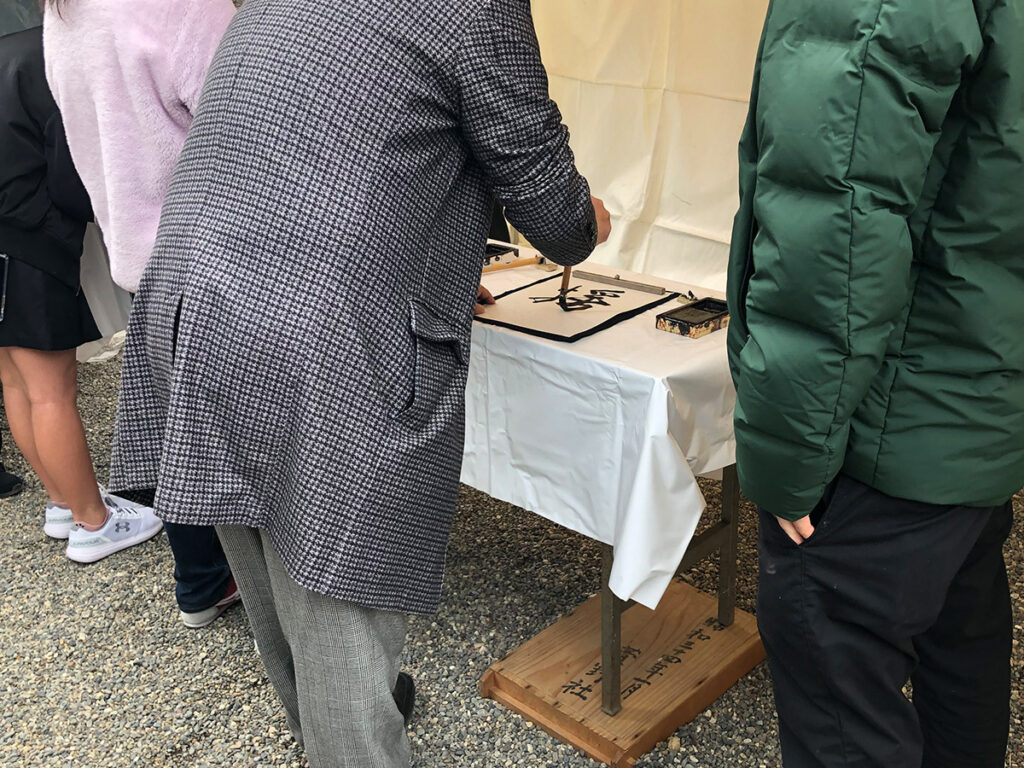 *Check out this article about Kakizome!

Everyone could participate for free, and many people took up the challenge.
Kakizome will be listed in the shrine for a certain period of time.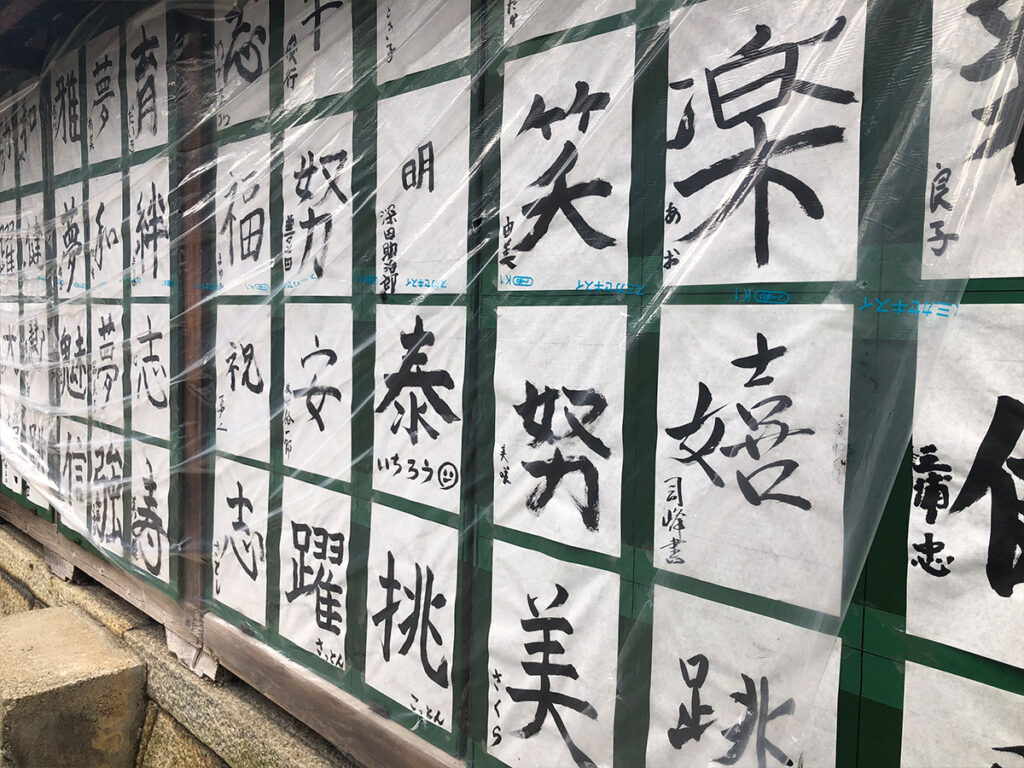 Many people wrote a single Kanji character to describe what they wanted 2023 to look like.
The atmosphere at the shrine during New Year's is different than usual!
Some shrines during the New Year period have food stalls.
All visitors were smiling and praying for a happy year ahead.
Seeing everyone's smiling faces made me excited and happy too!
New Year's Day is a very important day in Japan. If you come to Japan during this period, please visit even a small shrine.
Aki's Kodawari Point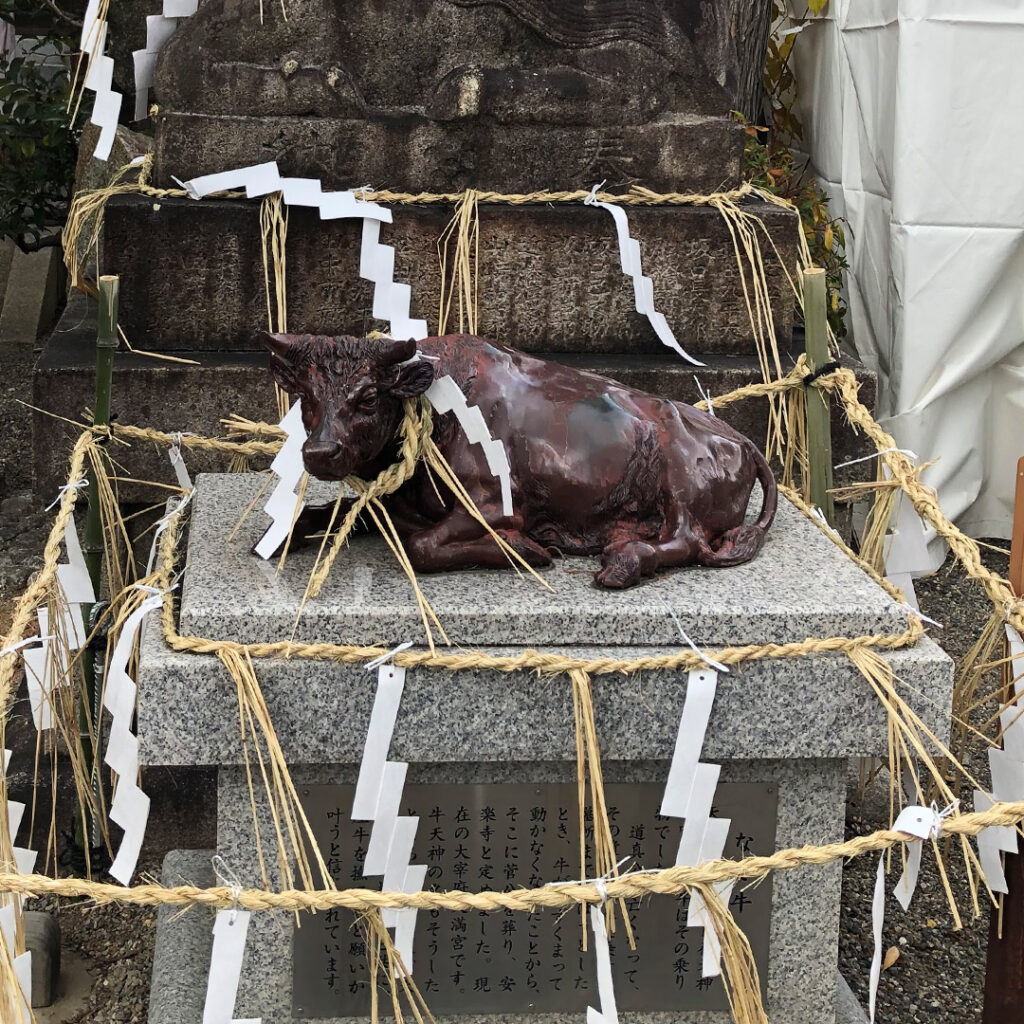 In this shrine, there was a statue of "Nade ushi" (patting cow).
A popular belief that if you rub a diseased or sick part of your own body and then rub the same part of the body of a statue of a cow, the bad part will be transferred to the cow and the illness will be cured.
It is interesting to see the variety of initiatives at different shrines.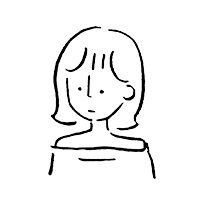 aki