"Castella Ginso" – Retro and cute Castella café in Osaka.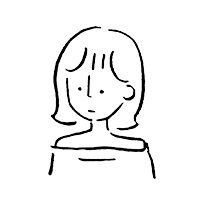 Written by aki
2022.12.01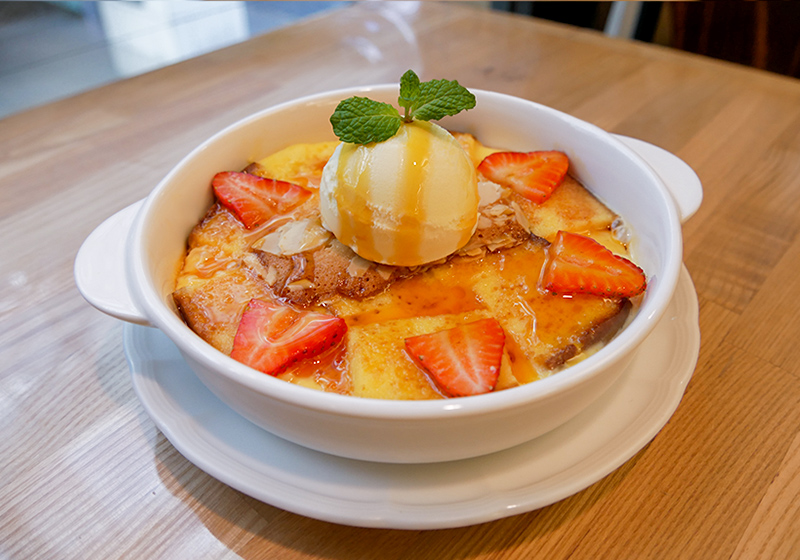 Have you ever heard of a Japanese sweets called "Castella"?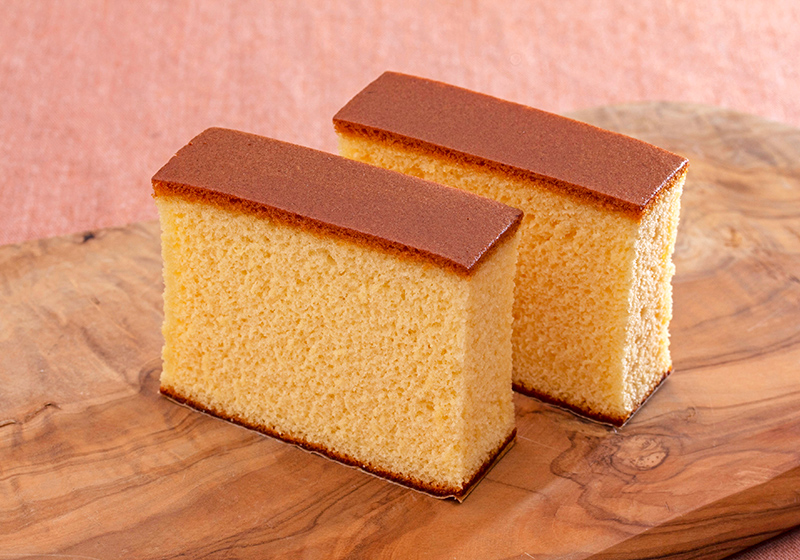 Castella is a confectionery made by whisking eggs and mixing them with flour, milk, and syrup to bake them.
Its history dates back 400 years, when Portuguese approval brought it to Nagasaki Prefecture in Japan.
*At the time, Nagasaki was the only port in Japan that was open to foreign trade.
The Japanese "Castella" is a Portuguese sweet that has been improved to suit the Japanese palate.
Now you can buy sponge cakes everywhere in Japan.
Nagasaki Prefecture is famous for its castella specialty stores, but there is a long-established castella café in Osaka, Japan, where you can enjoy this very tasty treat!
This time I went to Castella Ginso in Shinsaibashi, Osaka.
Retro-looking store and café, long-established castella shop established in 1952.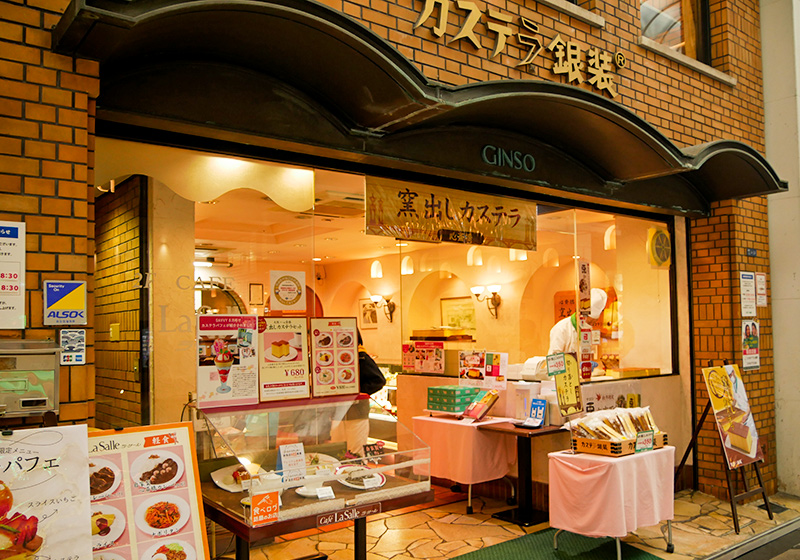 The first floor is a shop and the second floor is a cafe.
Since I was using the café this time, I quickly went upstairs.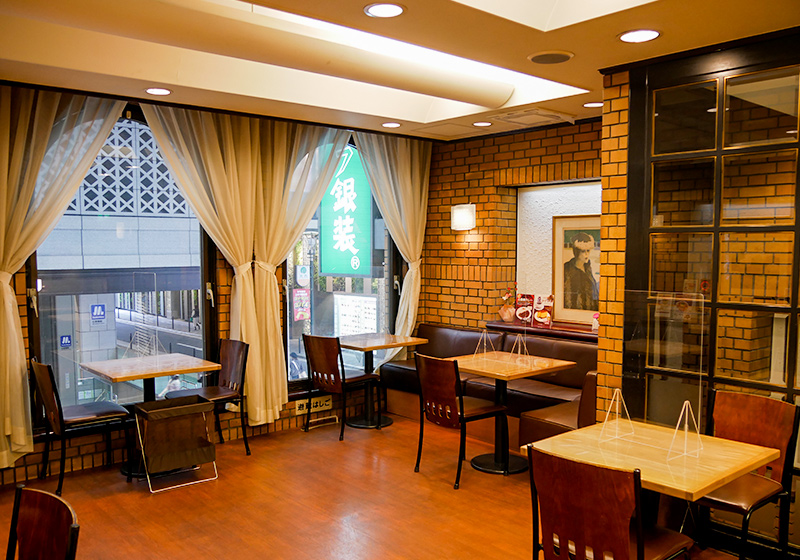 I ordered a limited-quantity sweet called "Castella Hot Pudding."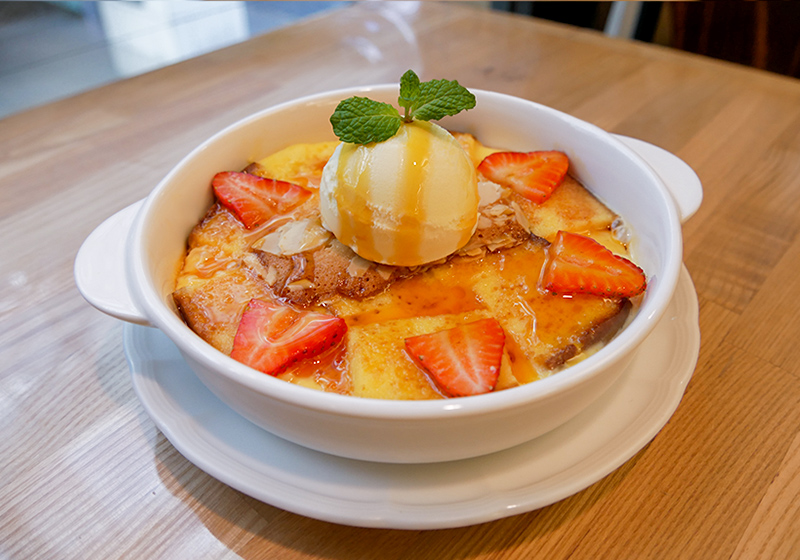 Hot pudding filled with sponge cake and topped with strawberries, almond rungs, and vanilla ice cream.
The pudding is warm, so eat it quickly or it will melt! said the waitress.
Because the ice cream melts in the warm pudding, it is also said to have a "shelf life of 30 seconds.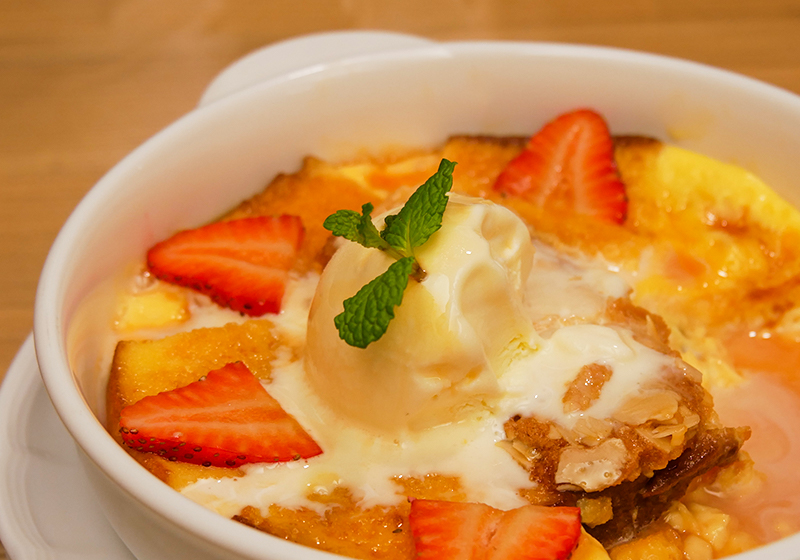 The coldness of the ice cream and the warmth of the pudding are a perfect match. The sponge cake is very moist and has a gentle texture.
Castella hot pudding: 1,200 yen (1,320 yen including tax)
Castella hot pudding and drink set: 1,650 yen (1,815 yen including tax)
*Limited quantity available from 2:00 p.m.
Castella Hot Pudding Birth Story
Since I was in the mood, we asked the store owner about the story behind the creation of this Castella hot pudding.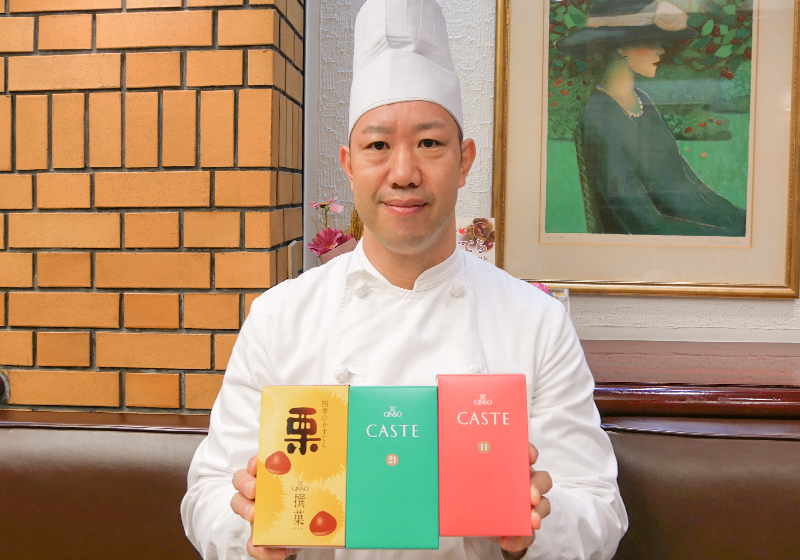 We are creating various sponge cake recipes with the mission of "creating the future of sponge cake".

While cooking the pudding with castella, I tasted it while it was still warm. In doing so, the sweetness and richness of the pudding was enhanced by the addition of the castella, and we continued to make prototypes.

An employee said it might taste good with ice cream melted over it, so I gave it a try and the cold ice cream matched the warm pudding!

Osaka is so focused on gourmet food that it is also known as the "food capital" of Japan. We would like to offer something memorable food for our customers who come to Osaka.
Other original sweets are available at the Castella Ginso café.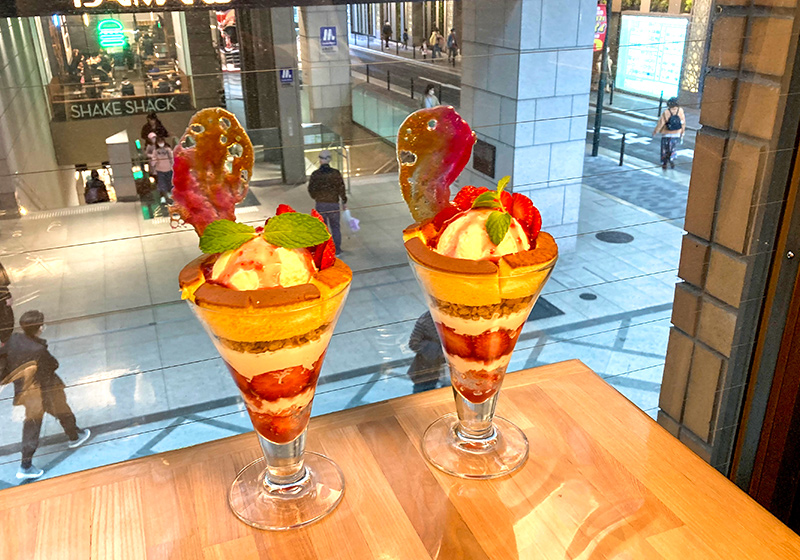 This is a Castella parfait. The castella has a texture similar to sponge cake and goes well with ice cream as well as fruit and whipped cream.
Castella parfait: 1,200 yen (1,320 yen including tax)
Parfait and drink set: 1,650 yen (1,815 yen including tax)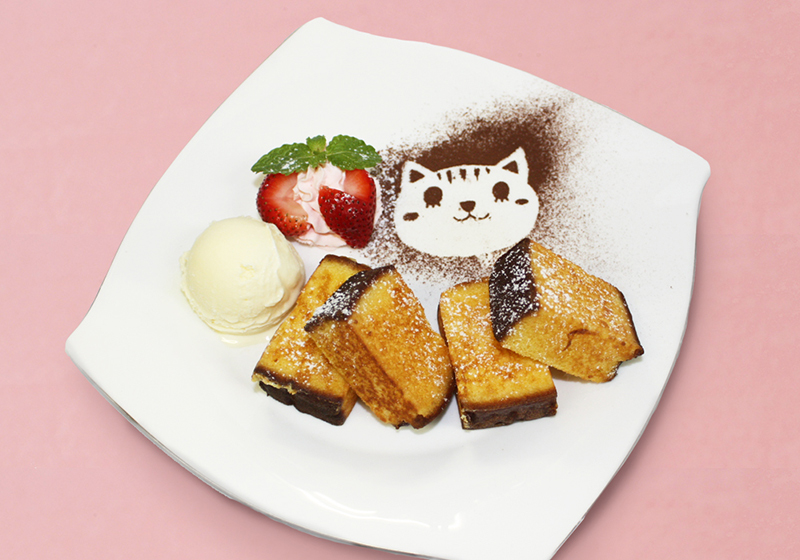 This is a French toast-like sweet made from castella.
Some regular customers like the taste so much that they come back again and again.
French castella:750 yen (825 yen including tax)
French castella set: 1,200 yen (1,320 yen including tax)
Castella is a great souvenir!
At the shop on the first floor, you can buy castella for souvenirs.
Fresh eggs, flour, mild-tasting honey, and other ingredients are used, and no synthetic colors or preservatives are used.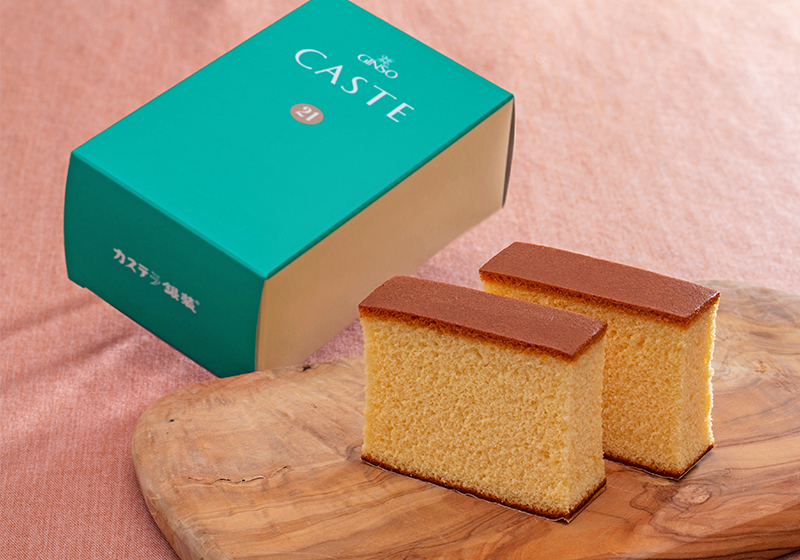 The blue box "CASTE21" is the store's signature castella.
It has a fluffy mouthfeel and firm texture. Shelf life is about 2~3 weeks.
CASTE21 (blue box): 1,000 yen (1,080 yen including tax)
CASTE21 (blue box) half: 550 yen (594 yen including tax)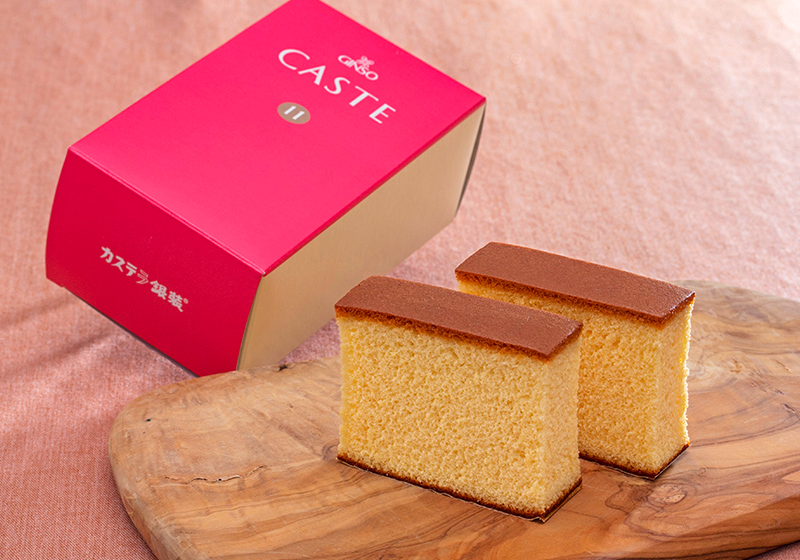 The red box, CASTE11, contains less sugar and more egg yolk and honey than CASTE21. Softer mouthfeel.
CASTE11 (red box): 1,200 yen (1,296 yen including tax)
CASTE11 (red box, half): 650 yen (702 yen including tax)
The shelf life here is also about 2~3 weeks.
They also have other seasonal products.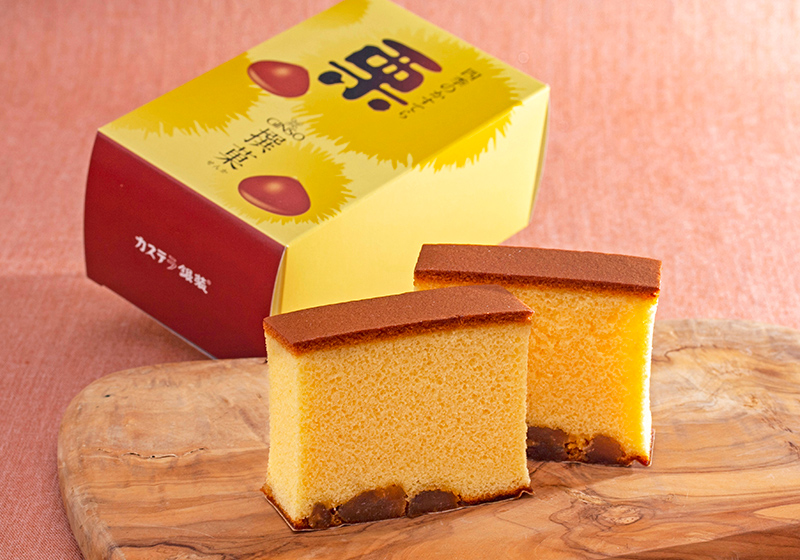 This is "Castella with Chestnut", a limited product from September to December. They use chestnuts from Italy.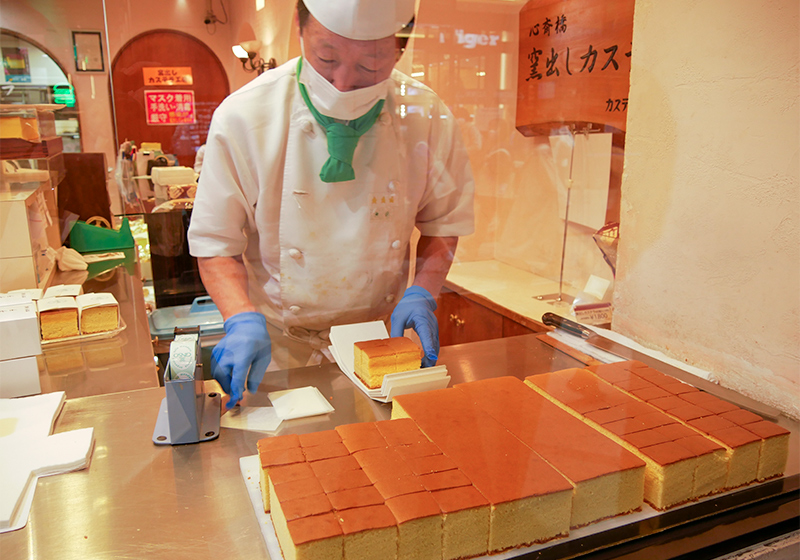 At the Shinsaibashi main store, you can see the craftsmen at work, which is great fun.
Castella Ginsou Shinsaibashi Main Store
4-24, Shinsaibashi-suji 1-chome, Chuo-ku, Osaka
Souvenir castella can be purchased at department stores in Osaka. Check them out!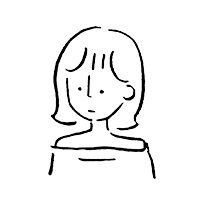 aki