Kehaya-za – A tourist spot in Nara where you can gain knowledge about sumo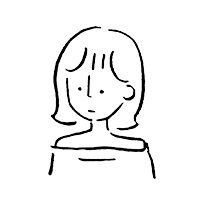 Written by aki
2023.08.15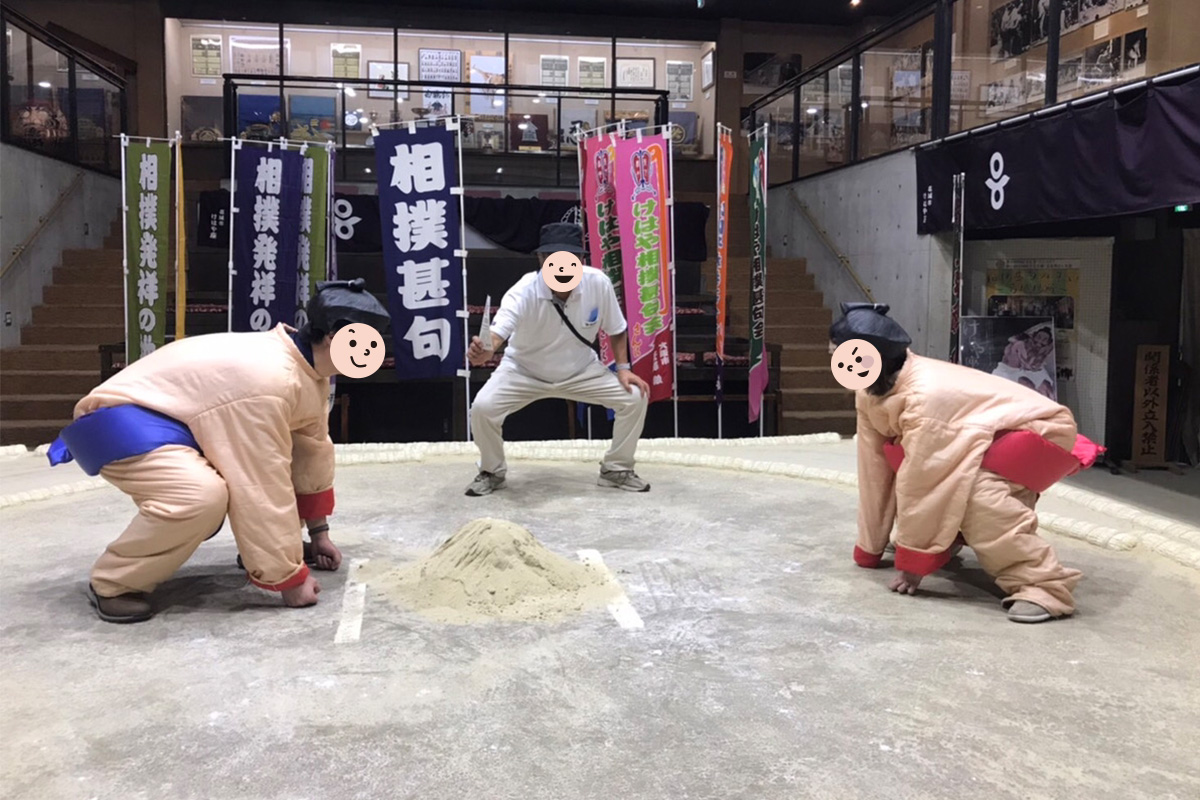 Sumo is one of the ancient Japanese martial arts and is also known internationally as a sport of Japanese origin.
According to folklore, the sport has existed since before ancient times; around 1600, sumo matches were watched as a pastime by the common people.
Sumo originally originated as a Shinto ritual, so etiquette is emphasized. Rikishi (players who perform sumo) are required to perform several manners before starting a match.
Just the other day I visited the Sumo Museum.Its name is "Kehaya-za".
Here is what kind of facility it is!
Sumo Museum "Kehaya-za"(NARA)
Kehaya-za is located in Katsuragi City, Nara Prefecture.Katsuragi City is dotted with temples and shrines, and has many natural parks and historical sites. You can feel the history of the city!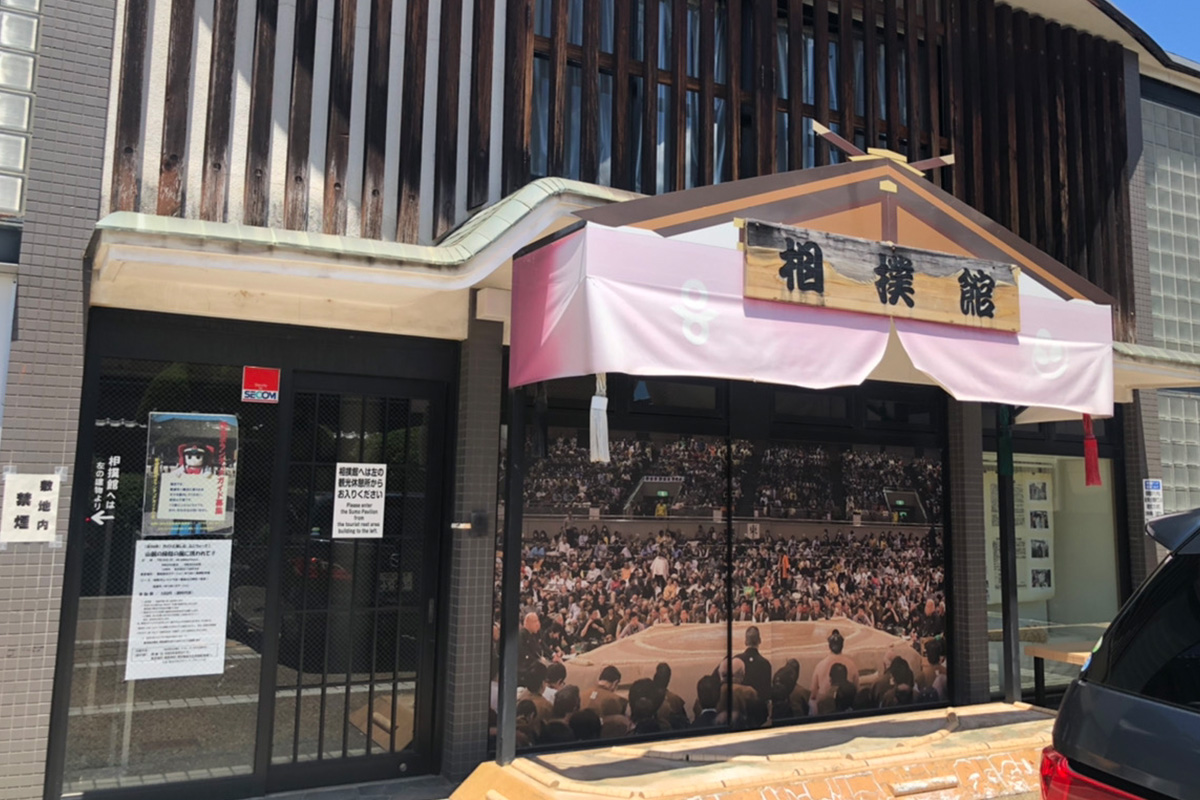 I immediately came to the Kehaya Theater. I drove there, but you can also go there by train + walking.
It is about a four-minute walk from the Kintetsu "Taimadera" station.
*Incidentally, there is a famous historical Japanese sweets shop near Taimadera Station. They sell a Japanese confectionery called "Chusho-mochi(中将餅)." It was not open when I visited, but if it is open, you should definitely try it.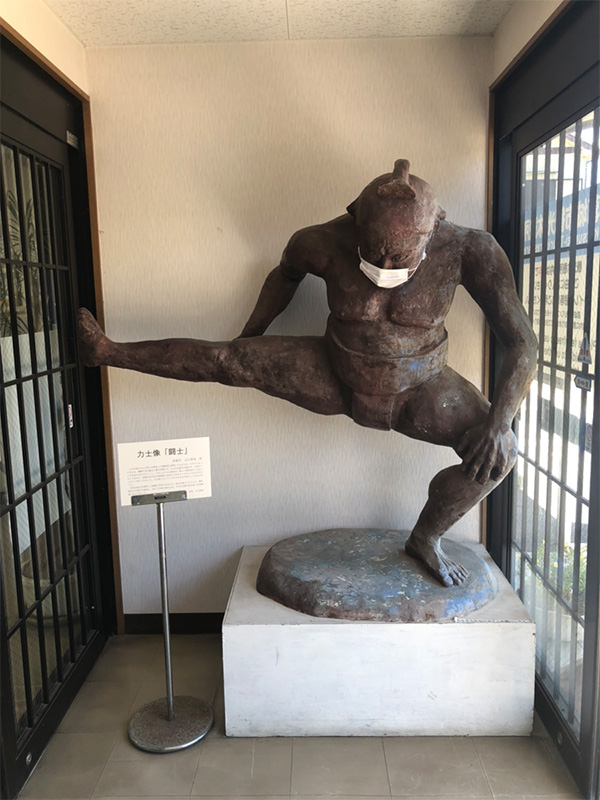 Upon entering, visitors are immediately greeted by a statue of a sumo wrestler(Rikishi). He was wearing a mask.
Admission is 300 yen for adults and 100 yen for children.
The facility opened in May 1990. It has about 12,000 materials and is said to be frequented by sumo enthusiasts.
Once inside, there is a ring in the center!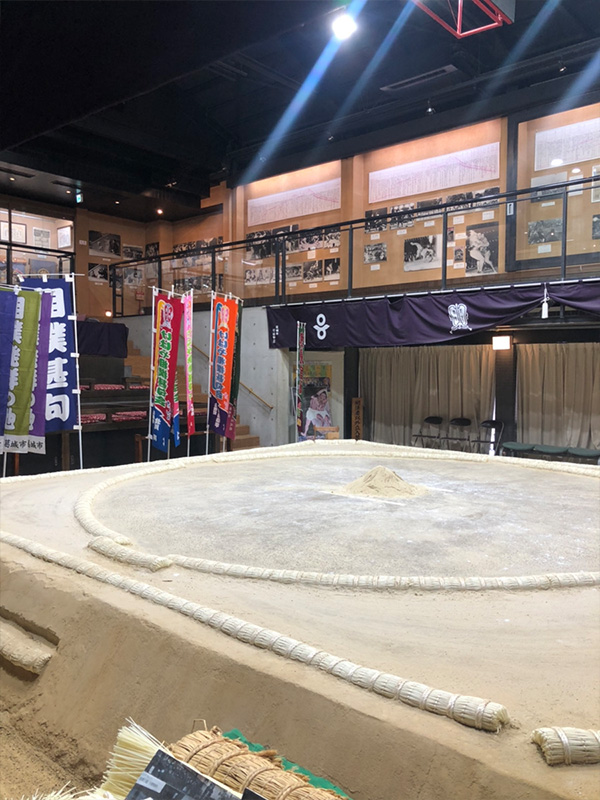 This ring is called "dohyo(土俵)" in JapaneseIt is the same size as dohyo where sumo wrestling takes place.
Normally, dohyo is off-limits to women.Dohyo is considered a sacred place and has a tradition of being a sacred training ground for men to fight.
However, since the dohyo at Kehayaza is an exhibit, women are allowed to enter. Let's go in right away!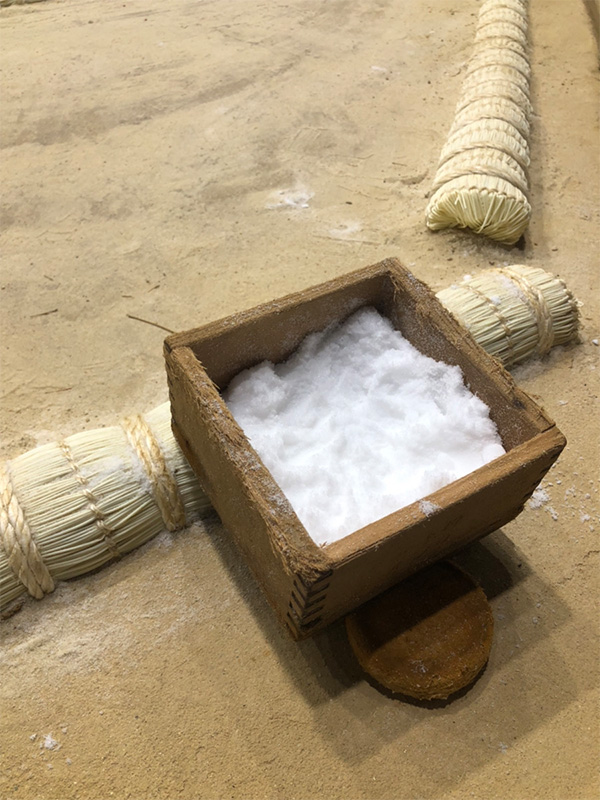 Usually, when rikishi wrestle, there is a custom of sprinkling salt on dohyo before fighting.
The Japanese have long believed that salt has the power to purify things.It is said that the dohyo where rikishi were about to fight was a sacred place, and salt was sprinkled there to purify it of evil spirits.
Salt is also available at the Kehaya-za, so visitors could experience sprinkling salt on the ground as if they were rikishi.
Oh yes, there is something I would like you to do when you come here. I want you to pretend to be a rikishi.
Rikishi costumes can be rented.My family and I also put on costumes and tried sumo wrestling.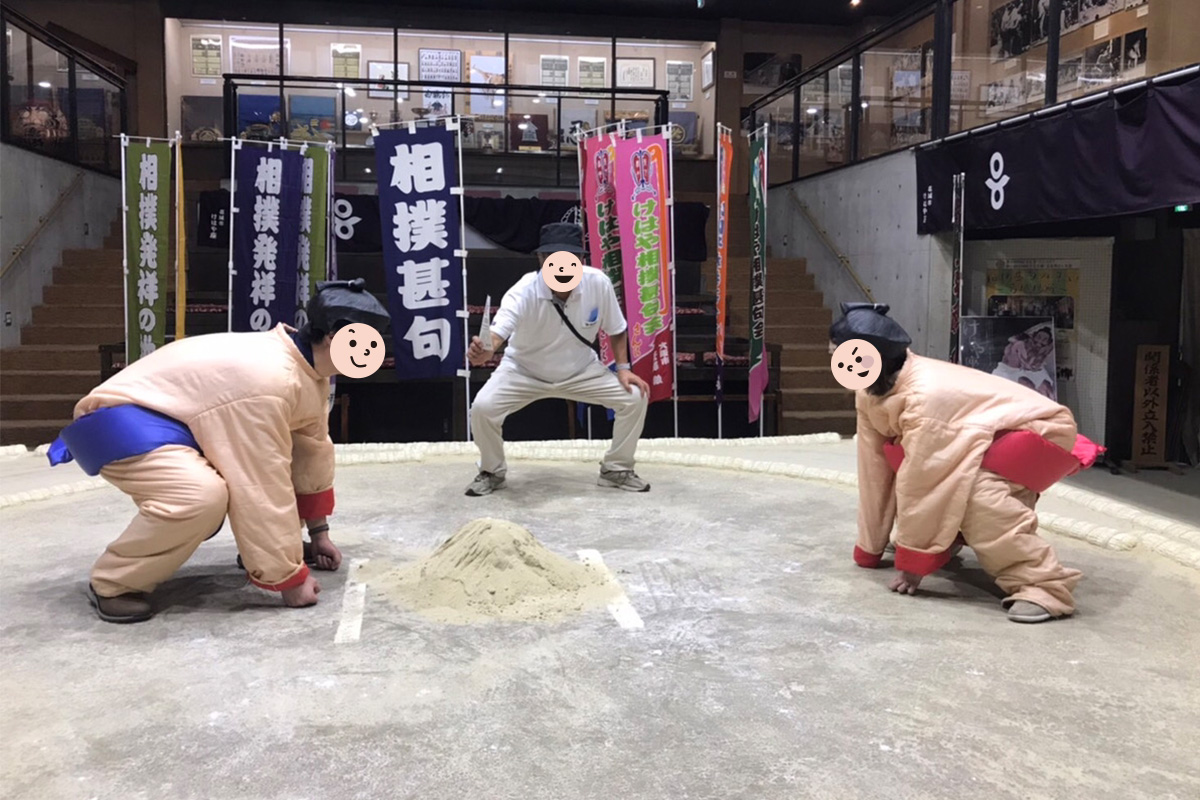 Surprisingly, when I stood in the ring, I felt my opponent's position was close to me. At that distance, the rikishi must be clashing with each other with great power. It is an amazing thing!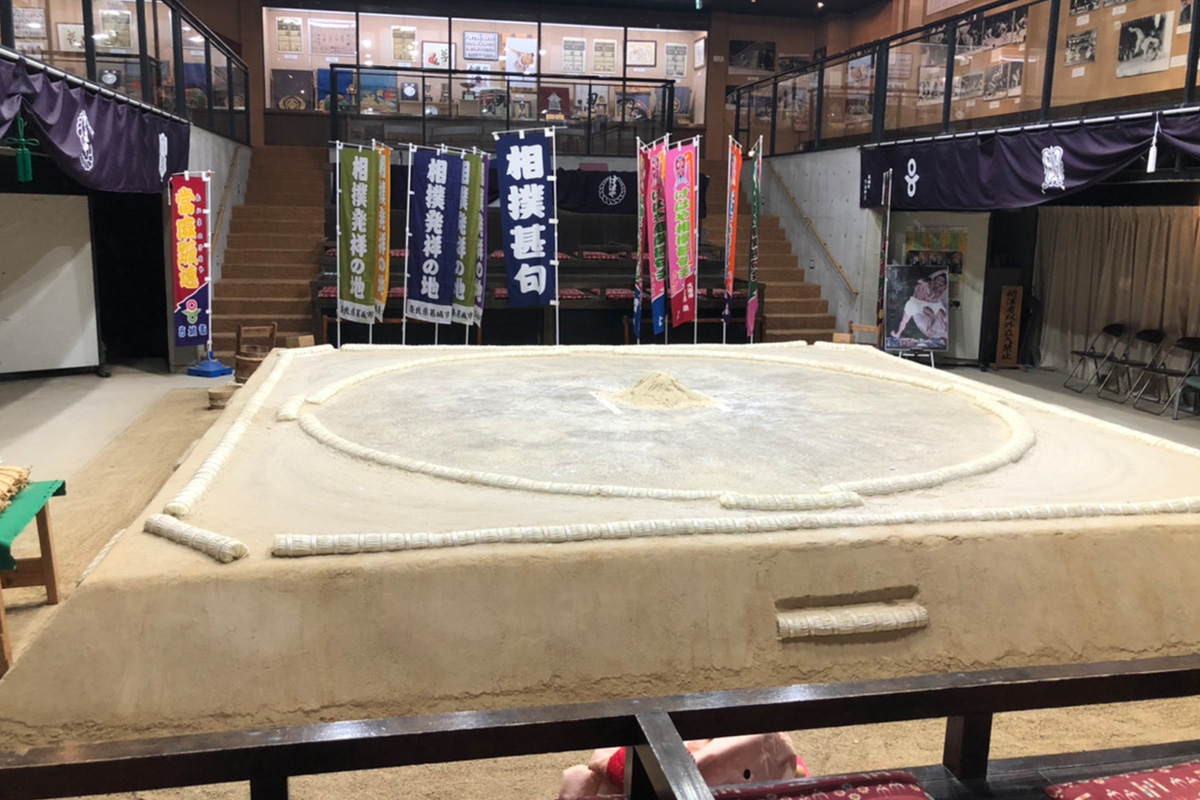 Next, I looked at the ring from the spectator's seats. I thought this is what it must be like to visit the stadium where sumo wrestling actually takes place. I have never been there yet, so I would like to go there someday.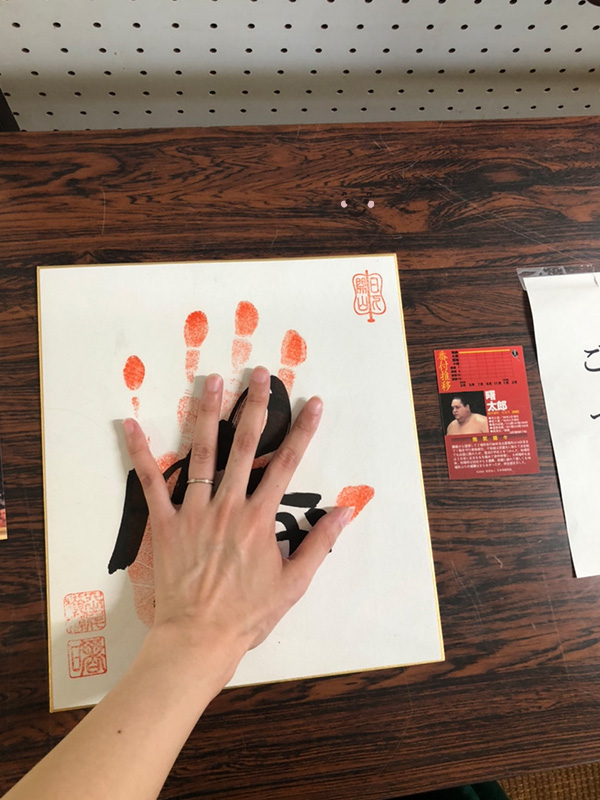 They could also compare the size of their own hands with the handprints of rikishi. They are huge.
Incidentally, the reason why Katsuragi City has such a sumo museum is because "Taimano-kehaya(當麻蹶速)", the founder of sumo, was born in Katsuragi City.
Taimano-kehaya is believed to date from about 23 BC. It is amazing that sumo wrestling existed that long ago!
It is a small facility, but the admission fee is inexpensive and enjoyable.(The explanation is in Japanese only, but I think the atmosphere alone is enough to enjoy it.)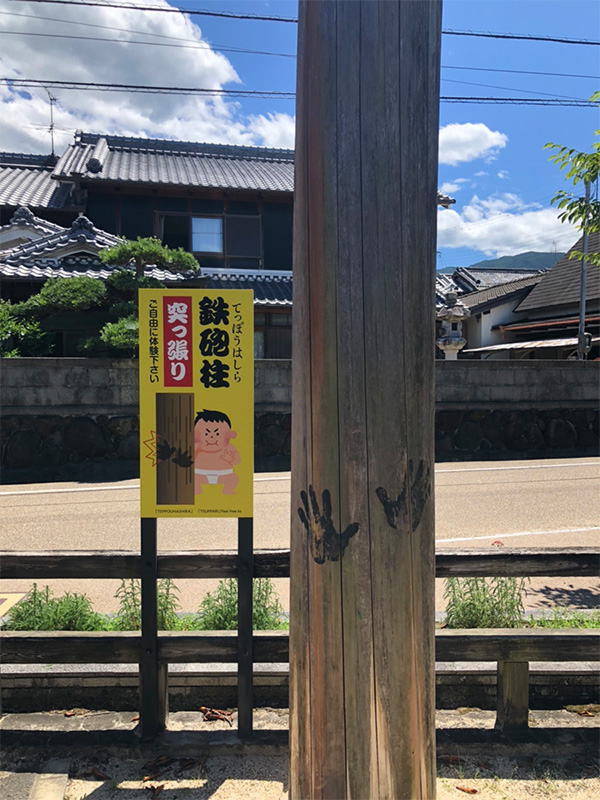 Outside, there is a "Teppou-bashira".This is a tool for practicing rikishi, and the technique "Tuppari" is performed with the right and left hands against a pillar.
*Tuppari is a technique of striking an opponent in the chest or shoulder with a flat hand.
When you come here, you too can become a "Rikishi" and experience sumo.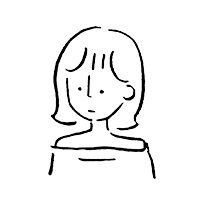 aki