Kyoto Handicraft Center – a souvenir shop featuring traditional Japanese crafts.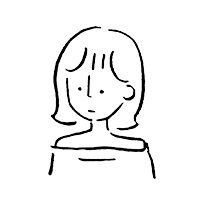 Written by aki
2023.06.25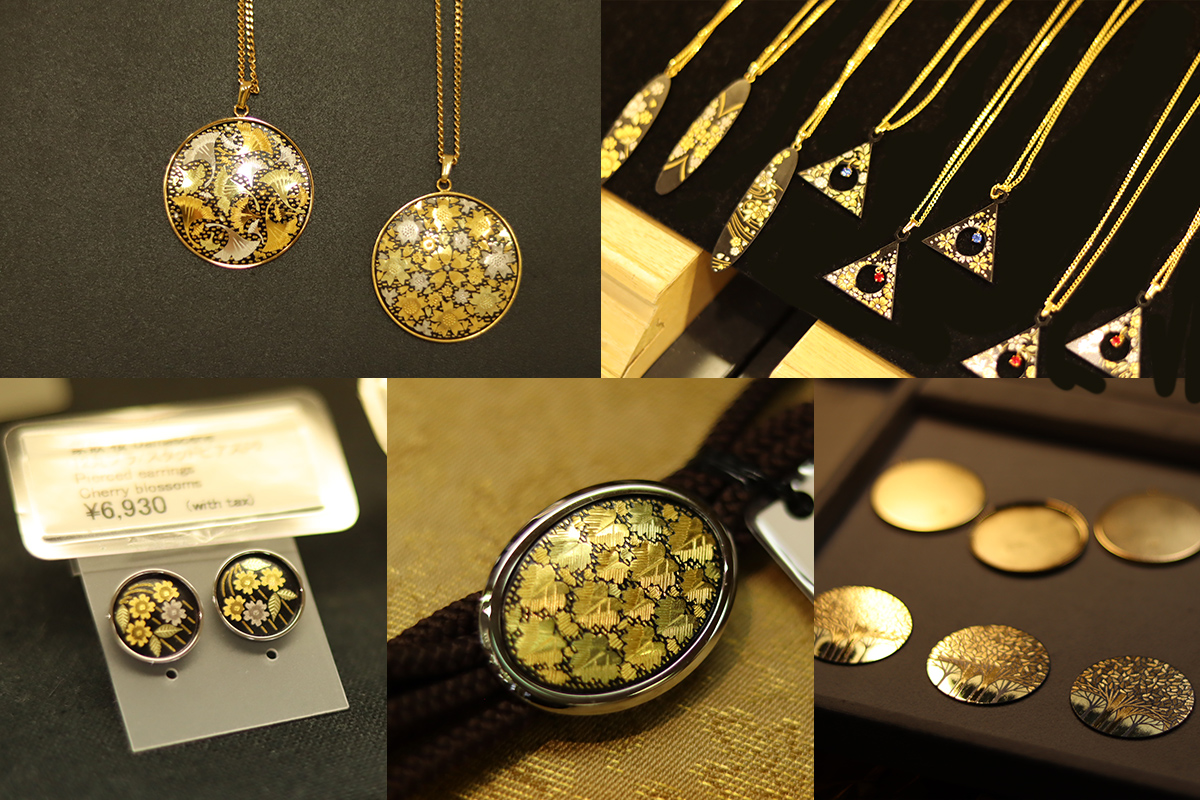 In Kyoto, a particularly popular tourist destination in Japan, I visited a souvenir shop called Kyoto Handicraft Center.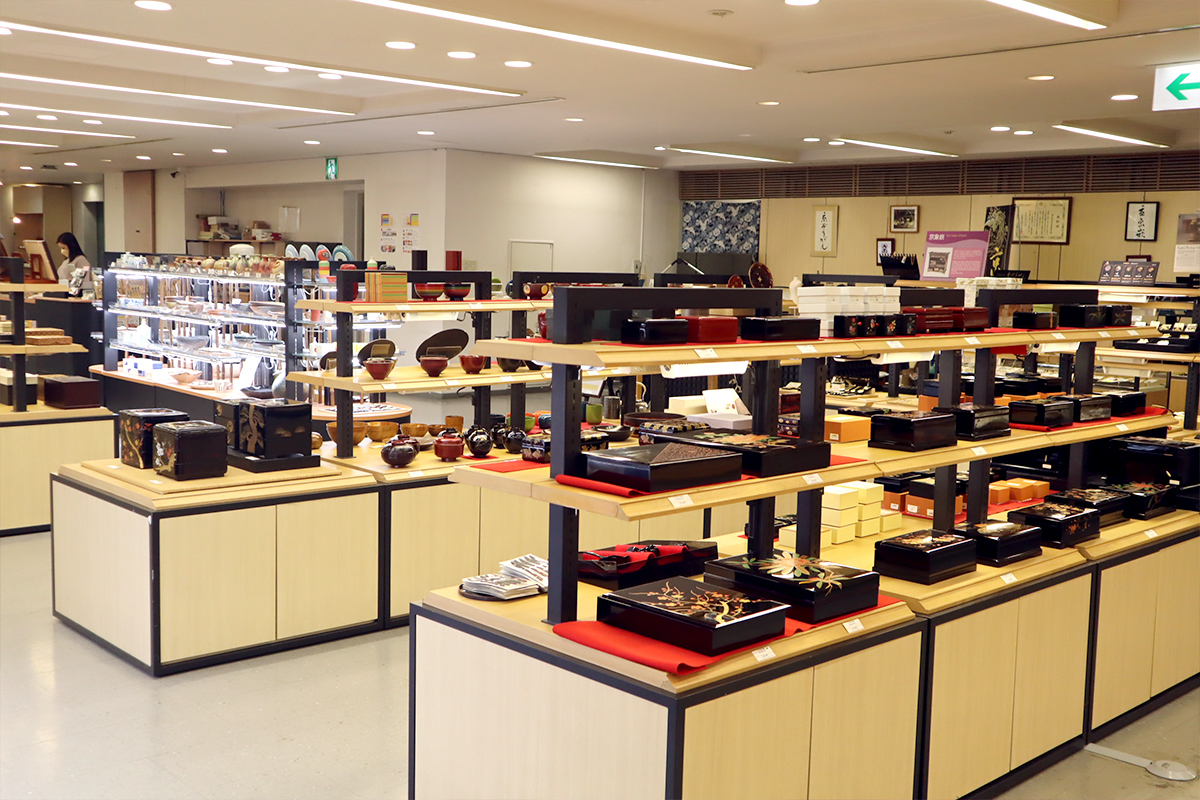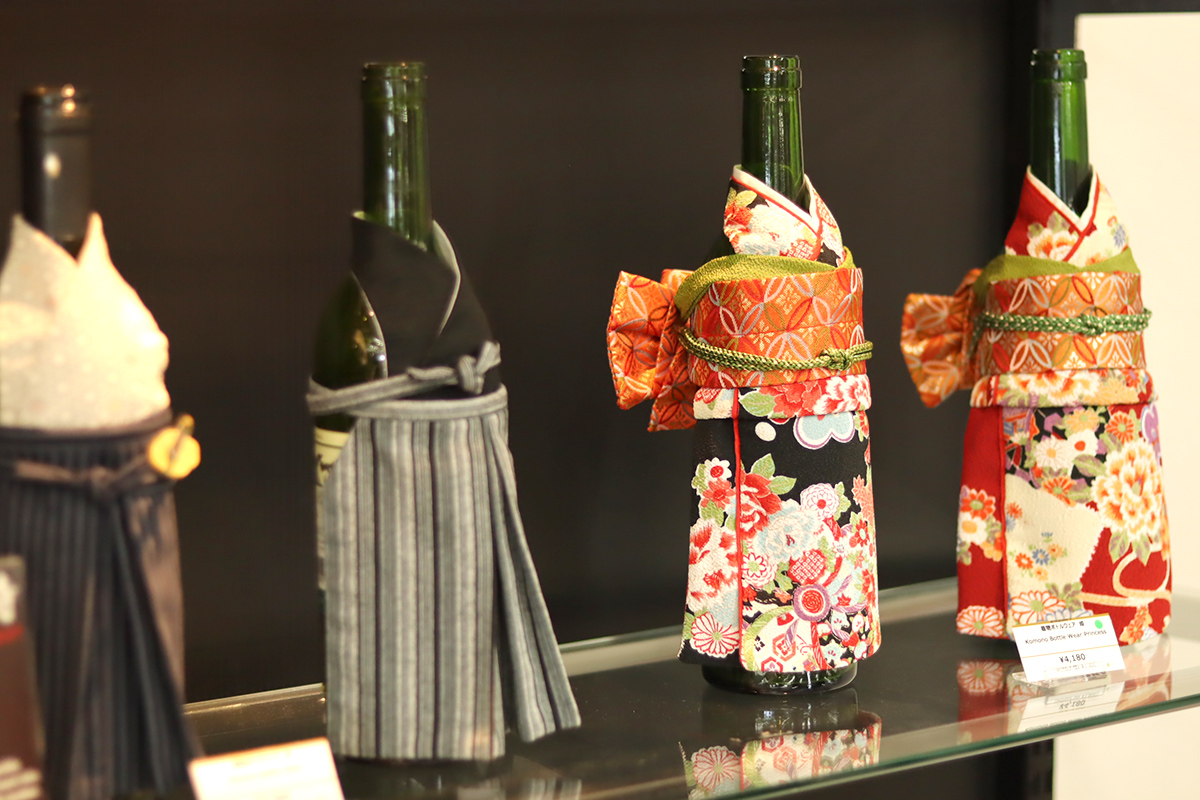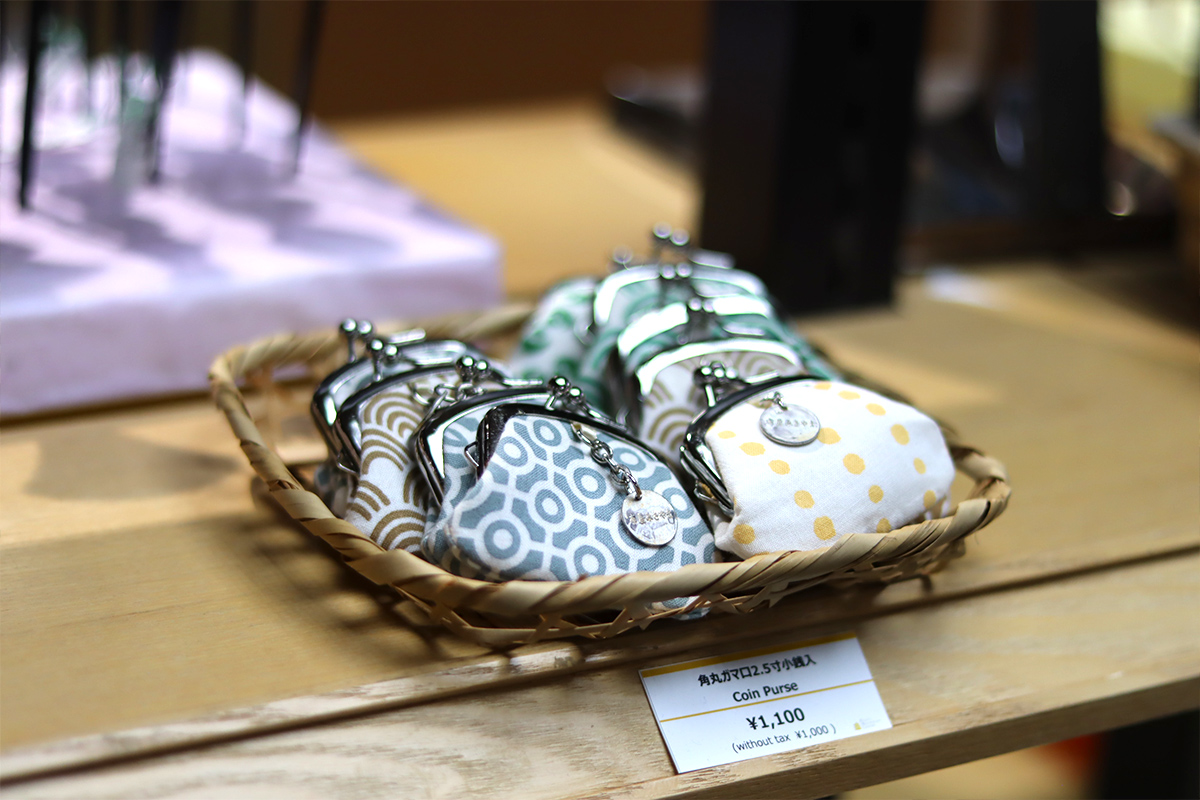 The store's real store has about 20,000 traditional Japanese crafts as well as other typical Japanese souvenirs. Most of the customers are foreigners.
With your permission to publish this article, I would like to talk about cute Japanese products and traditional Japanese crafts found at the Kyoto Handicraft Center!
Where is the Kyoto Handicraft Center?
The Kyoto Handicraft Center is located in Okazaki, where many tourist attractions are concentrated.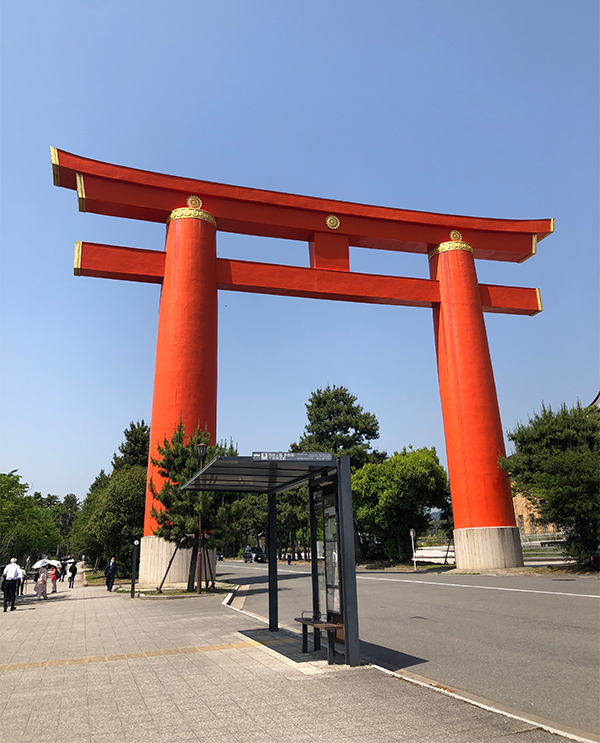 Near the store is a shrine called Heian Jingu. Heian Shrine is marked by a large torii gate!
A five-minute walk from Heian Jingu Shrine brings you to the Kyoto Handicraft Center.
The store is divided into two sections, the East building and the West building.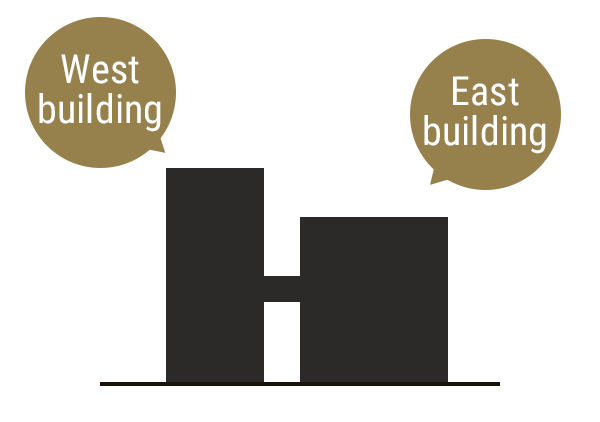 The west building focuses on traditional crafts such as woodblock prints, Kyoto dolls, and kimonos. You can feel Japanese culture.
The East Building is mainly Japanese souvenirs that can be easily used in your lifestyle. The East Building is a great place to pick up souvenirs for your friends and family!
I went around the Kyoto Handicraft Center store and picked up a few products that I liked.
Kyo Zogan, a traditional craft with a history of over 1,200 years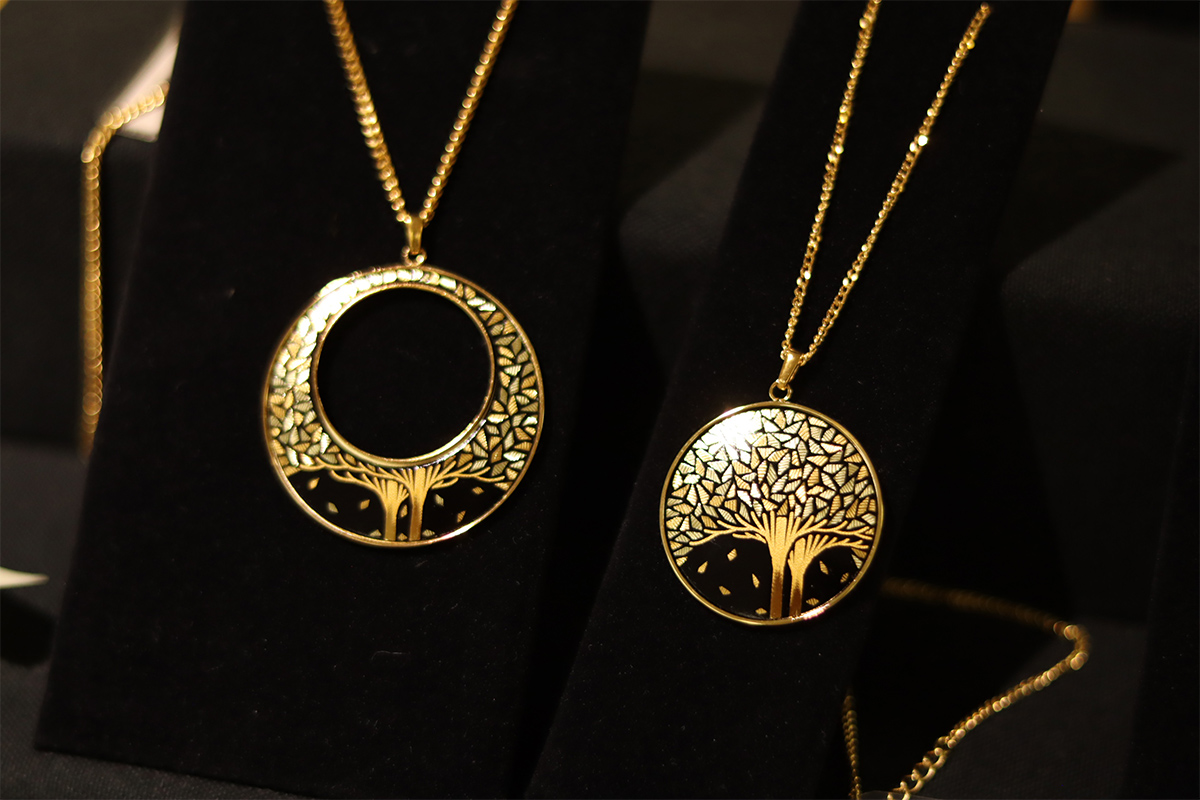 A very beautiful necklace. It is hard to tell from the photo, but each pattern is made by hand by craftsmen.
Damascene (called Kyo Zogan in Japanese) is a traditional craft that has a history of over 1200 years.
I was able to observe the process of making this Kyoto Zogan, which is a very delicate work.
Please take a look at the video of Kyoto Handicraft Center.
1.Numerous lines are chiselled on steel foundation.
2.The design is inlaid with 24k gold and pure silver.
3.The surface of steel is corroded. Rusted and baked with lacquer.
4.Gold and silver are polished out with soft charcoal.
5.The design is perfected with final engraving.
Particularly in the "1" process, the craftsman carves about 20 lines, vertically, horizontally, and diagonally, within a width of 1 mm.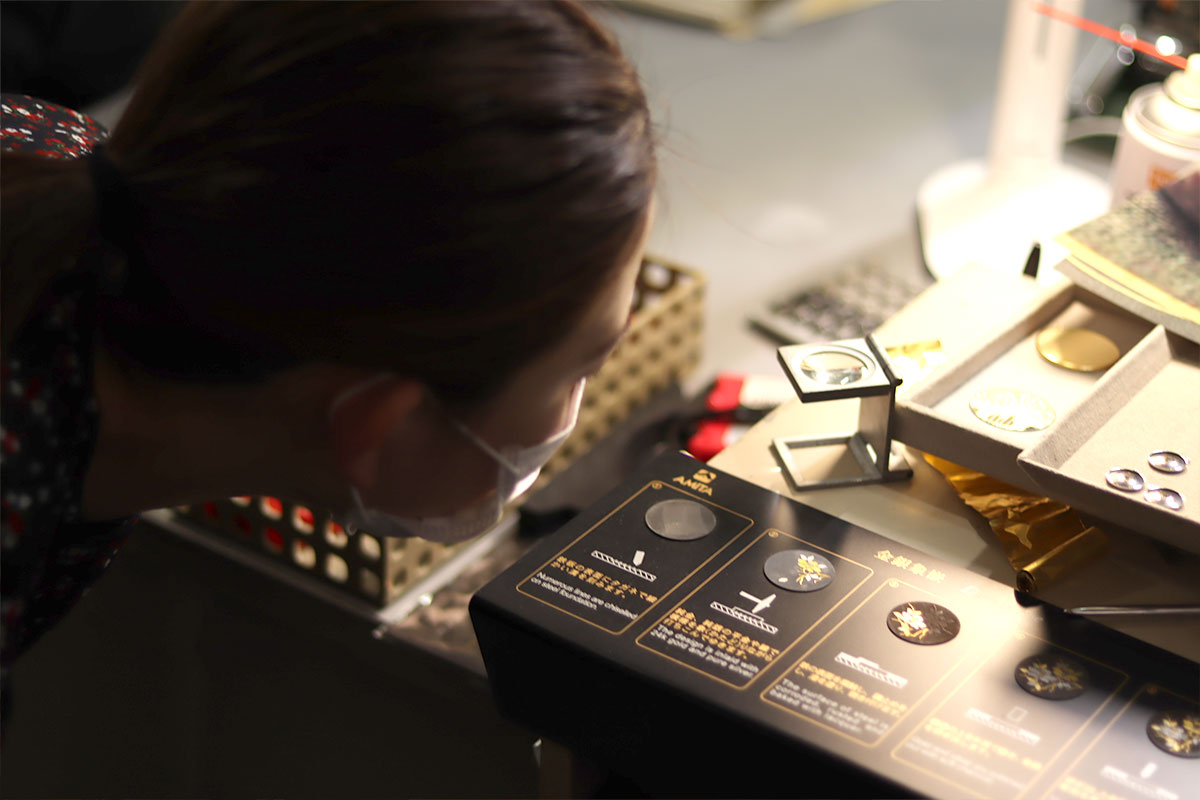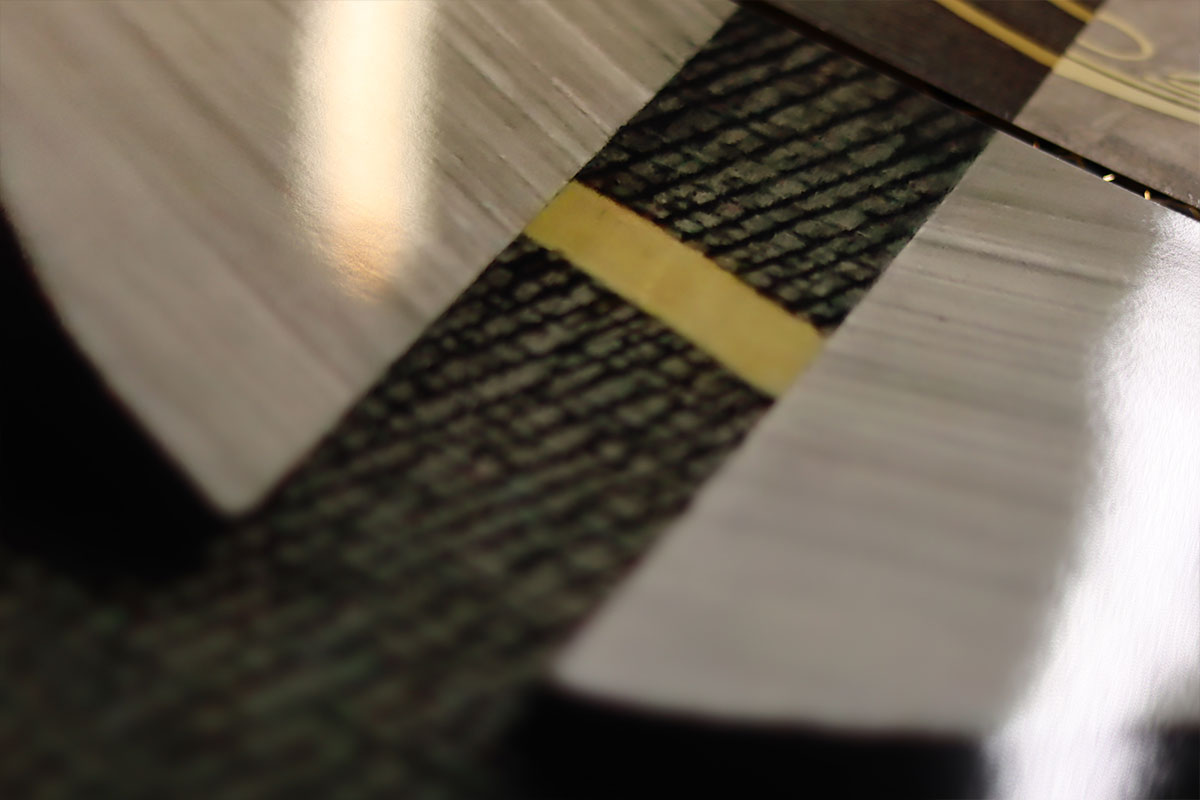 I couldn't tell by looking closer, so I asked to borrow a loupe. There are definitely lines forming!
It takes a couple of years to master the process of creating these countless lines.
When I think of the several years to several decades it takes to become a full-fledged craftsman and create a single piece of work, craftsmen are truly amazing!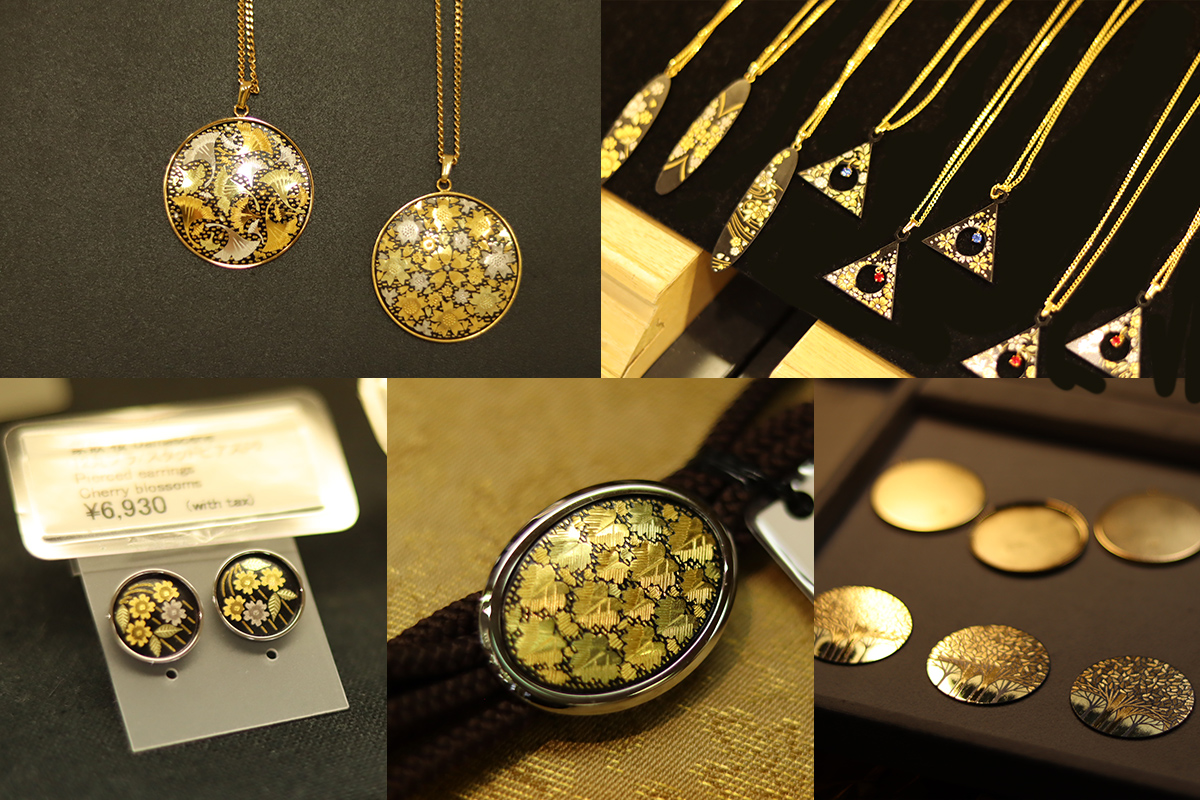 The Kyo Zogan technique was originally used to decorate the swords of Japanese warriors. It is so wonderful to be able to wear this ancient Japanese technique as an accessory today!
Traditional crafts are exciting just to look at.
In addition to Kyoto Zogan, there are many other traditional crafts at the Kyoto Handicraft Center.
For example, Japanese swords!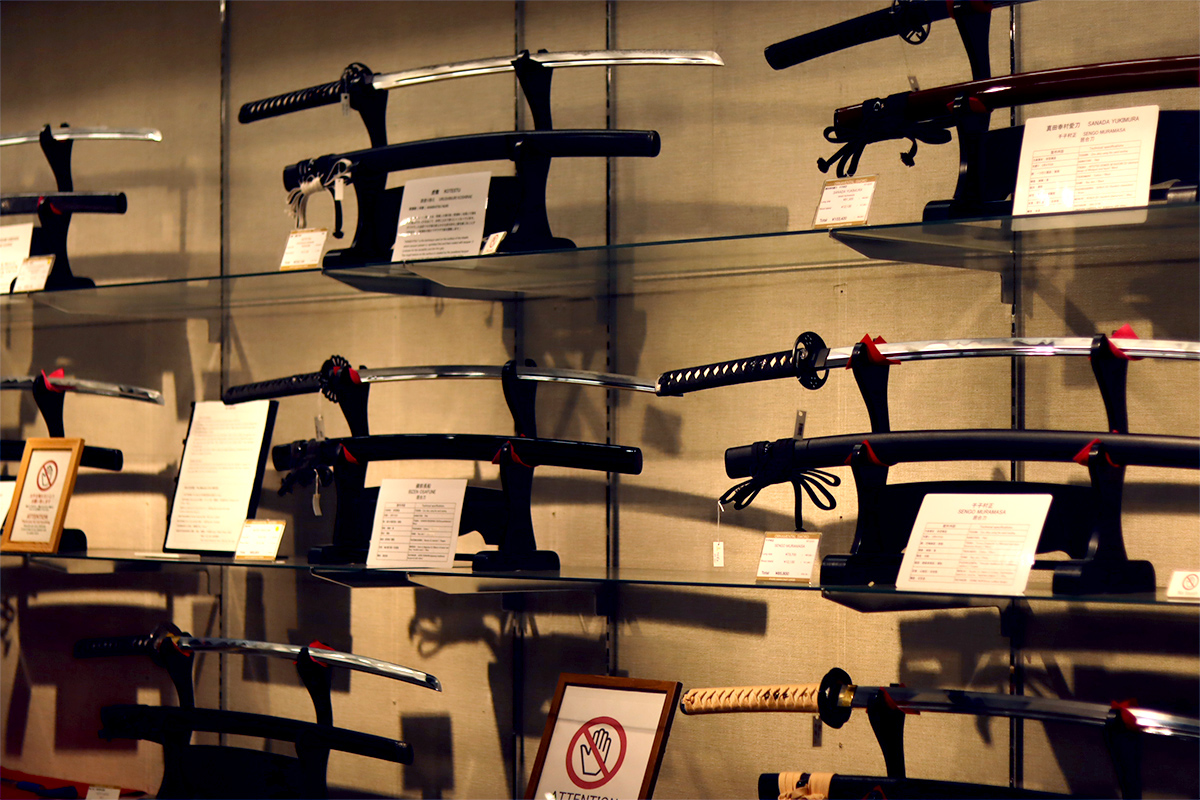 It may be difficult to actually take them home, but only at a souvenir shop can you take a closer look.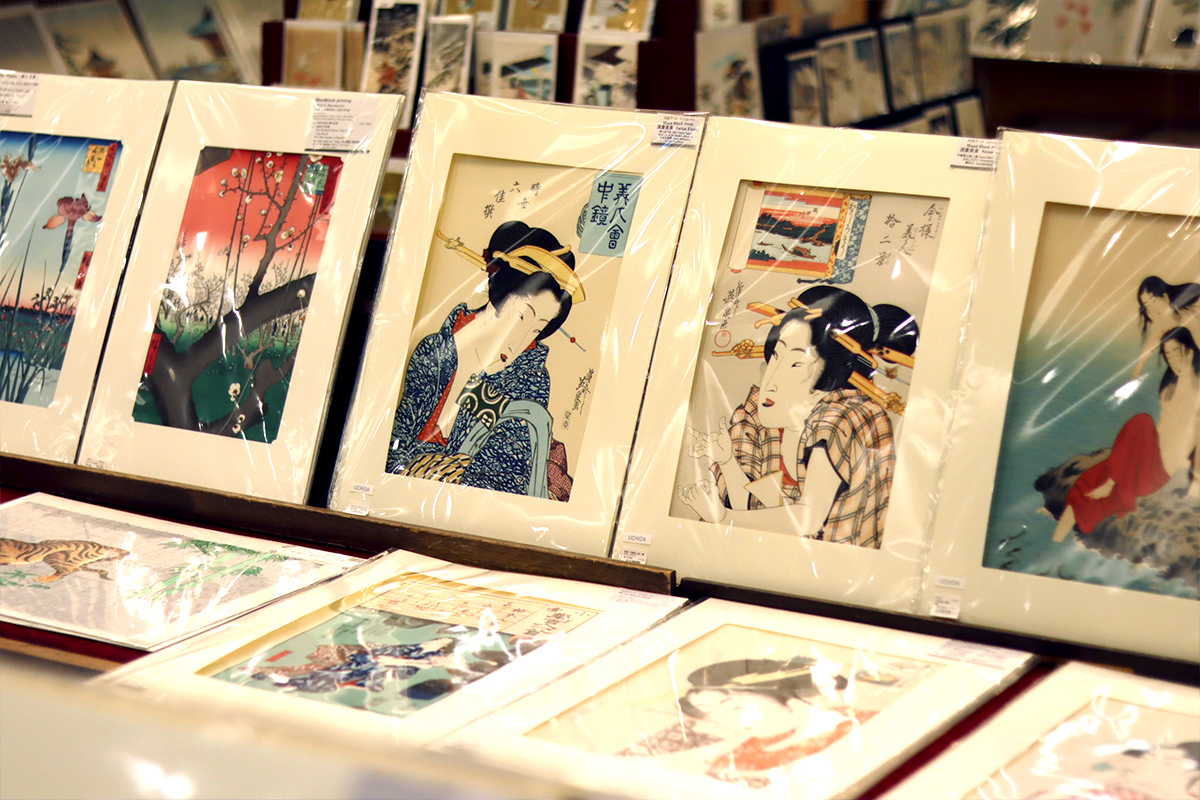 These are woodblock prints. The patterns vary from originals, reprints, and contemporary prints.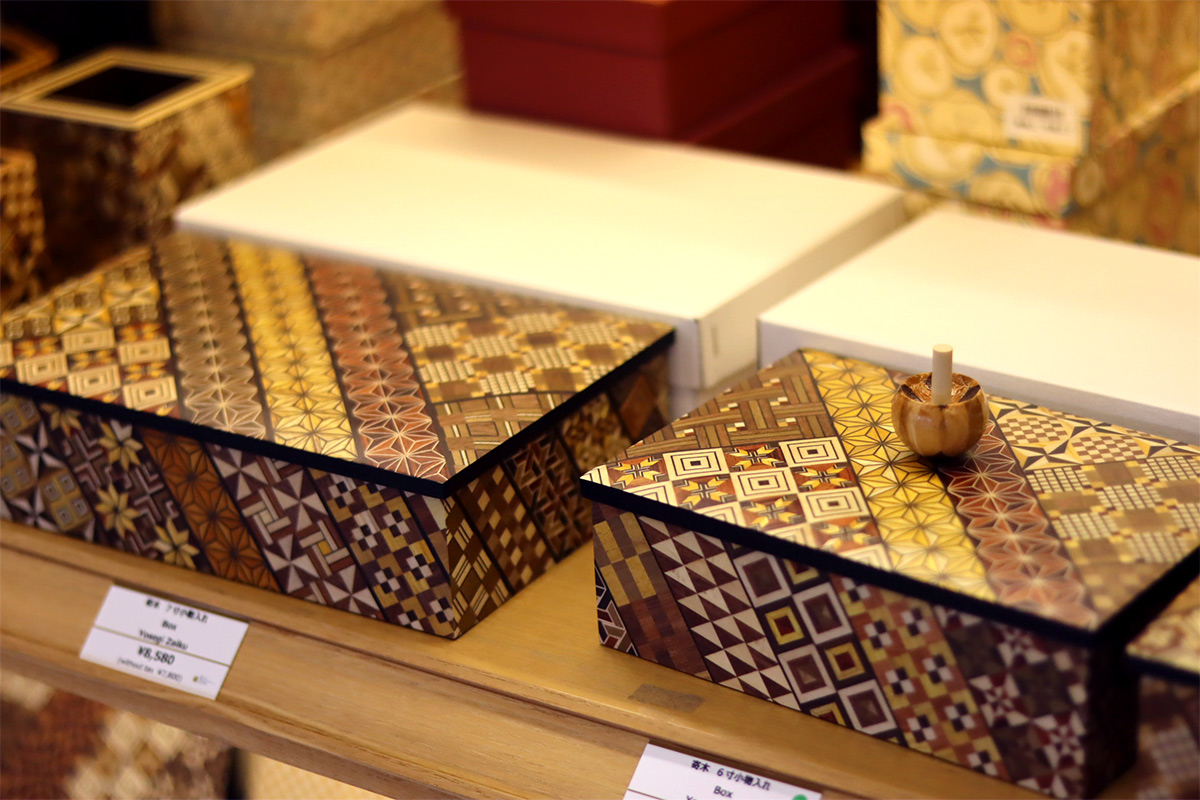 This box is called "Yosegi-zaiku".
This technique was established in a place called Hakone, Japan. Precise geometric patterns are created using the natural colors of the wood. It is world famous as a "puzzle box.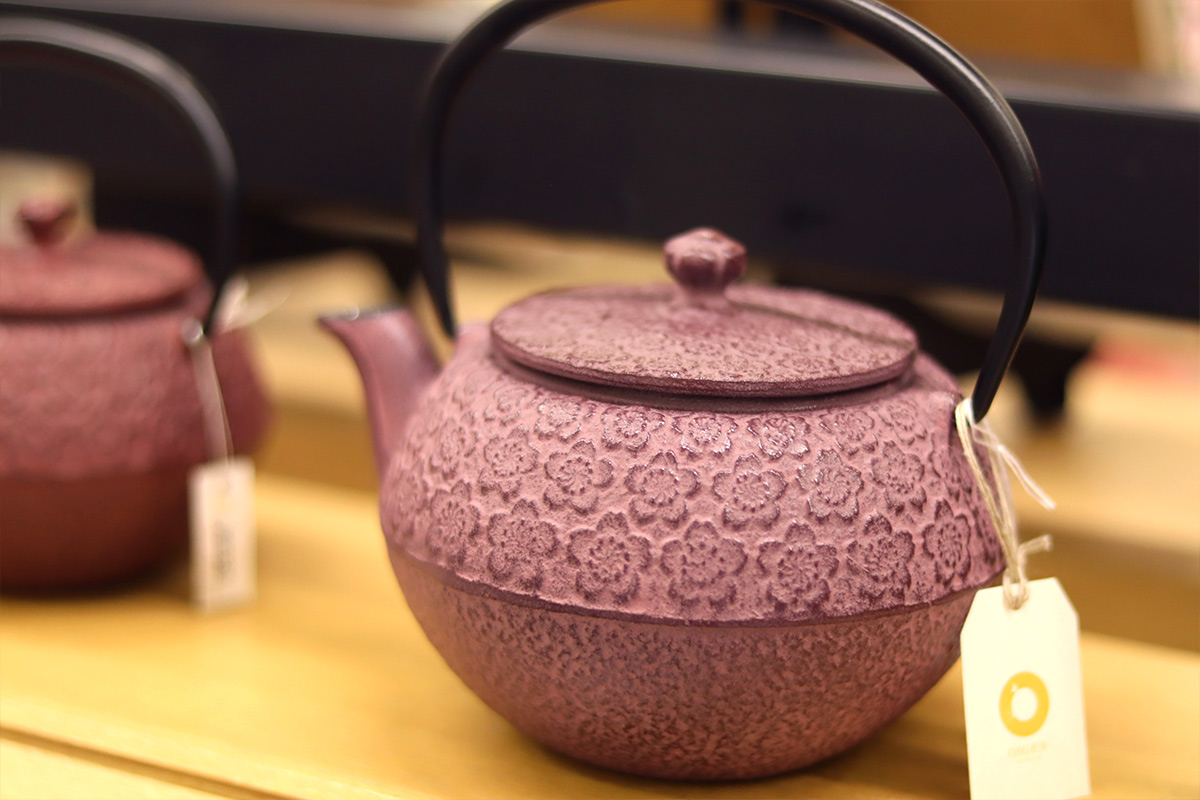 Nambu ironware is becoming increasingly popular, especially in Europe, and has been made in Japan's Iwate Prefecture since around the 1600s.
The culture of "tea ceremony" was popular in Japan at that time, and iron kettles were produced. When water is boiled in an iron kettle made of Nambu ironware, it is said that the taste of the water becomes mellow.
Perfect souvenirs for children. Kimono/Yukata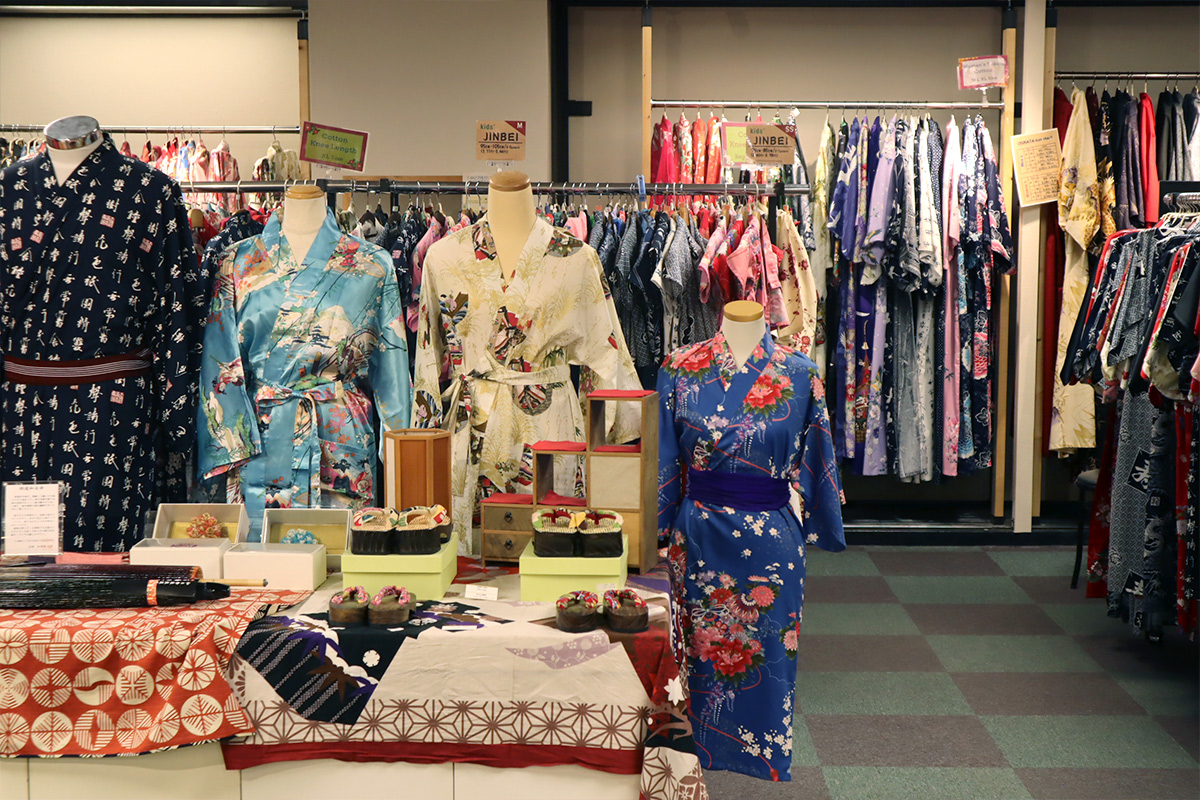 Next up are kimonos and yukatas.
There are sizes for men, women, and children, and the whole family may be able to get one together.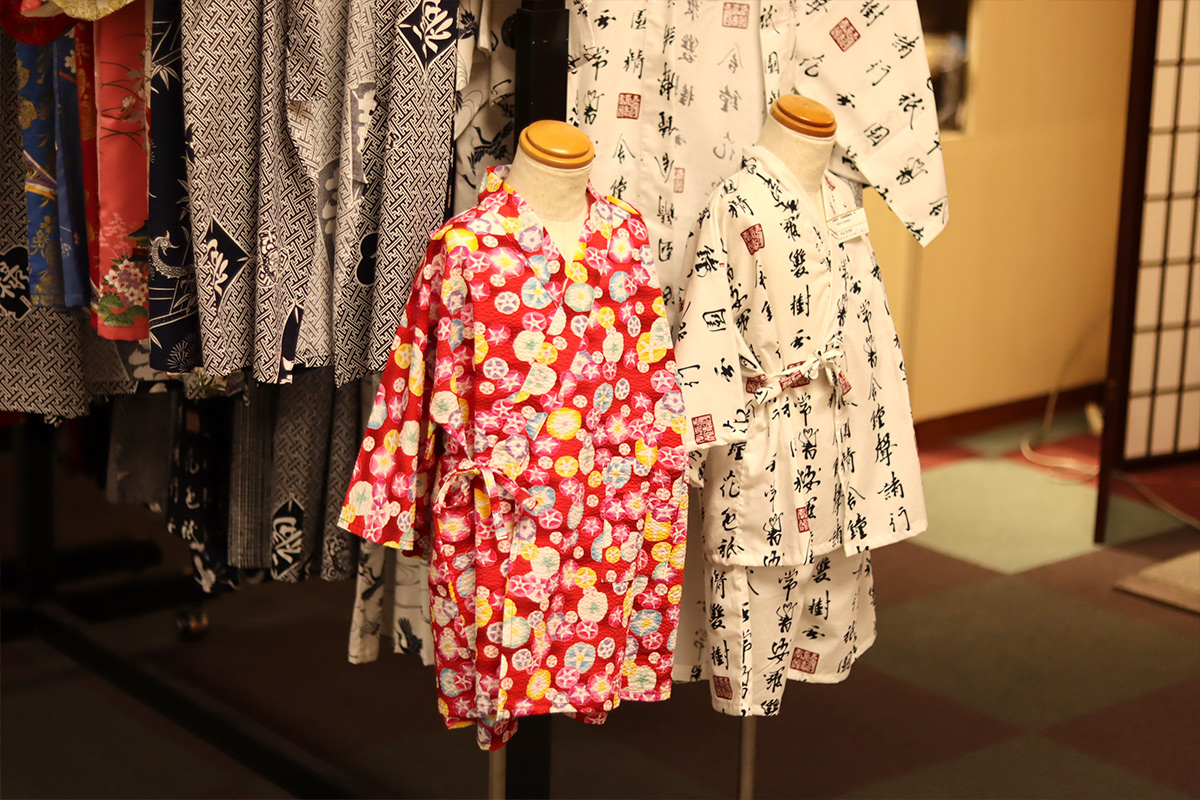 There were also matching patterns for parents and children!
A wide variety of patterns for children.
Bring Japanese taste into your daily life! Japanese Accessories and miscellaneous goods
If you're looking for something a little more casual, try the building to the east.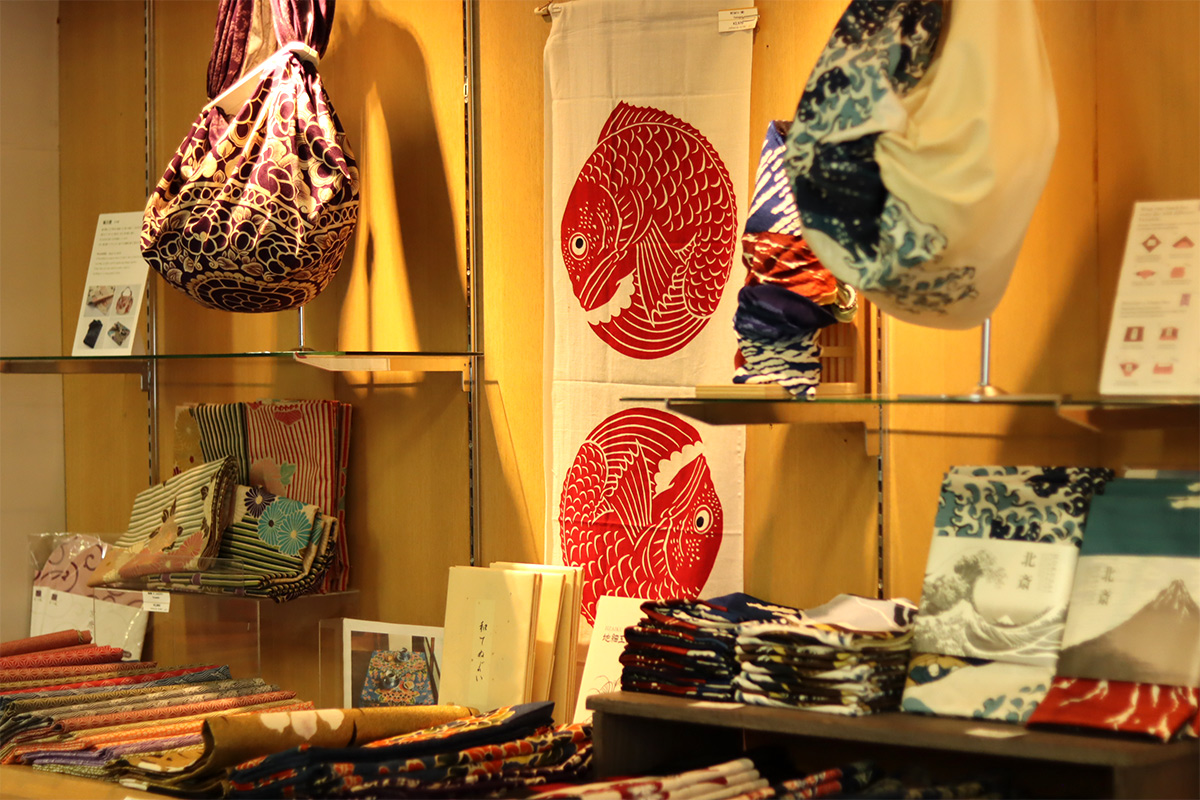 Cute tenugui hand towel.
Tenugui can be used for a wide range of purposes, for example, it can be used as a bag or to wrap things. It is easy to understand how it can be used because it is decorated!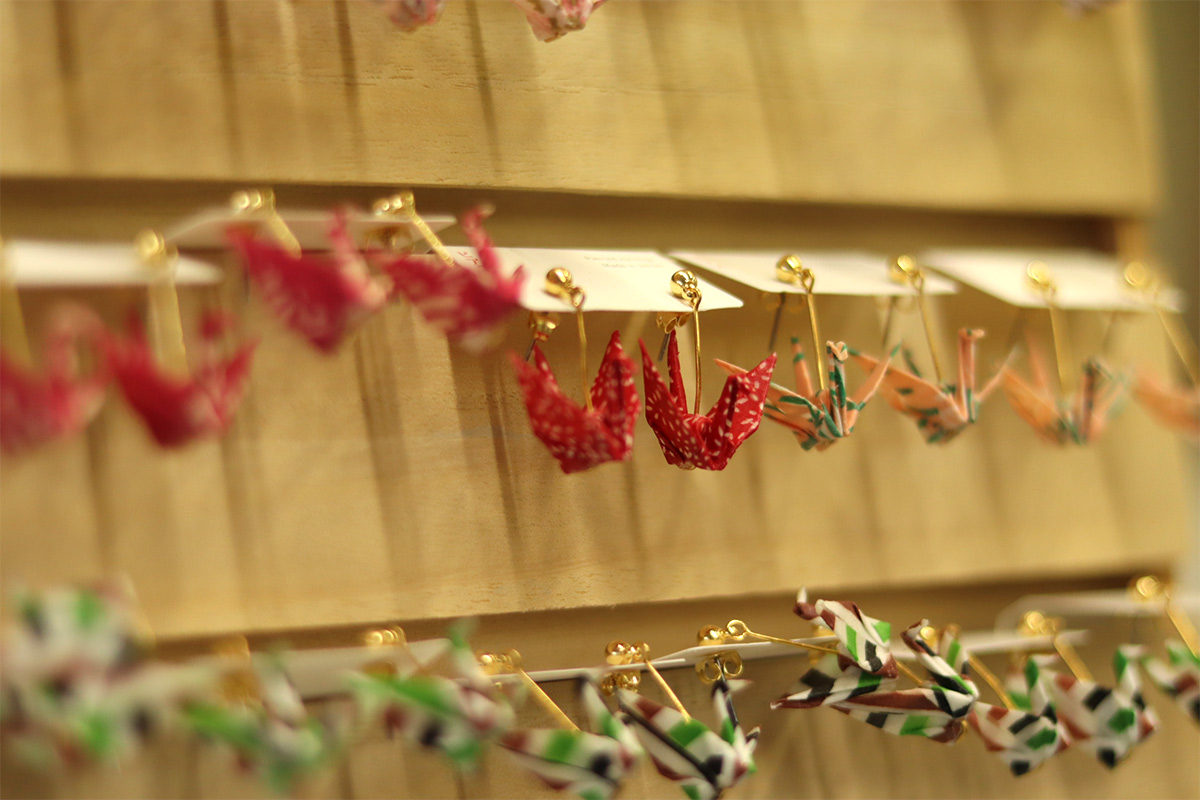 The origami crane earrings were so cute. There are so many patterns to choose from!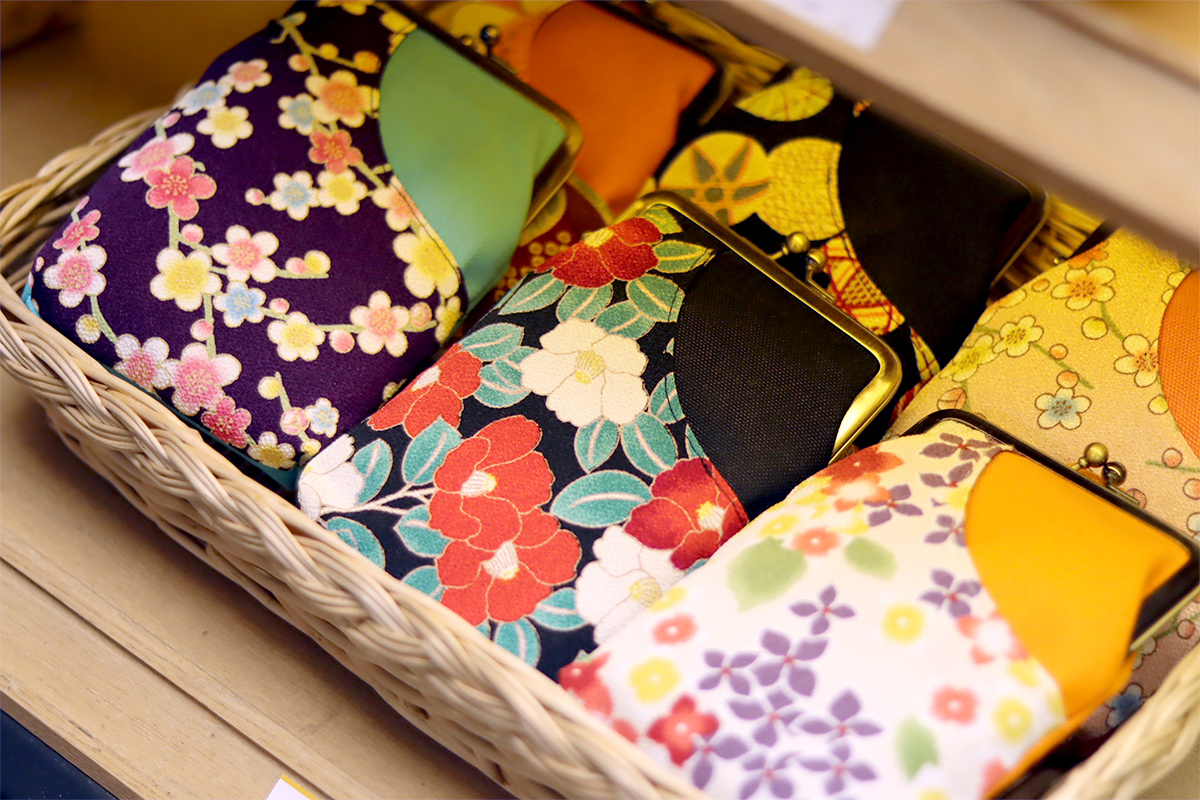 Japanese patterned accessories also make great souvenirs.
"Kanji goods" for something that is THE Japanese style
When I asked the store staff about popular products, they replied, "Kanji goods are often picked up".
For example, T-shirts.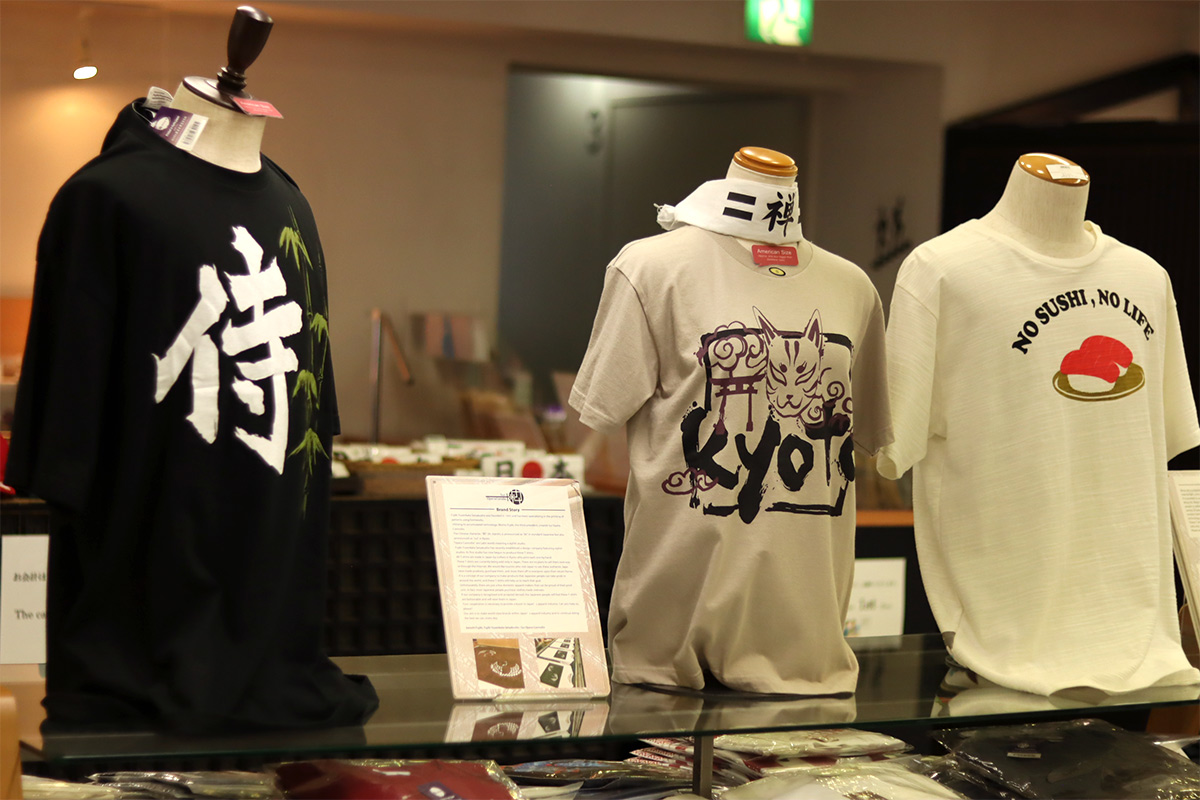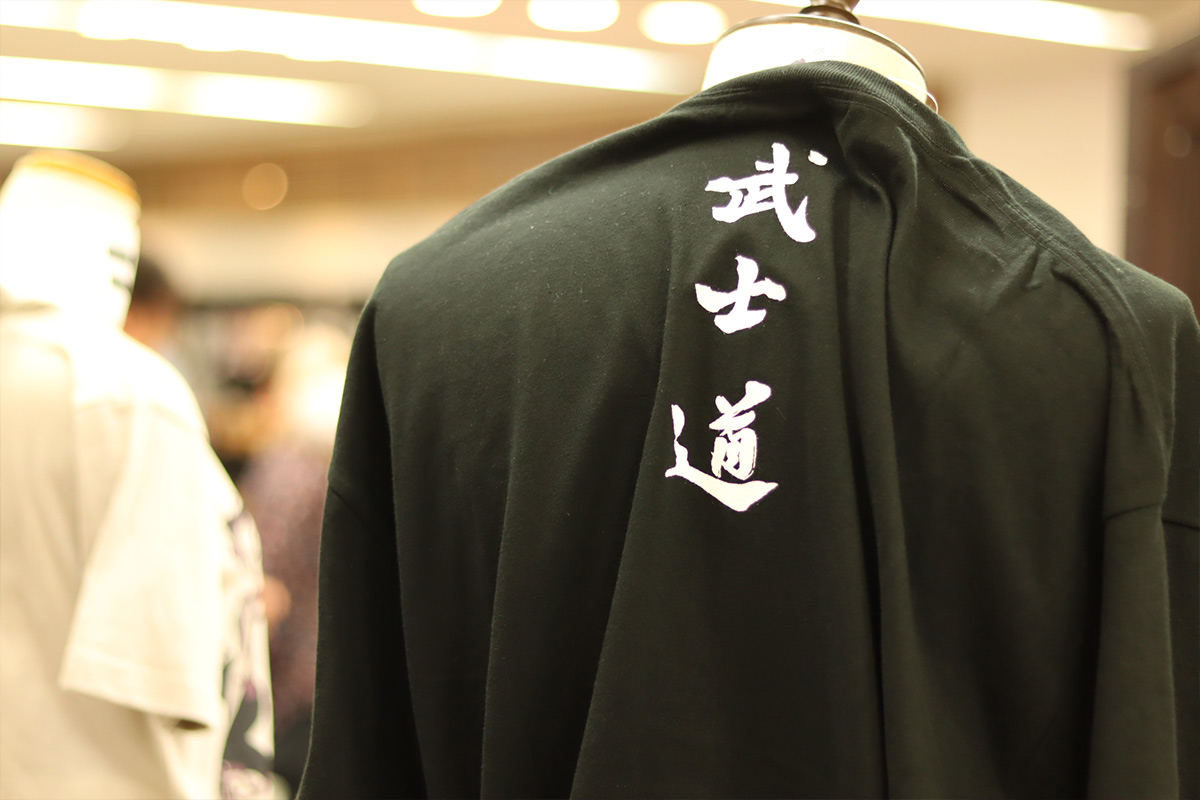 It says "Bushido (literal translation means Samurai code of chivalry)".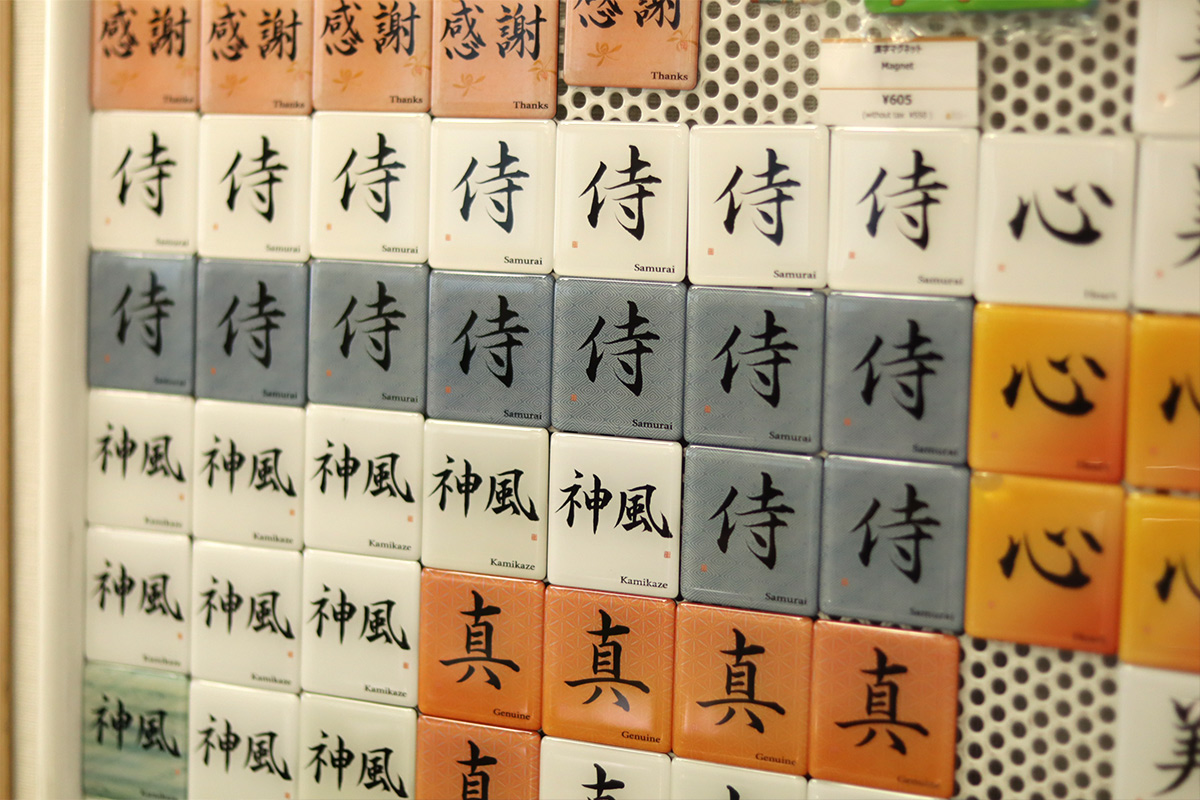 There were also kanji magnets! If you are not sure what each kanji means, please ask the store staff.
*Every clerk at the Kyoto Handicraft Center is fluent in English!
For something a little different, Japanese playthings!
A wide variety of paper crafts and craft goods are also available.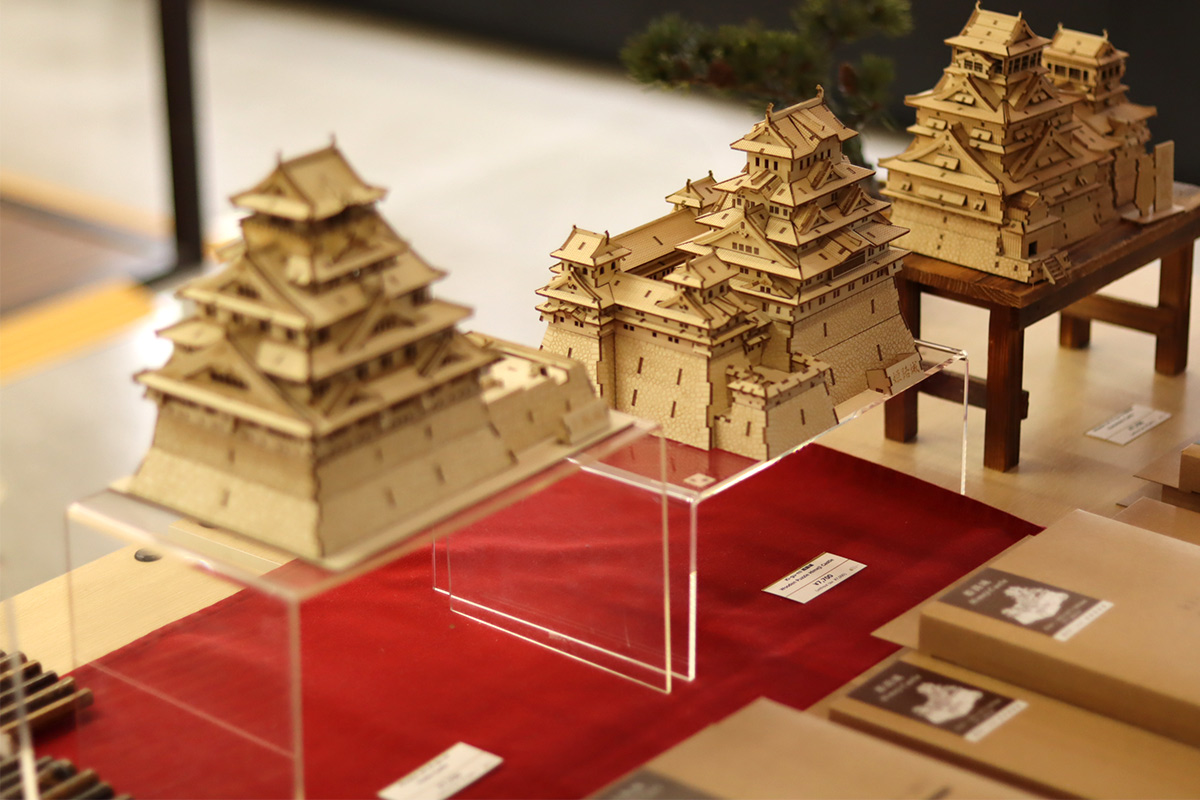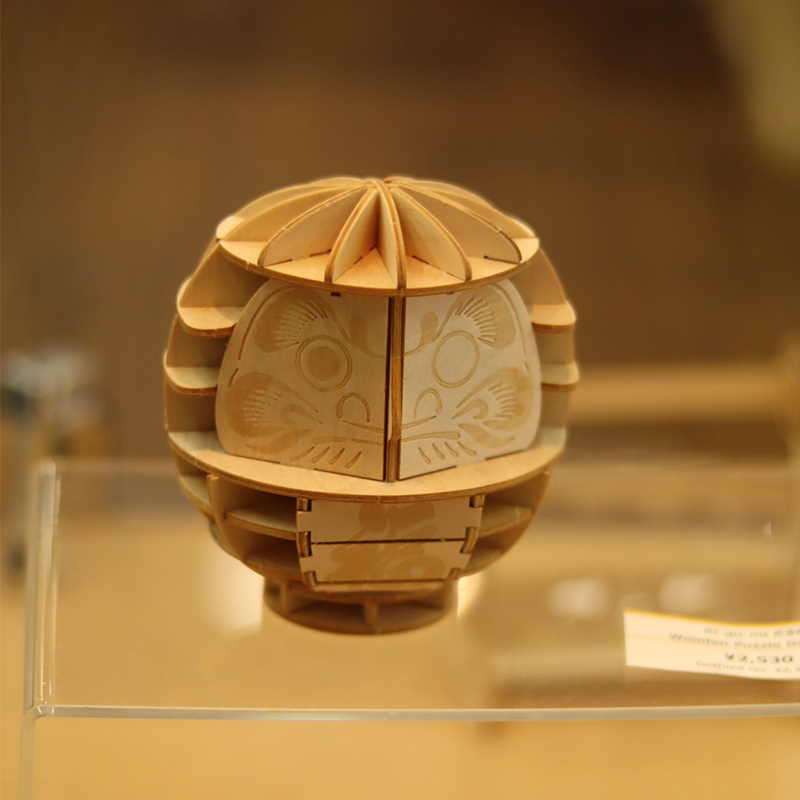 I was interested in a product called "ki-gu-mi".
These puzzles can be assembled without scissors or glue, and are very easy to do!
The castles are especially popular. They are also recommended as souvenirs.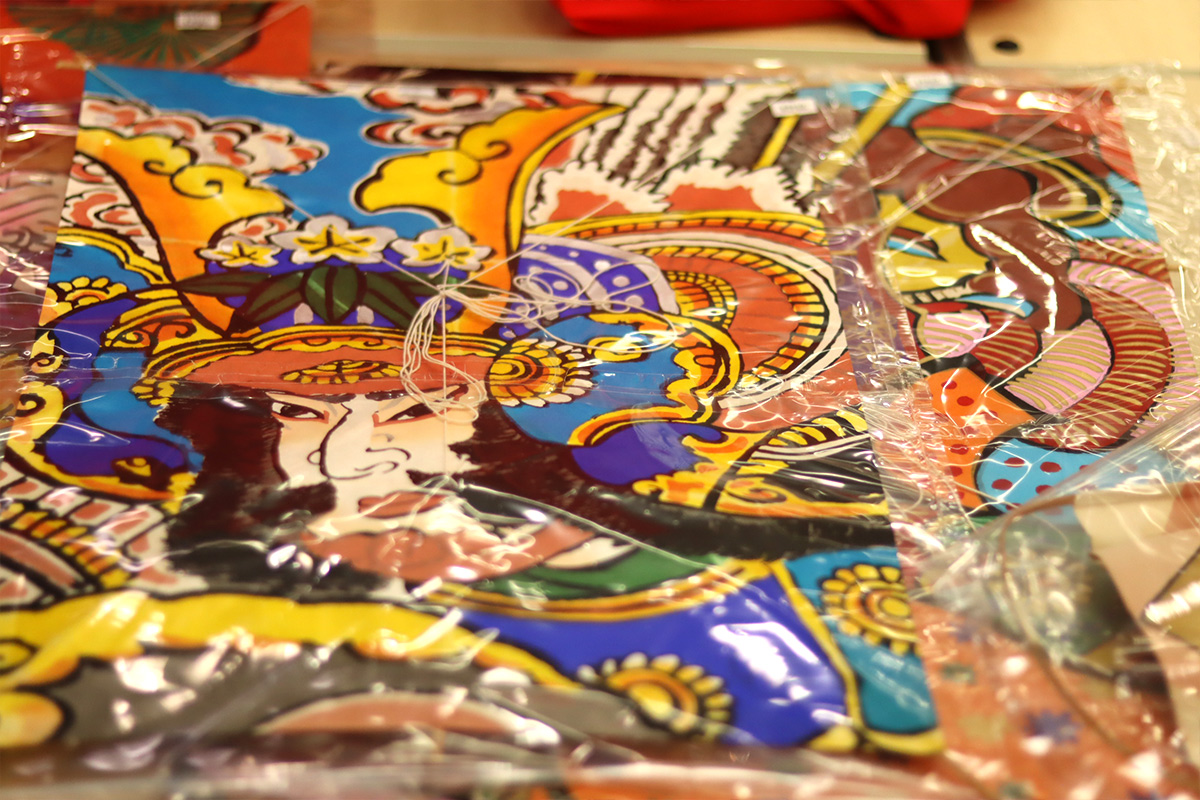 There were also traditional Japanese playthings. This is "Tako-age(kite flying)".
"Kyo-Koma" – A traditional handicraft with gorgeous colors
Finally, I would like to introduce some traditional Japanese crafts that fascinated me.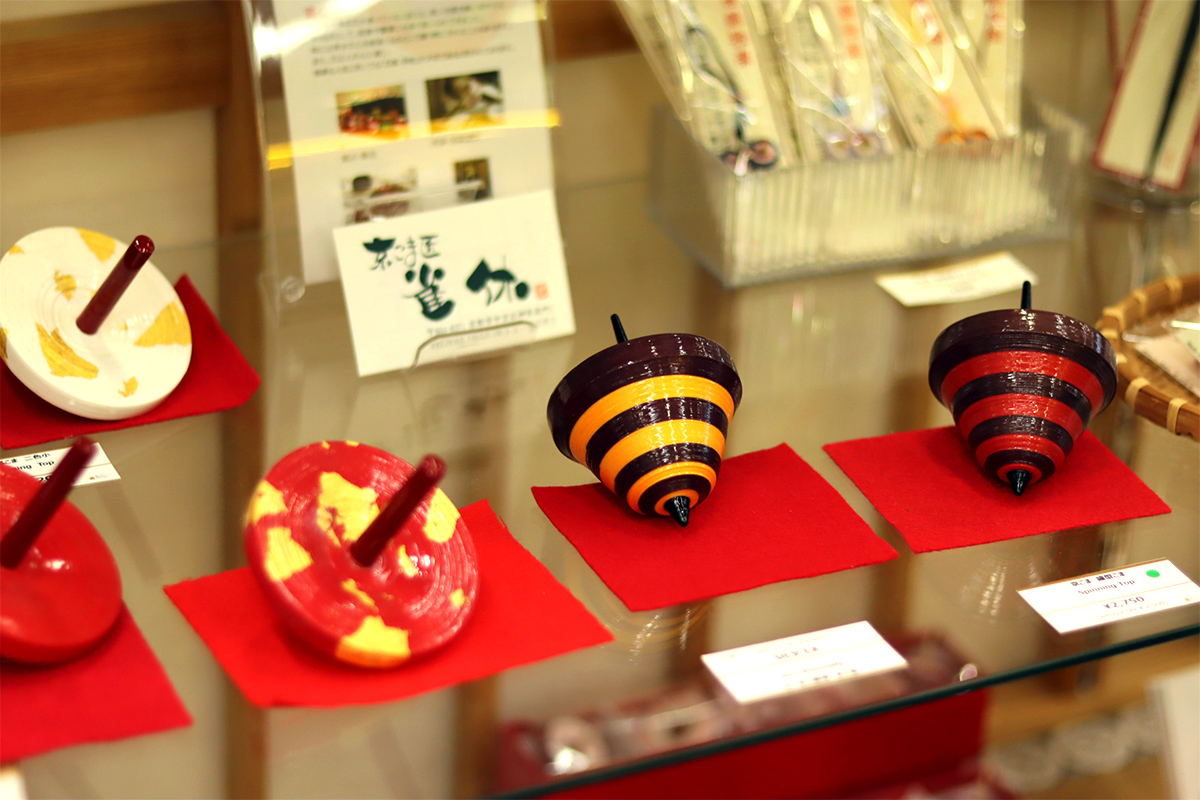 This is "Kyo-koma (spinning top made in Kyoto)".
It is made by the only craftsman in Kyoto. The very lovely form and gorgeous color scheme are beautiful.
It is a traditional craft dating back to around 1600, and was originally made as a plaything for women of that era.
I have introduced a lot of products, but there are many more that we have yet to introduce.
Please stop by when you come to Kyoto for sightseeing.
The store is open until 7:00 p.m., so I recommend that you visit at the end of your visit after touring around Kyoto's sightseeing spots.
Everyone at the Kyoto Handicraft Center speaks English, so if you have any questions, please feel free to ask! I was told.
There is also an online store in English, so many travelers come to the store after browsing products here.
Kyoto Handicraft Center Online Shop
https://store.kyotohandicraftcenter.com/
If you ever go, please let us know what products you bought on Facebook, etc!
Store Information
Kyoto Handicraft Center
17 Entonbi-cho, Shogoin, Sakyo-ku, Kyoto(MAP)
Business hours: 10:00 – 19:00
Closed/open all year round (except for year-end and New Year holidays)
*For access information and other details, please check the official website.
Official website https://www.kyotohandicraftcenter.com/
Facebook https://www.facebook.com/kyotohandicraft
Instagram https://www.instagram.com/kyotohandicraftcenter/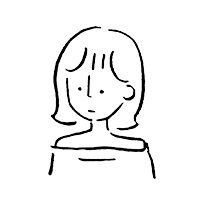 aki