Japanese Craft Beer! I've been drinking "Minoh Beer."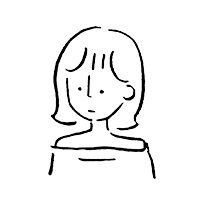 Written by aki
2021.12.08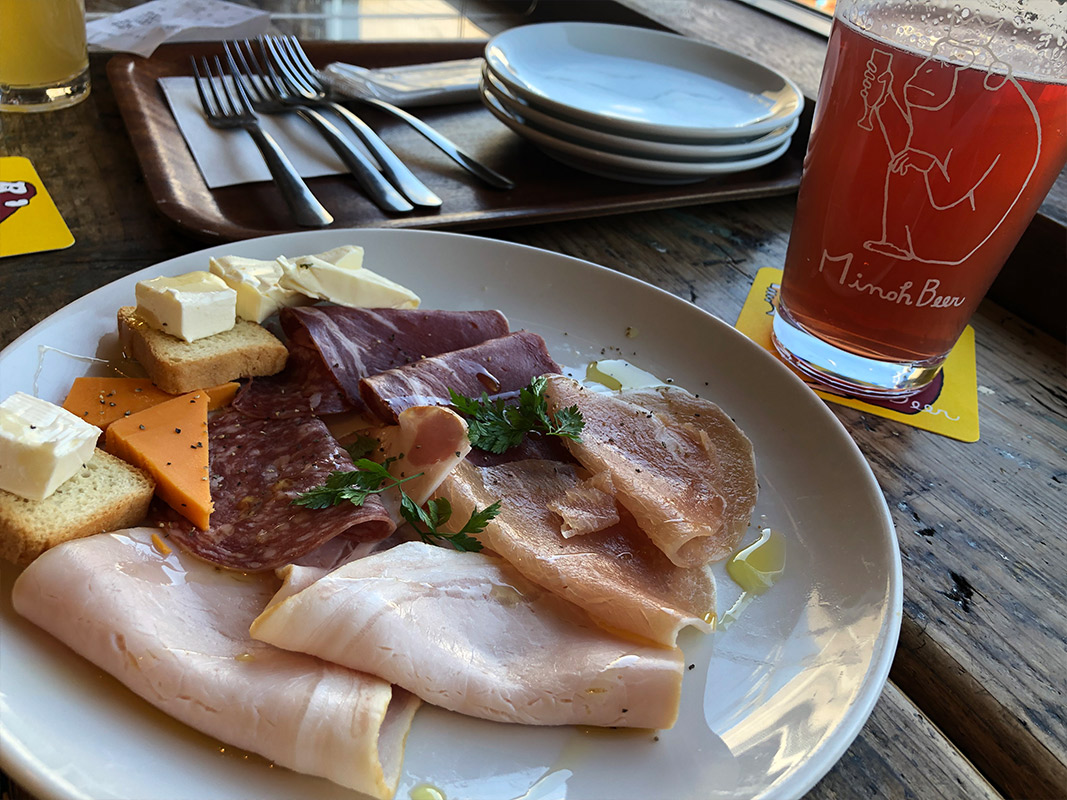 Hello!
This is AKI.
The other day, my friends and I went sightseeing in Minoh, Osaka.
The purpose was to see the autumn leaves. We also wanted to drink Minoh Beer, a local craft beer.
I had a lot of fun, and I hope this will be helpful for your autumn sightseeing in Japan.
First, let's take a look at the "Minoh Beer Edition".
"Minoh" is located in Osaka, Japan.
The airport is close to Kansai Airport.
Incidentally, there is also a "Minoh Onsen" (hot spring), so many people stay there for sightseeing as well.
We took the Hankyu train from Osaka Station to the Minoh area.
Our destination is "Makiochi Station"!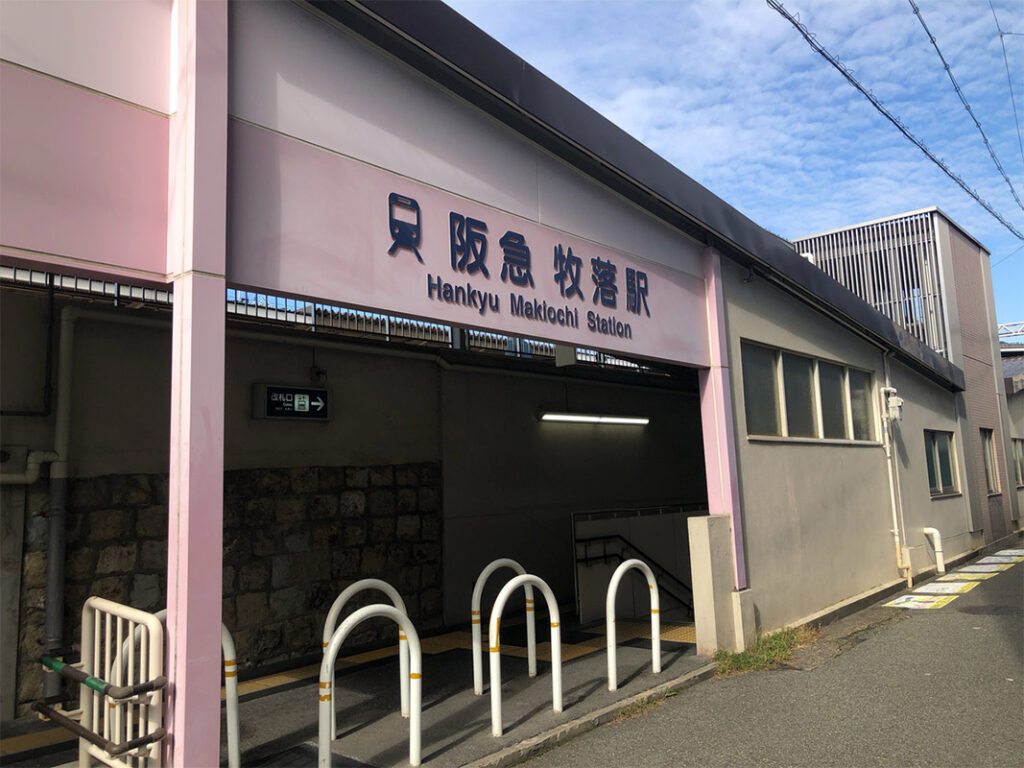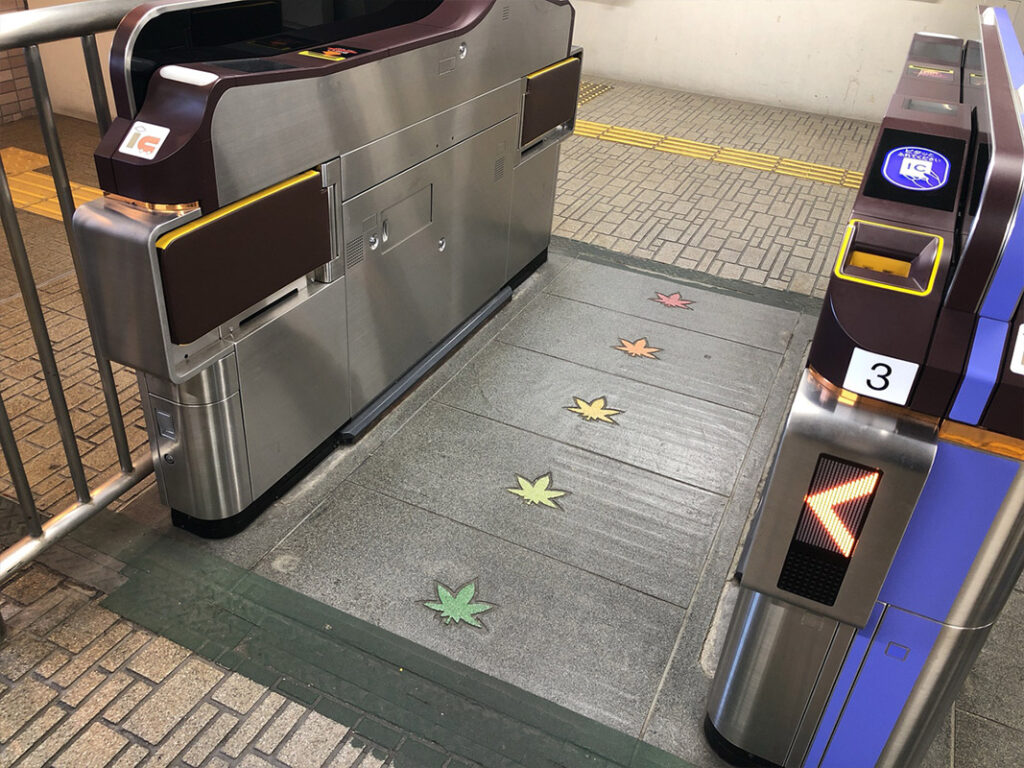 The ground of the ticket gate was marked with autumn leaves, which was cute.
From here, we walked to the directly managed store that serves Minoh Beer.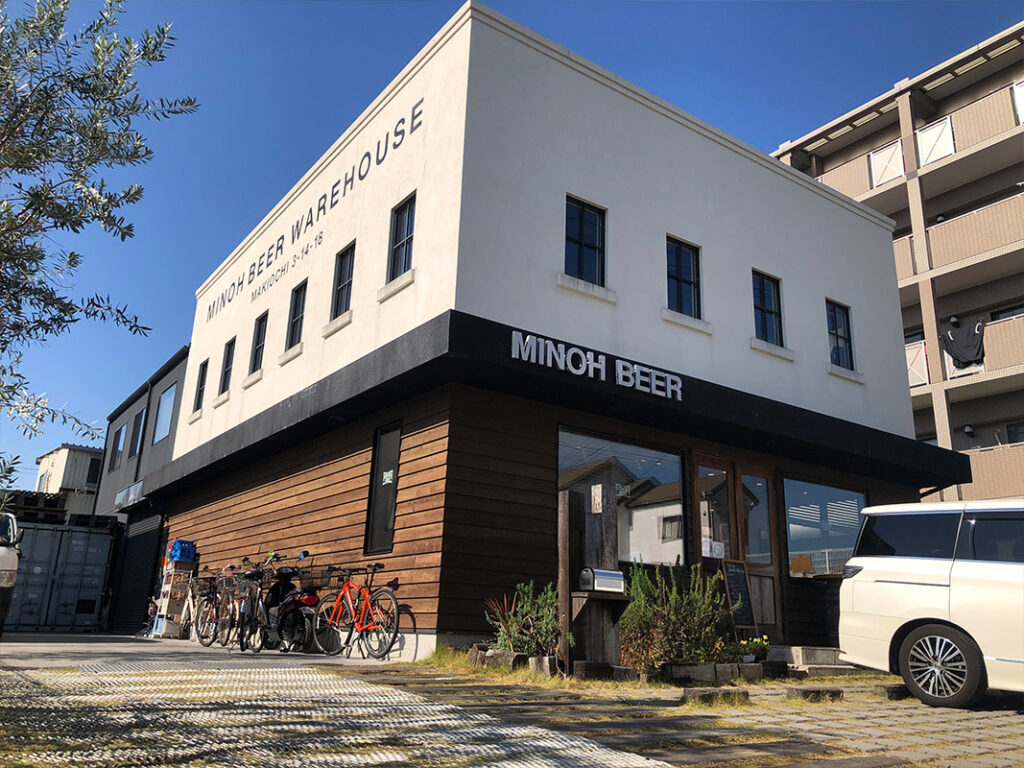 The name of the restaurant is "MINOH BEER WAREHOUSE".
Now order a Minoh beer!
Order beer and food at the counter.
First, I chose a beer called "Lady Go"!
I really like sweet and fruity drinks, so I was attracted by the descriptions of "apple" and "fruity".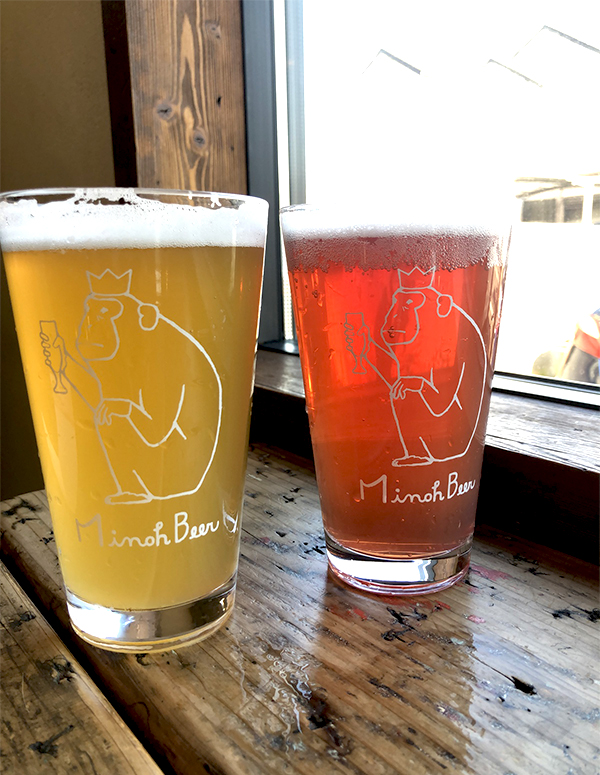 My beer is on the right. The color is a little dark!
When I took a sip…it had a fruity taste and a flowery aroma!
According to the description, it has a "hibiscus" flavor.
My Italian friend who went with me chose "WEIZEN". He said, "Minoh Beer's WEIZEN is super delicious!" .
By the way, the picture on the coaster has a monkey on it.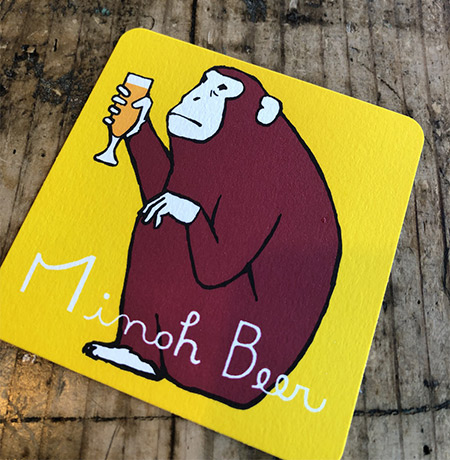 The reason for the monkeys is because there are monkeys living in the mountains of Minoh.
Very cute!
For a lighter meal, I ordered a ham platter.
This goes well with beer again!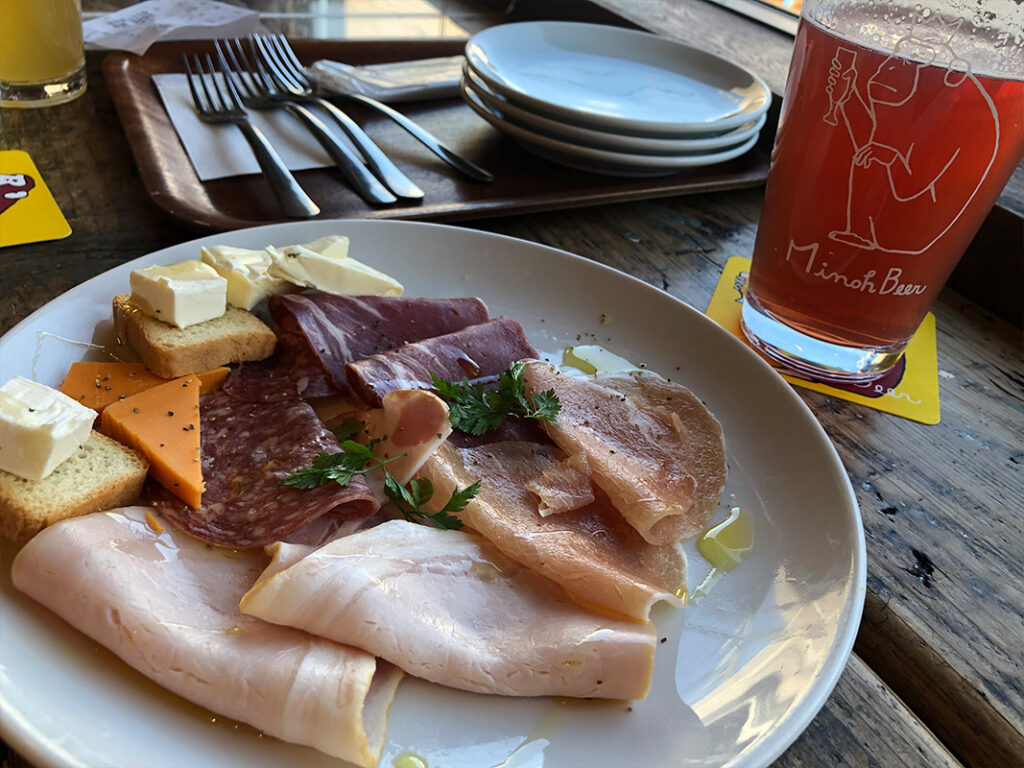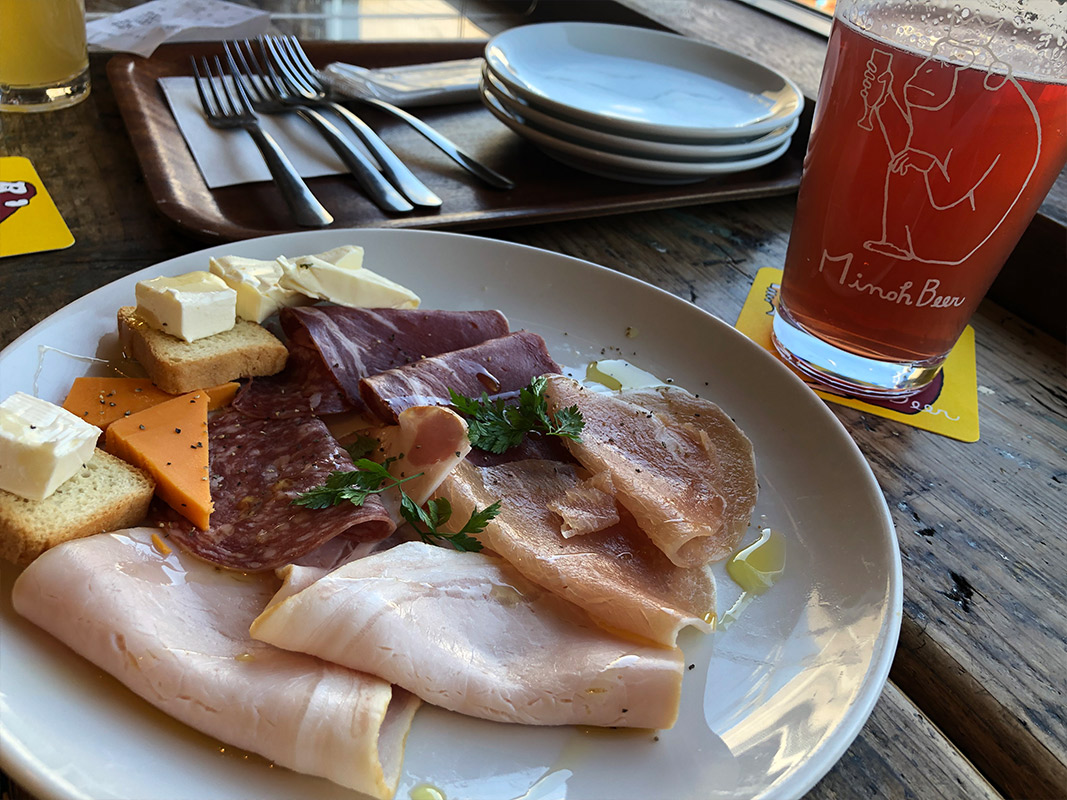 The gorgeous aroma of the beer goes well with the saltiness.
I ordered nuts after this, and I think I like the nut x "Lady Go" pairing the best!
I was strongly recommended by a friend to "definitely take WEIZEN!
So, I tried it too.
This one has a refreshing taste and is easy to drink! It is a perfect drink for the first time.
When it gets a little bit wet, it has a soft banana-like aroma. Another interesting point about craft beer is that the aroma changes with temperature!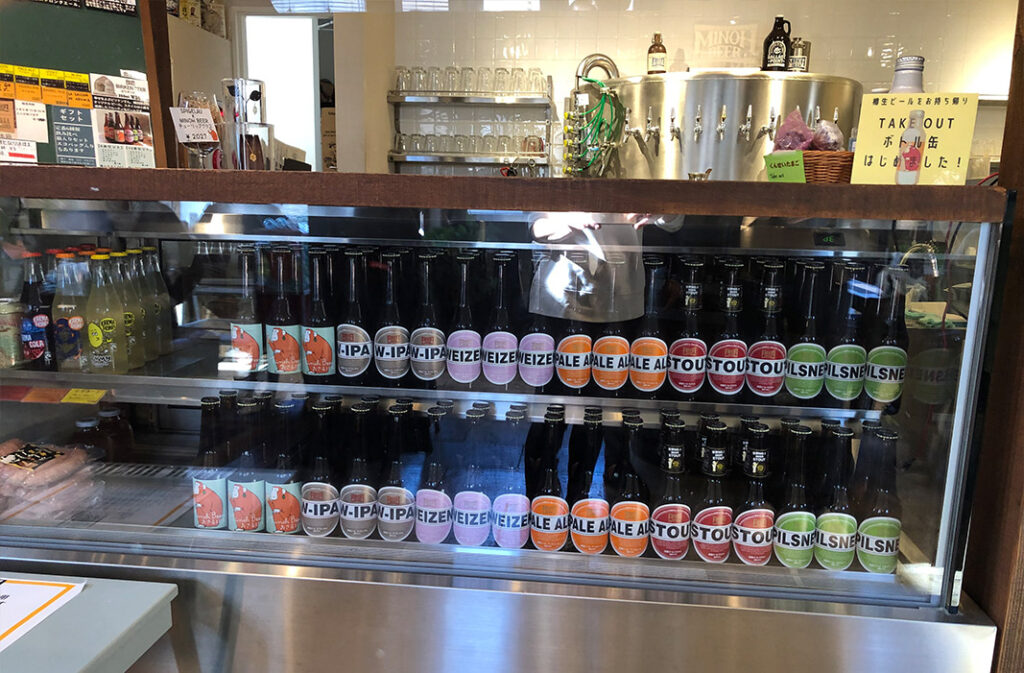 They also have a lot of bottled beer, which you can buy as souvenirs.
The snacks are also delicious, and the freshly brewed beer tastes exceptional.
I was very satisfied with this store.
Please check out the next article → "Autumn Foliage Sightseeing" as well♪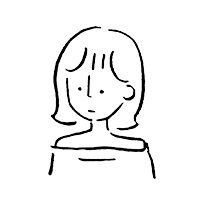 aki