Nice shot can save the world! Action Golf RPG "RPGolf Legends"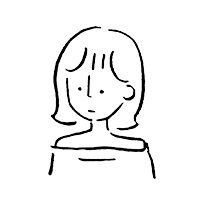 Written by aki
2022.01.11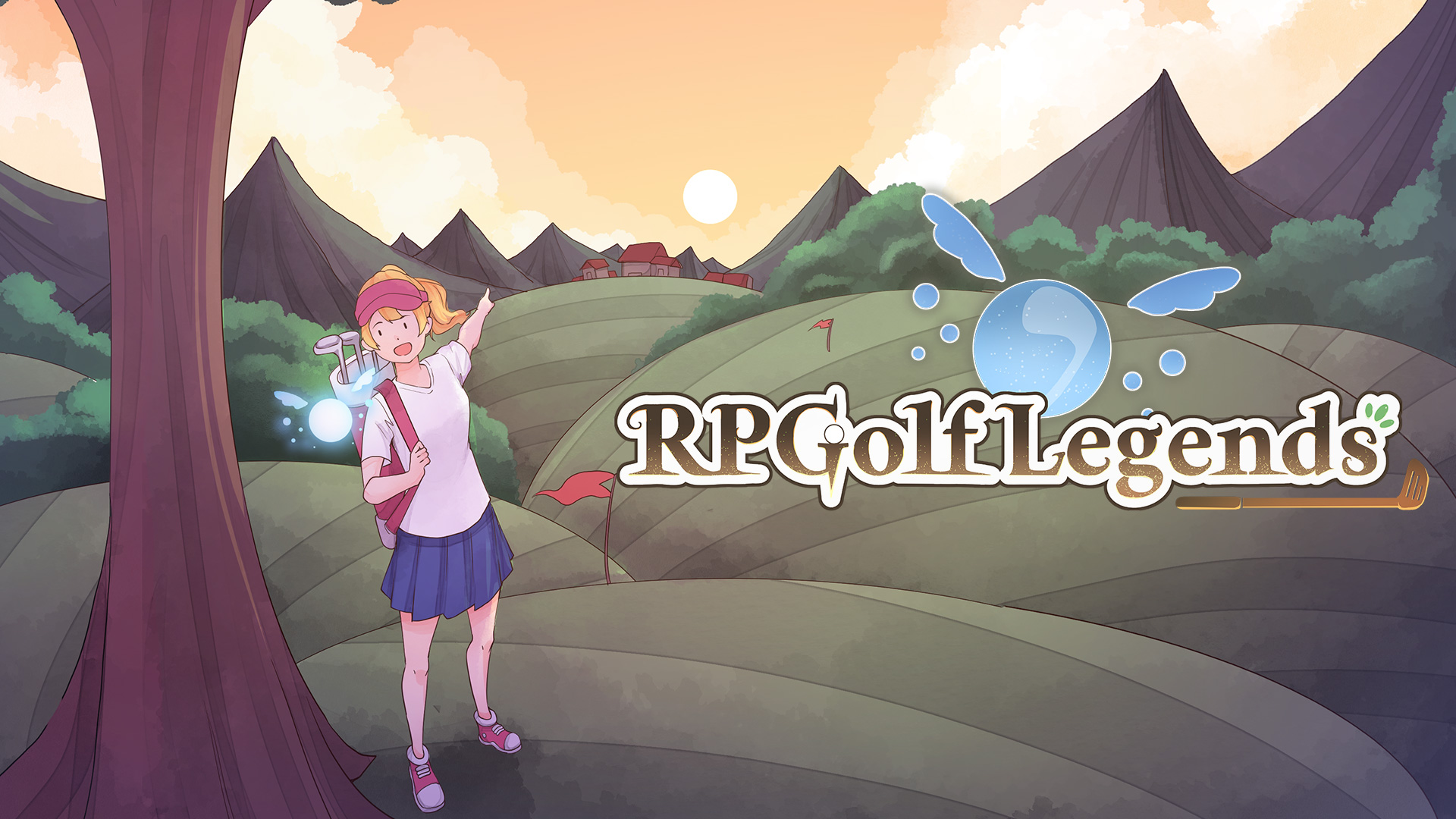 Hello! Today I'd like to introduce you to a game developed by a friend of mine who lives in Osaka.
The game title is "RPGolf Legends"!
As the title suggests, this is a new kind of action game that combines RPG and golf together.
Available in 7 languages: English, French, German, Italian, Spanish, and Chinese (traditional / simplified) as well as Japanese.
I'll show you what the game has to offer based on actual screens!
Check out the story of RPGolf Legends and what it has to offer!
A world where golf courses have been sealed off by ab evil force and golf cannot be played anymore.
The spirit of a golf club and a girl who loves golf, set out on a journey to break the seal on the golf courses.
To get the beloved golf back, let's go on an adventure! This is the story.
The main character, a young girl, heads to a golf course and… there's a monster there!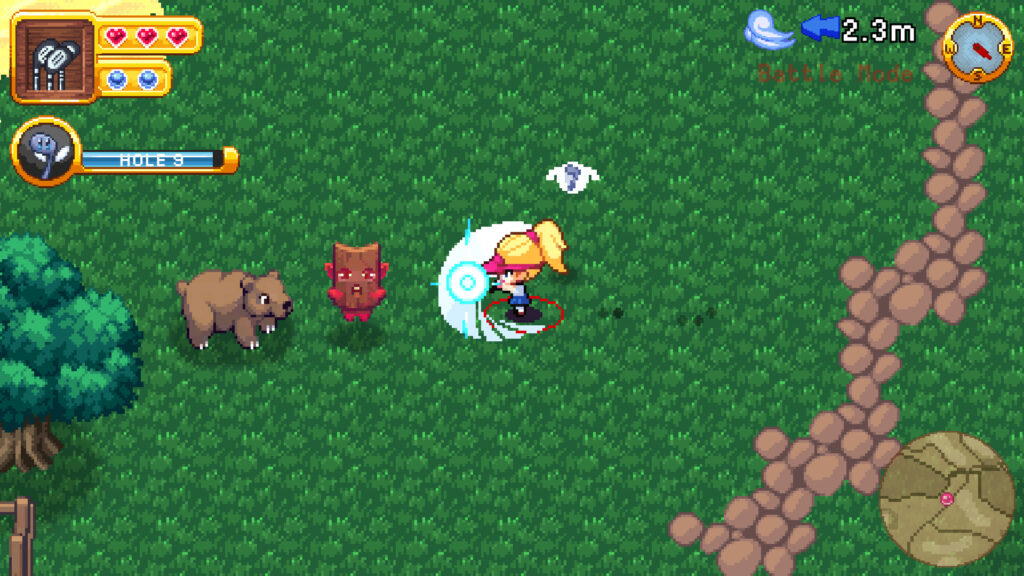 Aerin, the main character who loves golf, uses a golf club to defeat monsters.
The weapon Aerin uses is a "golf club". She doesn't use a "sword" or "staff," which are common in ordinary RPGs. Very charming!
By the way, as you progress through the story, you can not only attack, but also use various special attacks depending on the "class" you get.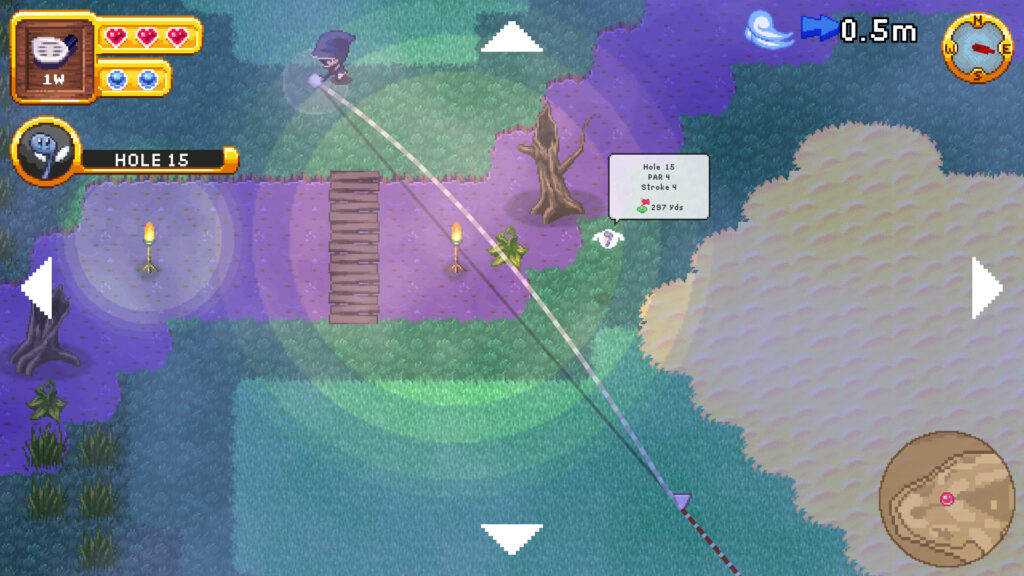 Once you defeat the enemies and free the golf course from the seal, you can play golf.
Aerin is a golf enthusiast and loves to play golf.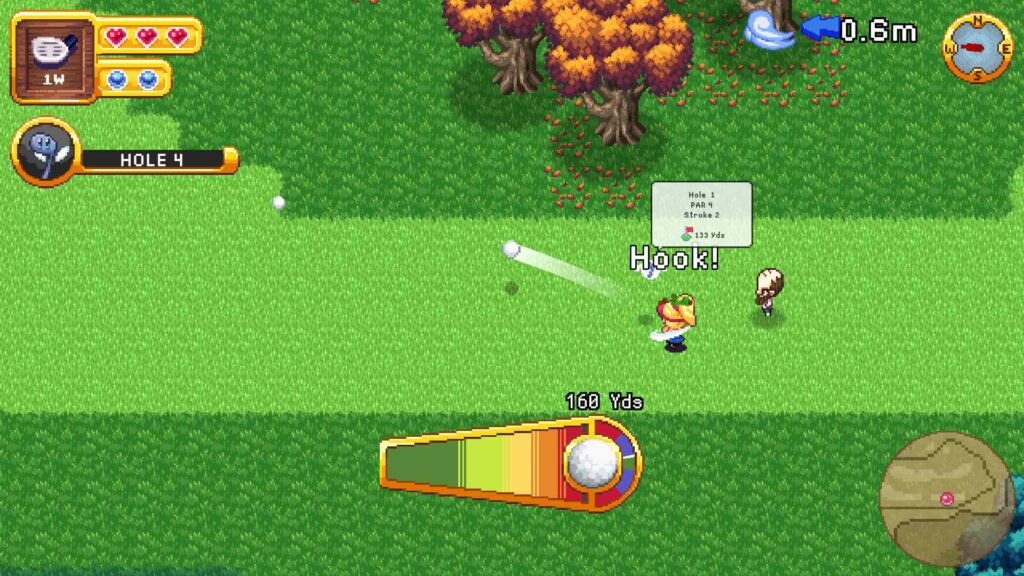 In this world, golf skill is also important.
If you play golf and get a good score, your adventure could be in your favor.
If you've never played golf before, don't worry.
1.Adjust the direction well.
2.Watch the gauge and adjust the power.
These two points are the key.
All you have to do is press a button at the right time.
Once you get used to it, you'll find it easier to make "good shots" because you'll know the distance and how much force to apply.
Of course, there is a "hole in one" to aim for.
You can go on adventures not only on the plains, but also in forests, swamps, deserts, snowfields, and islands in the sky! You can enjoy golf in a variety of places.
There's more to play than just battles and golf.
There are also various sub-events and mini-games such as fishing and item crafting.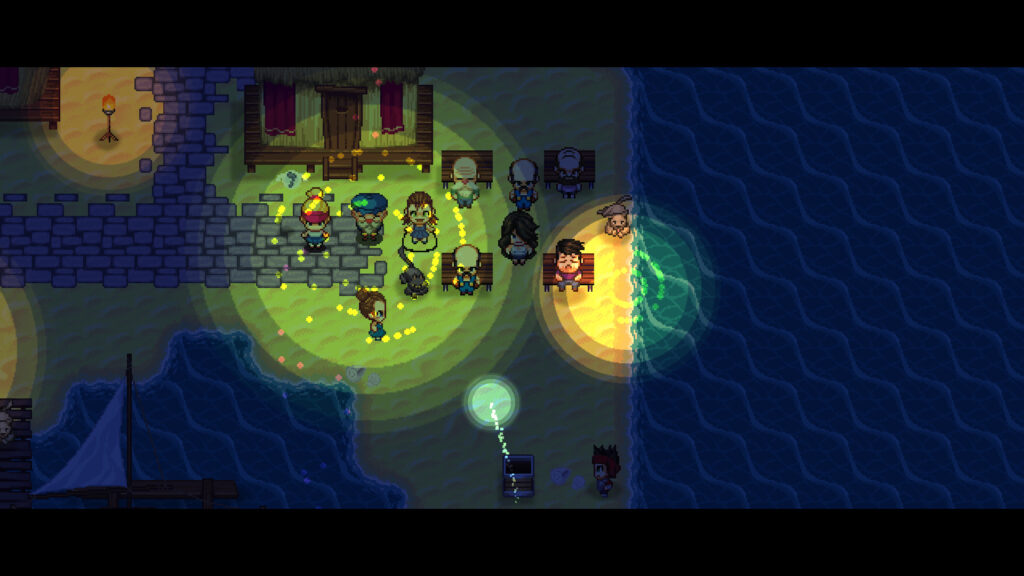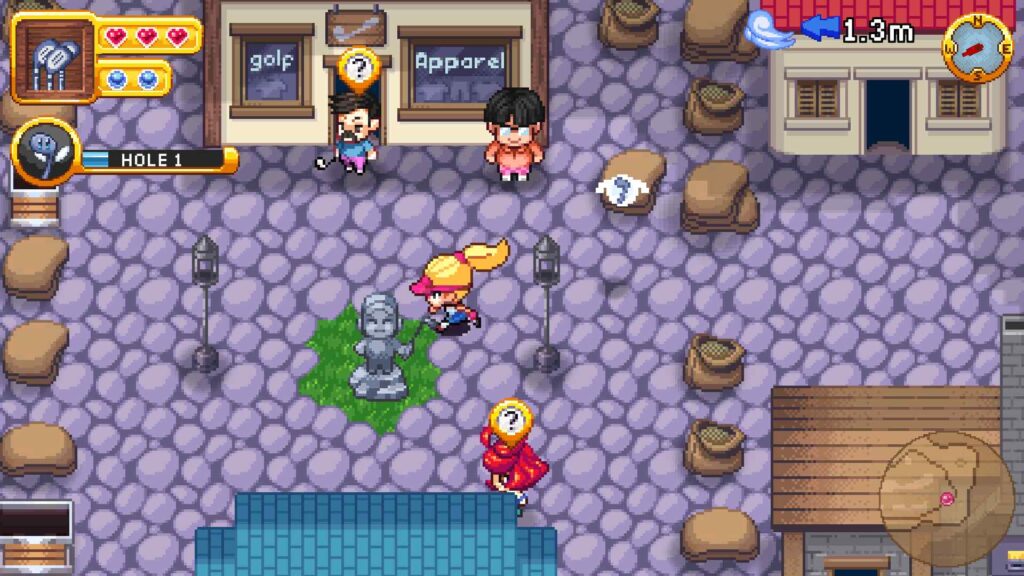 You can take quests by talking to the villagers marked with a "?"
There are six areas in total, and once you get a ship or an airship, you can go and unlock the golf courses in other areas!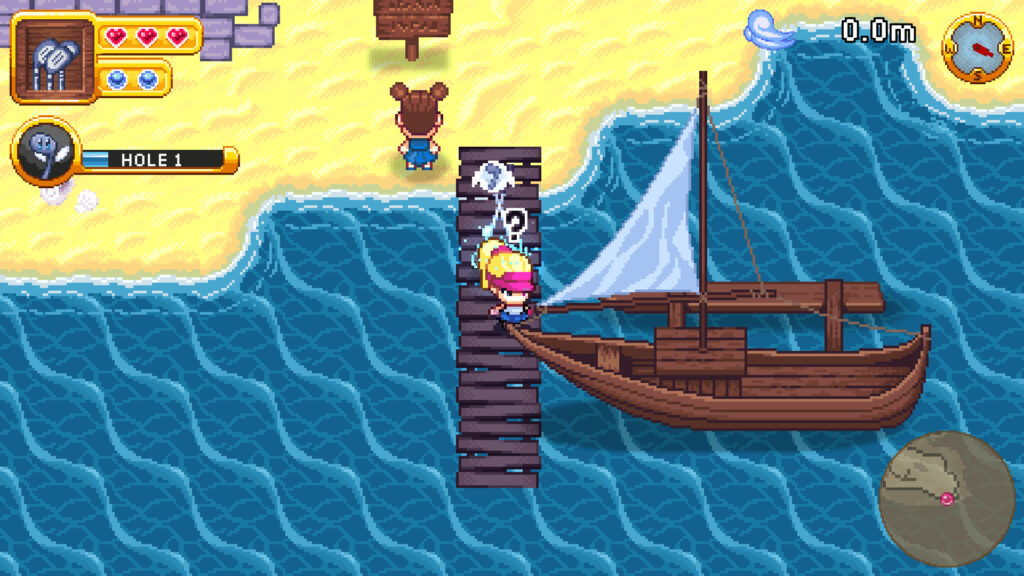 Isn't it exciting, just like an old-fashioned RPG?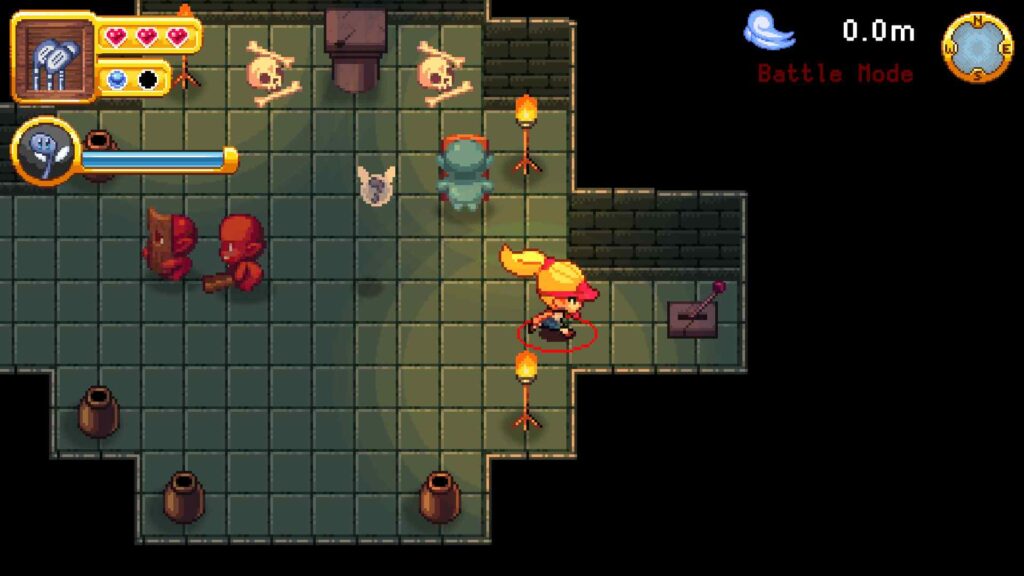 Here's a little bit of the development story!
We talked to the CEO of ArticNet, the Osaka-based company that developed RPGolf Legends, to find out a little bit about its development!
He loves old-fashioned games.
"RPGolf Legends", which was developed by the company also focused on "pixel art".
"That exhilarating feeling of two-heads tall characters running around in a colorful pixel-drawn field.Isn't the unique world view somehow extraordinary and exciting?
With the development of new game consoles and games with beautiful graphics, the game world has become more and more "realistic", but I want to preserve the warmth and handmade feel that only retro-style-games can provide.I want people to truly enjoy the fantasy of RPGs."
Yes, all the characters in RPGolf Legends are very cute. And the monsters too!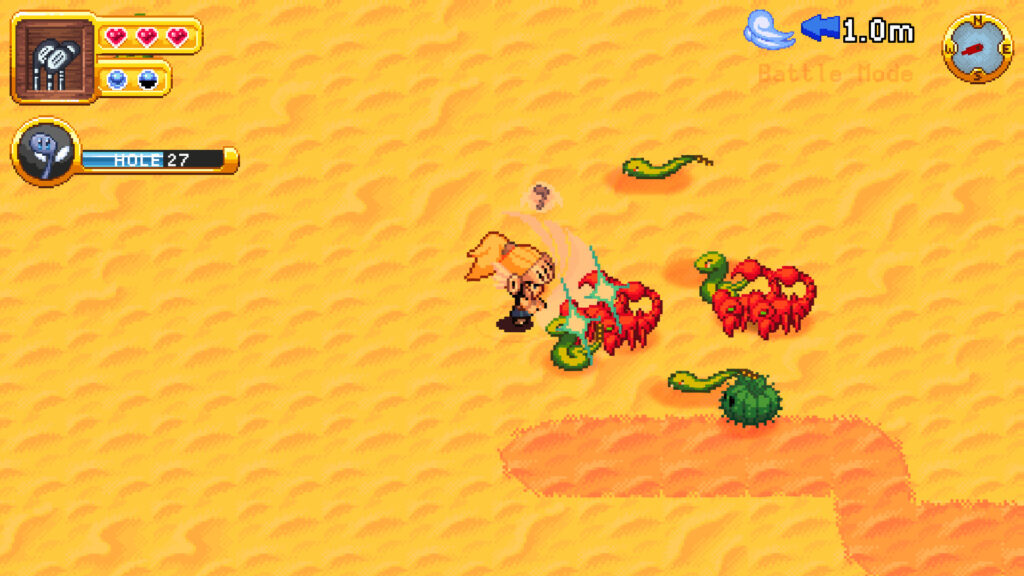 By the way, when I asked the CEO, "Why did you combine golf and RPG?".
He said it was because he loves the game "GOLF", which was once released by Nintendo in 1984 and the idea of exploring the fields was what triggered the idea.
I hope you enjoy playing in this nostalgic world!
from the CEO.
This is a unique action RPG that can be easily played by people of all ages, and I hope you'll give it a try.
RPGolf Legends
Genre: Individualistic Action Golf RPG
Platforms:
PC(Steam)/Nintendo Switch/PS5/PS4/Xbox Series X|S/Xbox One
*Download version only
© 2020-2022 ArticNet LLC. Published by KEMCO.
Age Ratings:
ESRB Everyone 10+: Alcohol Reference, Fantasy Violence, Mild Language
PEGI 7: Mild Violence
Price: USD 29.99, EUR 29.99
Official website:
https://www.kemco.jp/game/rpgolf-legends/en/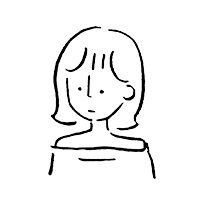 aki